Disgust and Desire: An Interview with Anna Smith Spark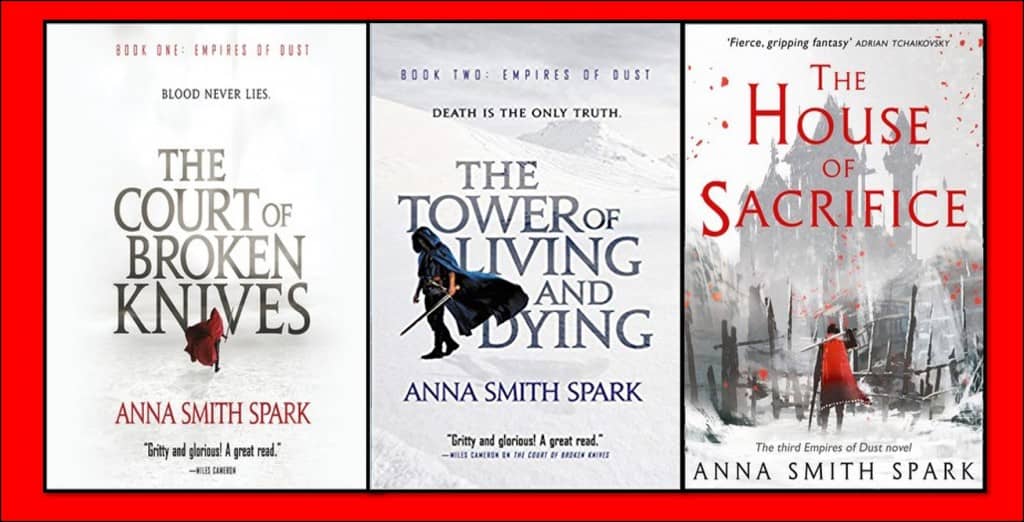 It is not intuitive to seek beauty in art deemed grotesque/weird, but most authors who produce horror/fantasy actually are usually (a) serious about their craft, and (b) driven my strange muses. This interview series engages contemporary authors & artists on the theme of "Art & Beauty in Weird/Fantasy Fiction." Previously we cornered weird fantasy authors like John Fultz, Janeen Webb, Aliya Whiteley, Richard Lee Byers, Sebastian Jones, Charles Gramlich, and Darrell Schweitzer. This one features the "Queen of Grimdark," Anna Smith Spark.
Anna Smith Spark is the author of the critically acclaimed Queen of Grimdark. The David Gemmell Awards shortlisted The Court of Broken Knives and The Tower of Living and Dying continued the Empires of Dust trilogy (Harper Voyager US/ Orbit US/Can). The finale, The House of Sacrifice, will be published August 2019. Anna lives in London, UK. She loves grimdark and epic fantasy and historical military fiction. Anna has a BA in Classics, an MA in history and a Ph.D. in English Literature. She has previously been published in the Fortean Times and the poetry website greatworks.org. Previous jobs include petty bureaucrat, English teacher and fetish model. Anna's favorite authors and key influences are R. Scott Bakker, Steve Erikson, M. John Harrison, Ursula Le Guin, Mary Stewart and Mary Renault. She spent several years as an obsessive D&D player. She can often be spotted at sff conventions wearing very unusual shoes.