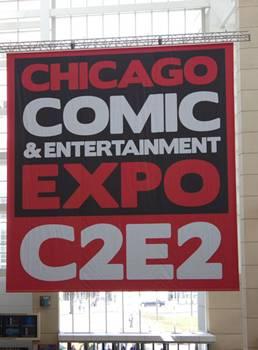 If you happened to be hanging out in downtown Chicago recently, perhaps enjoying the first wiff of a thaw in the air, then you also ran a fair chance of seeing Khaleesi riding the El train.
After all, April in the Windy City can only mean one thing.
It is once again time for the mother of all spandex parades, otherwise known as the Chicago Comic and Entertainment Expo (C2E2 for you cool kids).
Started back in 2010, C2E2 is a fan convention spanning the latest and greatest from the worlds of comics, movies, television, toys, anime, manga and video games. The 840K square foot show floor was packed light saber to body suit with literally hundreds of exhibitors, panels and autograph sessions. And though this year's attendance has not yet been officially published, estimates place it at a record-breaking 60K plus.
As we have done for the prior four years, Black Gate photog Chris Z and I gleefully donned our official press passes (by far the coolest looking ones in the industry) and waded into the fray; in order to provide you a chance to peep at least a small portion of the sights too numerous to catalog.
Thanks to a pre-opening chat with perennial Goth Chick News fav, horror comic writer Dirk Manning, we were able to skirt the biblical-sized masses queued at the entrance and get an early look at show floor. The sheer number of booths dedicated to comics alone made me wonder (and later discover) the actual size of the domestic industry for comics and graphic novels, in dollars.
---