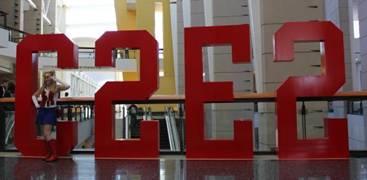 This year's C2E2 event, held the weekend of April 26th, was reportedly the largest Chicago has seen so far.  And judging from the amount of trench coats and spandex Black Gate photog Chris Z and I observed during our annual pilgrimage, I have no doubt this was true.
Trench coats and spandex, you ask?
Considering this is primarily a comic convention where about one attendee in every four was parading their cosplay best, the spandex is probably self-explanatory, but it might interest you to know that the definition of sexy at this year's event was none other than the Time Lord himself, Doctor Who.
Attendance was estimated at 70K, which meant even though Chicago is now hosting the show in the same exhibition hall as the Auto Show, the space still seems packed in, which can be somewhat awkward when spandex is involved.
The over 400 exhibitors consisted of comic sellers of course, but also every category of related paraphernalia you can possibly imagine — including costume accessories, figurines and the most amazing collection of genre artists you'll find under one roof. And that doesn't even include the celebrities there to meet and greet, as well as participate in panel discussions.
With that much material, it's downright difficult to decide what to tell you about, but here are a few morsels that caught our attention.
---