Goth Chick News: C2E2 and a Goth Chick Wannabe… The Sequel
Goth Chick News: C2E2 and a Goth Chick Wannabe… The Sequel

A couple weeks ago I was startled by a knock on my window. As curiosity got the best of me, I discovered a raven pecking at the glass with a note tied around its leg. My first thought was, "Winter is Coming." My second thought was, "Evil Hogwarts?" Turns out the second was a lot closer, it was from Goth Chick. I unwrapped the little scroll and read the following….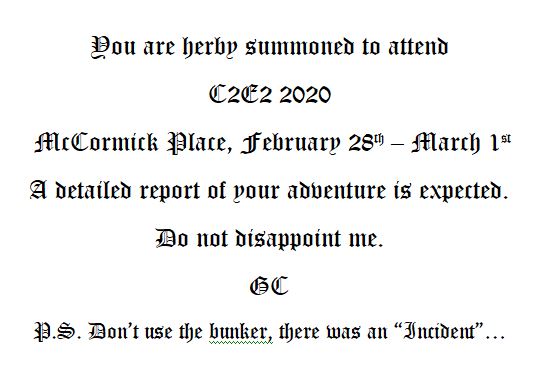 Apparently to maintain her standing in the Goth community, she's required to attend a "Get Back to Goth" retreat every time a darker shade of black is discovered. Who Knew? If it's anything like her "Book Club" it's just a lot of drinking, incense burning, soul devouring and complaining about pastels. But that's a story for another article.
So, as a good minion, Goth Chick News headed over to the 2020 installation of C2E2 (Chicago Comic & Entertainment Expo). This year's convention included guests such as Mark Ruffalo (Marvel's Hulk), Stephen Amell/Emily Rickards (Team Arrow), Adam Savage (MythBusters) and voice cast from Critical Role!  Vendors from Jelly Belly to Marvel Entertainment and everything in between were on hand. Also not to be missed in the massive Artist Alley which covers about 25% of the show floor.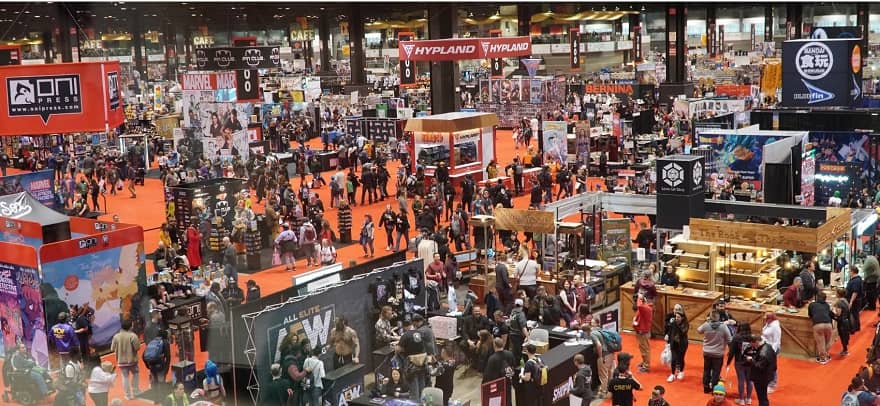 This year's show floor once again occupied the South Hall of Chicago's McCormick place. That's over 840,000 square feet of vendors and exhibits! Attendance is expected to surpass the 100,000 mark, moving it into the top 5 largest Comic Conventions in the US. Every corner of the entertainment industry was present, Movies, TV, Theater, Comics, Artist, Collectables and Beer. That right BEER!
One of the most unique features of C2E2 is "The Yard." Right in the middle of all the "Geeky Goodness" is beer garden/oasis. For those of you who could not attend, I felt it was my duty to investigate further. Turns out that "The Yard" is sponsored by Revolution Brewing of Chicago. It offers a place to sit back enjoy the scenery (people watching) and have a nice cold one (or four). Besides offering some chilled libations, "The Yard" also offered entertainment, food and a place to play bags with some costumed characters.
Speaking of costumed characters, this year's variety was all over the board. Harley Quinn fangirls were out in force thanks to Birds of Prey. Star Wars was another popular costume with the end of the series last year. Marvel hero's battled for spandex supremacy with their DC counterparts. Then there was another entire community for "Magical" fantasy creatures (Elves, Sprites, Fairies) which left Goth Chick News a bit snarky/sarcastic. Luckily I was by myself, so No Harm, No Foul.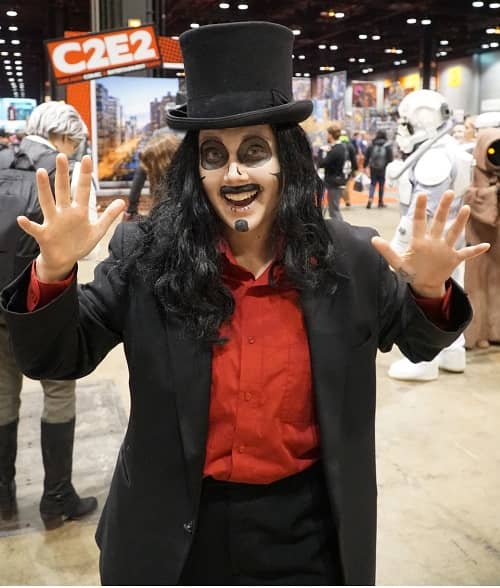 Now this is our kinda cosplay.
Svengoolie for the WIN!
Check her out at askkayleefrye.com
Last year I was told, "We Do Not Pick Favorites," but I did and nothing too horrible happened (Sorry Aunt Millie, you'll be missed). So, here are some favorites from C2E2 2020.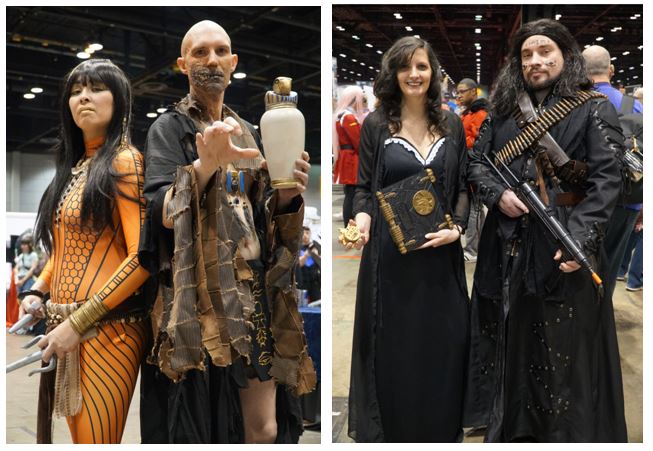 One of the Goth Chick News favorite movies….

(The 1999 version, not that Tom Cruise garbage!)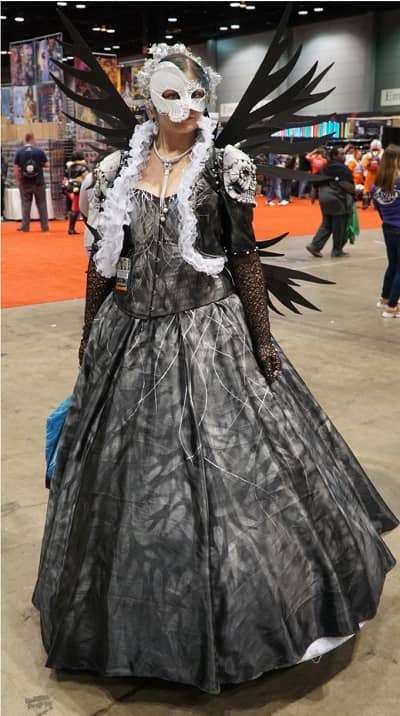 This is how Goth Chick normally dresses around the office!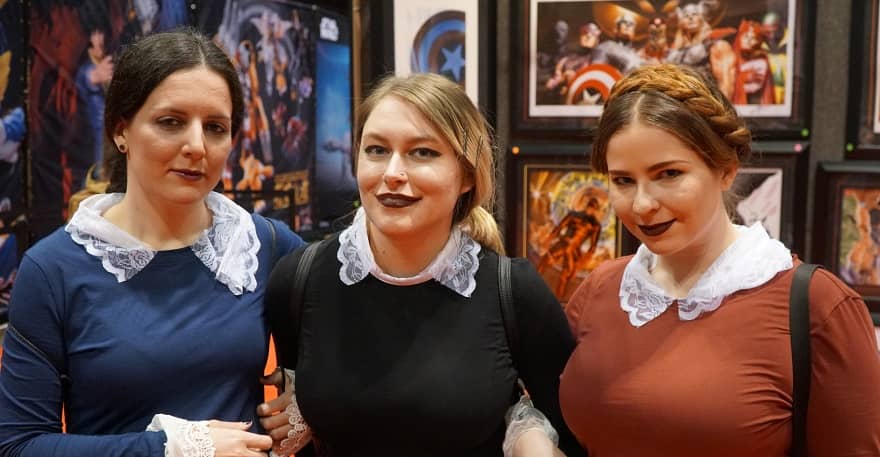 Who can resist the allure of the Weird Sisters.
(I wonder what they did with Sabrina this time??)
As I made my way up and down the never-ending aisles of vendors and artists, I kept asking myself, "WWGCD (What Would Goth Chick Do?)" So, past the booths of the Comic "T" shirts, part the cute and cuddly stuffed Pokemon (barf) I went in search of something darker. Here, in no particular order, is what GCN found.
Goulish Bunny Studios is the first stop on our journey into C2E2. GBS packs a one, two punch and showcases the artwork or Diana Levin and the writings of Shawn Givens. Diana's artwork is some of the most hauntingly detailed images we here at Goth Chick News have seen in a long time. She groups her artwork into 3 categories: Hauntingly Beautiful, Pen & Ink Drawings and Creepie Cute.

When you add in the story telling of Shawn to Diana's drawings you get a collection of eerie short stories called "The Ghoulish Grimoire". Each issue spins a unique short horror story which is masterfully written and beautifully illustrated by Diana. There are currently there are 7 issues with more on the way.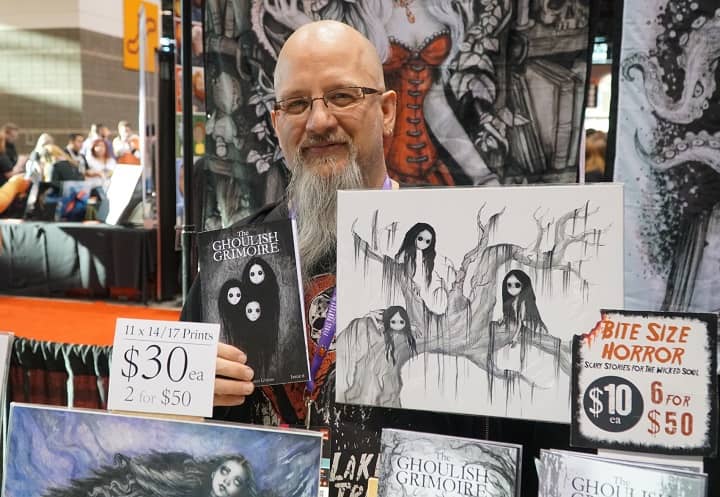 You can find more of their works available for purchase thru the website (www.ghoulishbunnystudios.com). Or to get even more of their beautifully creepy items, try sponsoring their work on Patreon (www.patreon.com/ghoulishbunnystudios).
The next vendor on our list might not seem like the obvious Goth Chick News type of merchandise but hang with me. Geeki Tikis is a purveyor of themed drinking vessels, or Tiki mugs if you will. Their mugs span the character range from Popeye to Iron Man. Each mug is cast from ceramic and perfectly glazed to enjoy your favorite drink out of.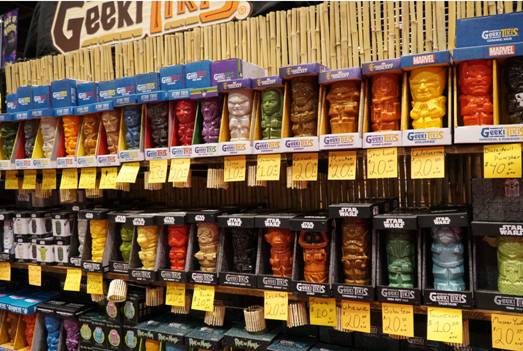 What caught the eye of Goth Chick News was their line of Horror tikis. Who could resist drinking the souls of their enemies out of an Annabelle mug?  Maybe some FireBall out of everyone's favorite little trike rider Jigsaw. And who would want to kick back with some friends and wrap your hands around Elvira (trust me it felt good).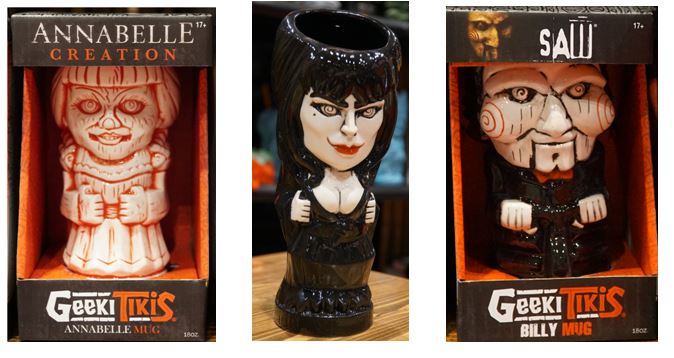 These are only a small selection in their horror lineup which contains classics like Black Lagoon to modern horror like Pennywise. Also, don't forget to check out the recipe page as an added bonus (anyone for a Lon Chanel Iced Tea). Check them out at geekitikis.com.
Now that you have a Geeki Tiki horror mug in hand, what more could you possibly need? Glad you asked! How about a new wardrobe and accessories from Creepy Co.? Creepy Company was founded in 2015 by Susanne Goethals and Kellie Taylor right here in Chicago, IL. The company started out by selling horror-based enamel pins and later expanded into all types of Halloween/horror related goodies.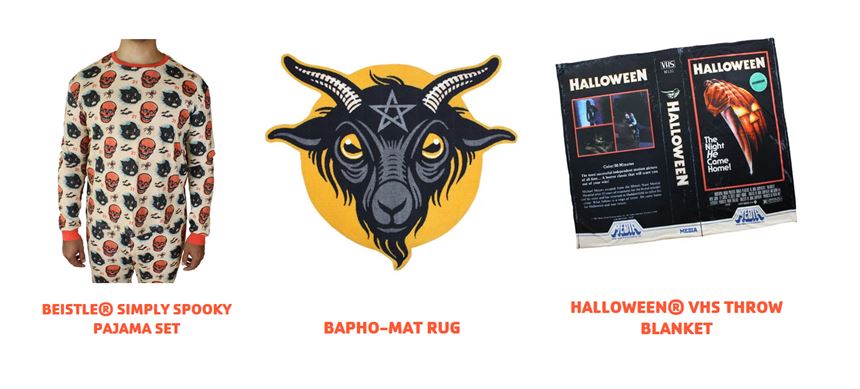 Our favorite items from Creepy Co. have got to be their line of button-up horror themed shirts. Themes include Vintage Horror, Camp Slasher, Necronomicon, Evil Dead and Halloween to name a few. GCN was sporting their Spooky Drinks button-up at the show while getting you this fabulous coverage. Many a compliment has been made on the shirt both at the show and out and about in Chicago.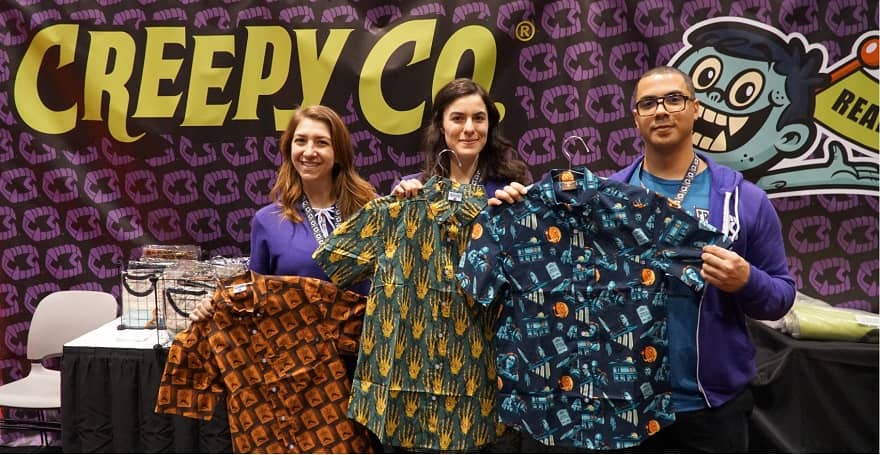 Definitely check out their website (www.creepycompany.com) and be prepared to fall in love. Our advice is if you see something you like, buy it then as they frequently sell out. Also, be prepared for all the admirers while wearing your Creepy Co. attire.
Our final stop around the halls of C2E2 brings us to a novel called Ghost Days. Ghost Days is a novel written by author Asher Elbein and illustrated by the talented Tiffany Turrill. The novel tells the first eight adventures of Anna O'Brien. Set in the wilds of turn of the century Appalachia, Anna must overcome the loss of her home, her husband and possibly her future thanks to strange magic and tragedy.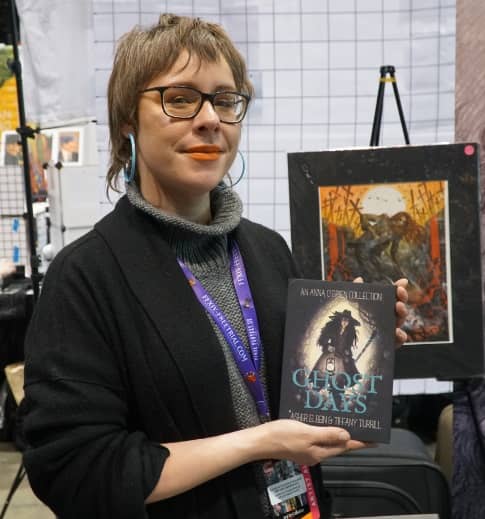 Curious yet? We at GCH were. Trying to prevent others from befalling her late husbands fate, Anna wanders the countryside on her wooden leg, living by her wits and settling spirits for work.  Facing down creatures such as hags, witches, and evil demons, Anna must gain knowledge to continue her journey. Pair this captivating tale with Tiffany Turrill's haunting images and your left a novel that is hard to put down.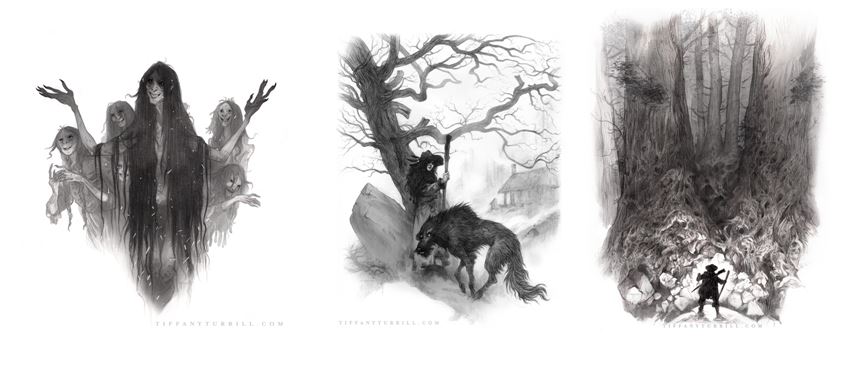 The novel can be purchased from Amazon on either hardcover of Kindle. Personally, GCN would recommend getting the Hardcover version. This will allow you to crawl up by the fire place and enjoy the whole spooky experience. Just don't blame us when you have to sleep with the light on.
Well, I believe that covers it all. Let's see;
Geeki Tikis……….. Check
Goulish Bunny Studios……. Check
Creepy Co…….. Check
Ghost Days…… Check
Don't get Goth Chick News banned from C2E2……. TBD
And there you have it!
Thanks to Black Gate and Goth Chick for letting me do this (Again)!
[See Chris Zemko's 2019 coverage of Wizard World Chicago here.]