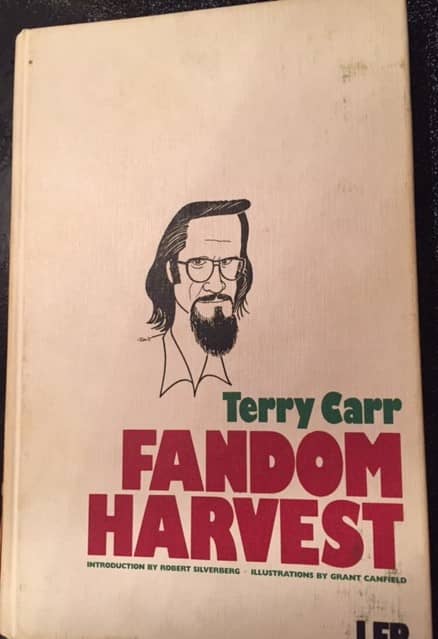 Steven Silver has been doing a series covering the award winners from his age 12 year, and Steven has credited me for (indirectly) suggesting this, when I quoted Peter Graham's statement "The Golden Age of Science Fiction" is 12, in the "comment section" to the entry on 1973 in Jo Walton's wonderful book An Informal History of the Hugos. You see, I was 12 in 1972, so the awards for 1973 were the awards for my personal Golden Age. And Steven suggested that much as he is covering awards for 1980, I might cover awards for 1973 here in Black Gate.
The 1973 Hugo Award for Best Fan Writer went to Terry Carr. Terry Carr (1937-1987) won four Hugos overall – in 1959 he won for Best Amateur Magazine for Fanac (along with his co-editor Ron Ellik), and in 1985 and 1987 he won for Best Professional Editor. (Alas, he died early in 1987, so did not get to receive that award. Famously, this was the second consecutive year that the award was given posthumously – though in 1986 Lester Del Rey bitterly refused the award to his wife Judy-Lynn. (There could be a third posthumous Best Editor award this year, as Gardner Dozois is one of the nominees for Best Editor, Short Form.) Like the great majority of Fan Writer winners, Terry Carr was also an accomplished professional writer, probably best known for his stories "Hop-Friend" and "The Dance of the Changer and the Three" and for his novel Cirque.
Carr wrote some fine fiction, as noted, and also spent some time as an agent, and he was a prolific and wonderful fan writer and fanzine editor. But his largest contribution to the field was as an editor. He worked at Ace through most of the 1960s. There he co-edited the World's Best Science Fiction series with Donald A. Wollheim, and he spearheaded the classic first Ace Science Fiction Special series. After leaving Ace he became a freelance editor, most famous for his Best Science Fiction of the Year series for Ballantine/Del Rey, and for his Universe series of original anthologies. He also edited the third series of Ace Specials.
---