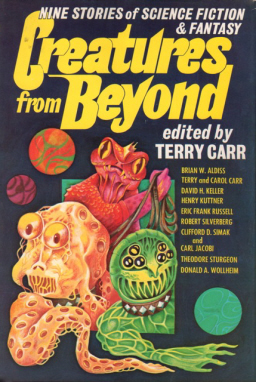 It shouldn't be a surprise that I didn't discover science fiction and fantasy through novels — not really. I discovered it by reading short stories in Junior High, and especially the enticing anthologies on display every week in the library at St. Francis School in Halifax, Nova Scotia. I didn't really know what science fiction was; but if it had monsters on the cover, I was all over it.
The first anthology I can recall reading was Creatures From Beyond, a marvelous monster-fest if ever there was one. When I tracked it down again decades later, I was delighted to discover the editor was none other than Terry Carr, the legendary editor whose Best Science Fiction of the Year and Fantasy Annual paperbacks I read avidly all through high school — and who pulled William Gibson's Neuromancer out of the slush pile at Ace Books.
I think the reason I still remember it so well after all these years is that, unlike most of the collections I checked out of the library, it wasn't a kid's book. It's a genuine SF anthology, with short stories from Henry Kuttner, Clifford D. Simak & Carl Jacobi, Theodore Sturgeon, Donald A. Wollheim, Brian W. Aldiss, Robert Silverberg, and other top-flight authors.
Carr reasoned — correctly — that there was no better source for action-filled monster tales than pulp science fiction magazines and he mined them heavily to generate Creatures From Beyond. The fiction is drawn from Amazing Stories, Astonishing, Unknown, Other Worlds, Comet, Thrilling Wonder, Future, and a smattering of anthologies.
Of course, the other reason I remember it is Eric Frank Russell's brilliant novelette "Dear Devil," the tale of a handful of children who survive a nuclear apocalypse on Earth… and the curious (and hideous) explorer from Mars who helps put them back on track towards a new and better civilization. Rejected by all the major SF magazines of the time, it landed at Ray Palmer's fledgling Other Worlds, where it almost single-handedly put the magazine on the map — and instantly made a name for the young editor who pulled it from the slush, 26-year-old Bea Mahaffey, who'd been thrust the reins of the magazine when Palmer was incapacitated in an accident.
---