The Golden Age of Science Fiction: The 1973 Hugo Award for Best Fan Writer: Terry Carr
The Golden Age of Science Fiction: The 1973 Hugo Award for Best Fan Writer: Terry Carr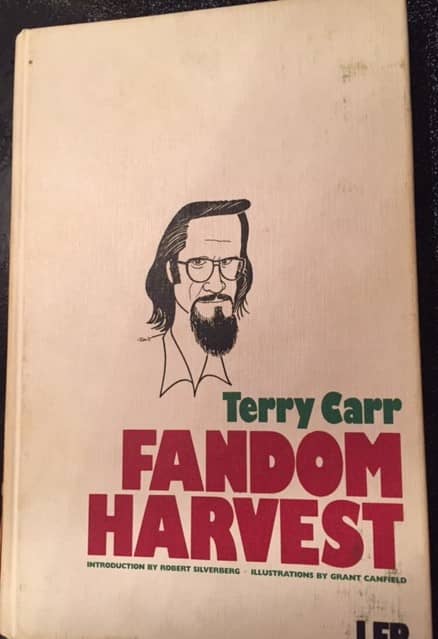 Steven Silver has been doing a series covering the award winners from his age 12 year, and Steven has credited me for (indirectly) suggesting this, when I quoted Peter Graham's statement "The Golden Age of Science Fiction" is 12, in the "comment section" to the entry on 1973 in Jo Walton's wonderful book An Informal History of the Hugos. You see, I was 12 in 1972, so the awards for 1973 were the awards for my personal Golden Age. And Steven suggested that much as he is covering awards for 1980, I might cover awards for 1973 here in Black Gate.
The 1973 Hugo Award for Best Fan Writer went to Terry Carr. Terry Carr (1937-1987) won four Hugos overall – in 1959 he won for Best Amateur Magazine for Fanac (along with his co-editor Ron Ellik), and in 1985 and 1987 he won for Best Professional Editor. (Alas, he died early in 1987, so did not get to receive that award. Famously, this was the second consecutive year that the award was given posthumously – though in 1986 Lester Del Rey bitterly refused the award to his wife Judy-Lynn. (There could be a third posthumous Best Editor award this year, as Gardner Dozois is one of the nominees for Best Editor, Short Form.) Like the great majority of Fan Writer winners, Terry Carr was also an accomplished professional writer, probably best known for his stories "Hop-Friend" and "The Dance of the Changer and the Three" and for his novel Cirque.
Carr wrote some fine fiction, as noted, and also spent some time as an agent, and he was a prolific and wonderful fan writer and fanzine editor. But his largest contribution to the field was as an editor. He worked at Ace through most of the 1960s. There he co-edited the World's Best Science Fiction series with Donald A. Wollheim, and he spearheaded the classic first Ace Science Fiction Special series. After leaving Ace he became a freelance editor, most famous for his Best Science Fiction of the Year series for Ballantine/Del Rey, and for his Universe series of original anthologies. He also edited the third series of Ace Specials.
Some of Carr's fine anthologies
But this award was for Fan Writer. Carr was a very prolific fan writer. A hint of this can be found in this list of fanzines he edited or co-edited: A L'Abandon, Blast, Blood, Sweat and Bheers, Dark Star, Diaspar, Dolor, Entropy, Fanac, Incompleat Burbee, Innuendo,  Lighthouse, Stormy Petrel, Troll Chowder, Void, and Vulcan. And of course he contributed to many more fanzines, notably Cry, and, in the early '70s, Energumen (which won the 1973 Best Fanzine Hugo.)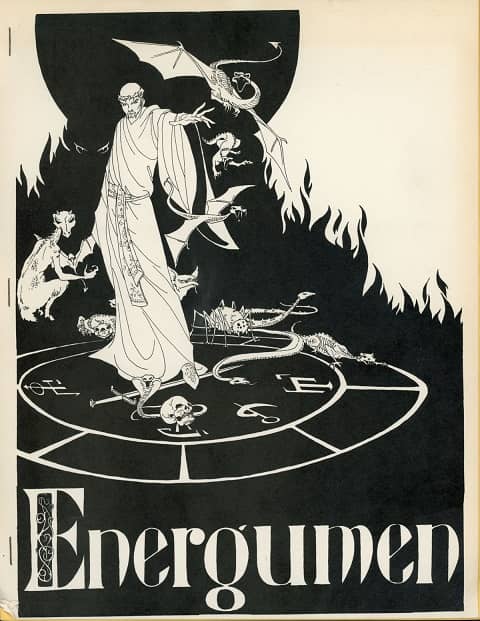 What was the 1972 work which led to this award? That's an interesting question. The only 1972 fan writing I can find was a couple of pieces for Energumen, which were actually reprints of classic fan writing by others, for which Carr provided introductions. But, as many people have noted, awards of this nature are often given for career achievements as much as anything. There are two publications collecting the best of Terry Carr's fanwriting. Fandom Harvest, edited by the great Swedish fan John-Henri Holmberg, was published by Laissez Faire Produktion in Sweden in 1986. And The Incompleat Terry Carr, Volume One, was edited by rich brown and Arnie Katz, and first published in 1972, republished in 1988. I suspect that the 1972 publication of The Incompleat Terry Carr focused fans' attention on Carr's fanwriting, and was the main reason he won.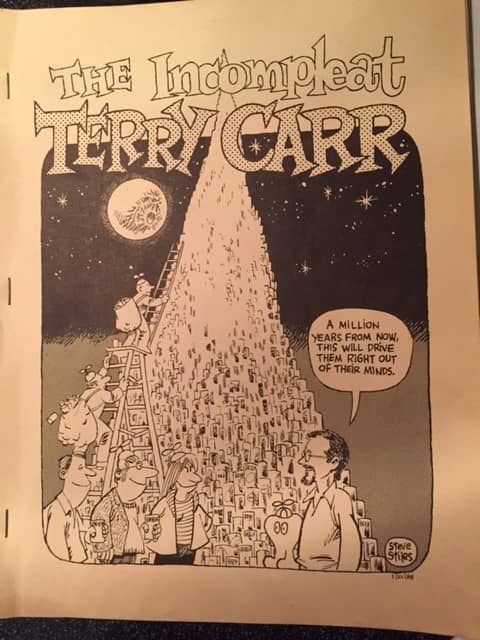 And did he deserve it? Based on what I've read of his work, from those two collections, yes, he did! The fanwriting preserved in these books is very faanish – describing fan life as opposed so the more "serconish" work that actually discusses science fiction. And Terry Carr's writing in this vein was very interesting and very funny. A particular highlight is "My Fair Femmefan," which recasts My Fair Lady, complete with songs!, as the story of an older male fan introducing a young woman to SF fandom. In the more generally faanish vein is his long-running column "Fandom Harvest" (title presumably taken from James Hilton's really fine novel Random Harvest), in which he discusses (with exaggeration (I think!)) some fannish adventures, along with Ron Ellik and others, and his first wife Miriam and second wife Carol. One more excellent piece is "Egoboo for Algernon," in which Charlie Gordon's increase in intelligence is in the service of making him a better fan.
(Thanks to Mike Glyer, Gary Farber, Jerry Kaufman, John-Henri Holmberg, Janice Hillman, and Bruce Gillespie for more information about this period in fandom.)
Our previous coverage of Terry Carr at Black Gate is here.
---
Rich Horton's last article for us was a look at the 1973 Locus Award winner for Best Fanzine, Locus. His website is Strange at Ecbatan. See all of Rich's articles here.