The Golden Age of Science Fiction: The 1973 Locus Award for Best Fanzine: Locus
The Golden Age of Science Fiction: The 1973 Locus Award for Best Fanzine: Locus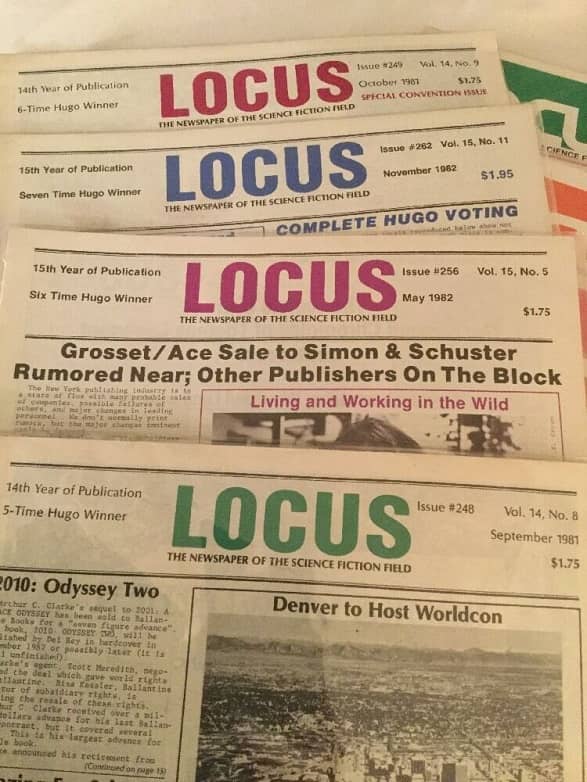 Steven Silver has been doing a series covering the award winners from his age 12 year, and Steven has credited me for (indirectly) suggesting this, when I quoted Peter Graham's statement "The Golden Age of Science Fiction" is 12, in the "comment section" to the entry on 1973 in Jo Walton's wonderful book An Informal History of the Hugos. You see, I was 12 in 1972, so the awards for 1973 were the awards for my personal Golden Age. And Steven suggested that much as he is covering awards for 1980, I might cover awards for 1973 here in Black Gate.
In discussing this award I must begin with the obvious disclaimer – I write a regular column for Locus, and have done so since 2002. As such I am, I freely acknowledge, prejudiced in favor of the magazine. And I remember the thrill it was, sitting in the audience at the Hugo ceremonies, to hear my name mentioned by Liza Groen Trombi, the current editor, when she accepted our final Hugo for Best Semiprozine in Chicago in 2012 (coincidentally the final Hugo that Locus would receive, as rules changes made us ineligible in that category.) (Side personal note – I was sitting with Alec Nevala-Lee at that award ceremony – and Alec this year is nominated for a Hugo for Best Related Book for his exceptional biography Astounding.)
[Click the images for Locus-sized versions.]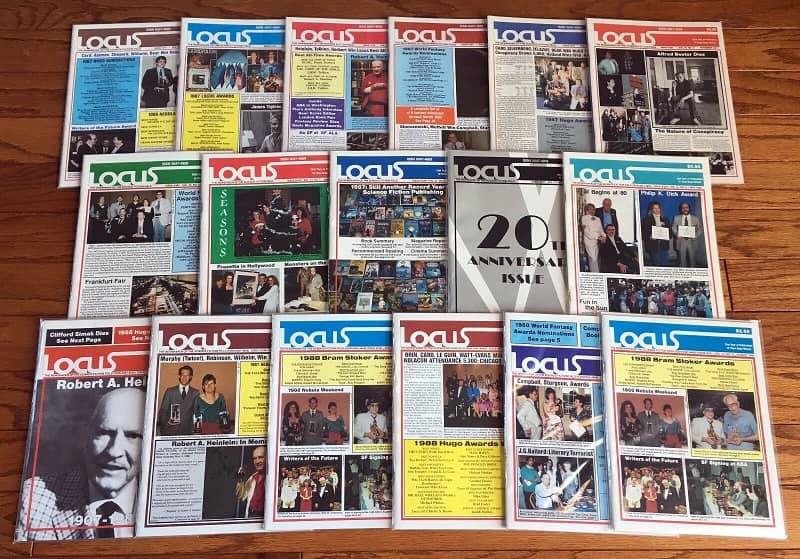 The Locus Award for Best Fanzine was first presented in 1971, the first year of the Locus Awards. Locus won. (That year, an award was also given for Best Single Fanzine Issue, which Locus also won.) The Best Fanzine award continued through 1977, and Locus won every year except 1975, when Outworlds won. In 1978 the Best Fanzine award was combined with the Best Magazine award (which had previously been given to the Best Magazine or Anthology Series.) The Magazine of Fantasy and Science Fiction had won Best Magazine every year since the inception of the Locus Awards, and it won in 1978 and through 1983. In 1984 Locus won the Best Magazine award, possibly because it was renamed Best Magazine/Fanzine, which might have reminded some voter that fanzines were eligible (although as Locus had finished second to F&SF in the Best Magazine category every year since 1978 it was clear that people still considered it eligible.) In 1987, as I recall, Locus declared itself ineligible, stating that it was obviously too easy to win its own poll. The award name returned to just Best Magazine in 1988, and has remained such since, though fanzines are still eligible and still show up on the lists of finalists.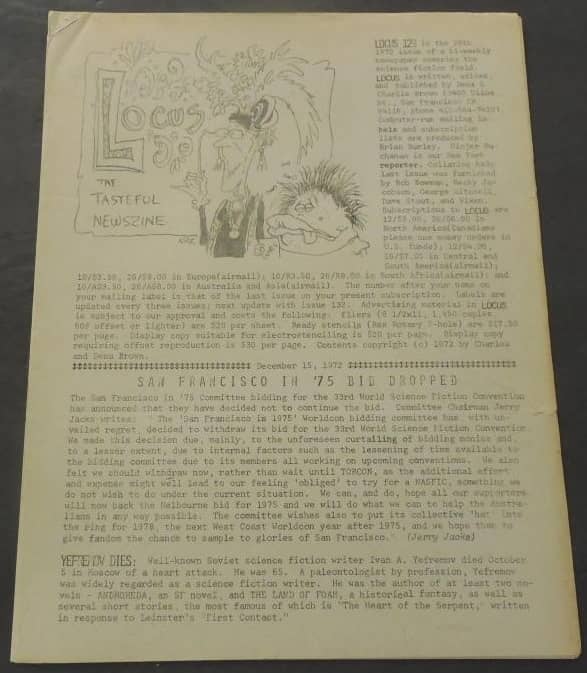 Some of these machinations are reflected in the history of the Hugo Award for Best Fanzine (also called Best Fan Magazine and Best Amateur Magazine.) Locus won Best Amateur Magazine or Best Fanzine Hugos eight times between 1971 and 1983, after which a new category was added, Best Semiprozine. At the time it seemed to me and most observers that this new category was added in reaction to what had seemed likely to become domination of the Best Fanzine award by Locus – something that was regarded as unfair by many traditional fanzine publishers because Locus charged for its issues, and in fact by this time had become a profitable enterprise. (I do think that this is a reasonable distinction to draw, though it's worth noting that I saw a complaint about Locus winning the Hugo as early as a 1972 issue of the 1973 Best Fanzine winner, Energumen.) Locus won the Best Semiprozine award 23 times between 1984 and 2012, often enough that the award was sometimes called the Best Locus, though it should be noted that in 2012 (my first Worldcon), the win by Locus was its first in 4 years. At any rate, as noted above, further rule changes made Locus ineligible in that category after 2012.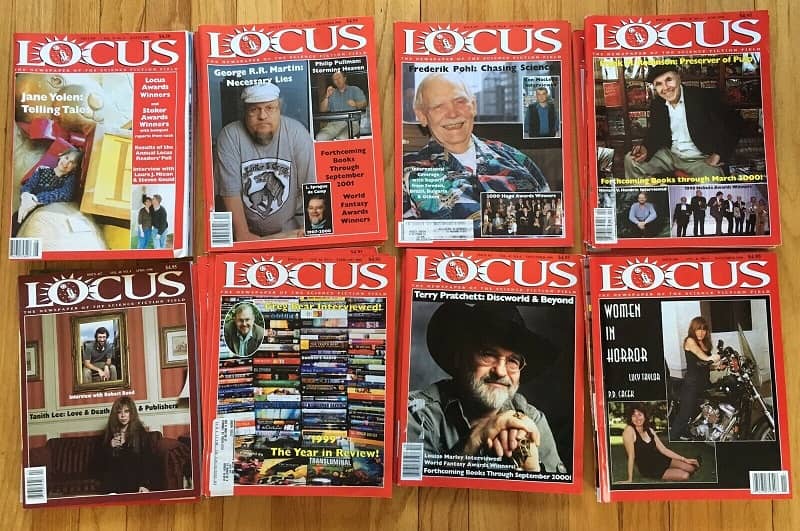 As for myself, I first subscribed to Locus in late 1974, or perhaps early 1975, and have subscribed ever since (assuming you count the many years I have received contributor's copies as subscribing.) It has always been an indispensable read for me, for the news, the reviews, the interviews, and, yes, the gossip.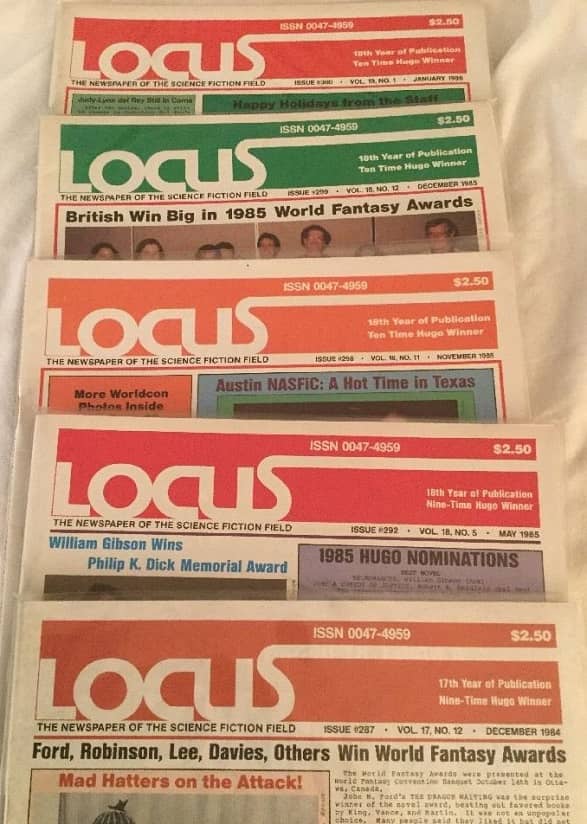 So what was Locus like in 1972? It was edited by Charles and Dena Brown. Charlie Brown edited and published Locus from its beginning (as a news fanzine to promote Boston's bid for the 1971 Worldcon) until his death in 2009. Dena was a co-editor from 1970 until 1977. In 1972 it looked like a fanzine – mimeographed and all. It came out biweekly. I found images of issues 127 and 130, and #127 is shown a little ways above. And what was the contents? A few very newsy articles to begin with – subjects like the death of Russian SF writer Ivan Yefremov, or a report on the Down Under Fan Fund, or a report on Apollo 17. A report on the SF magazines. There was an article about the new magazine Vertex. And there were book reviews – lots of book reviews. Unfortunately, in those days, there was no regular Short Fiction column – a grave oversight that I'm sure they were thrilled to finally remedy.
Not having read the 1972 issues I can't comment directly. But by 1974, as I've said already, it was full of fascinating details about the SF world. (By then I believe it had transition to offset printing.) It's been a major part of my life for a long time, and I'm happy to celebrate its history a bit more here.
---
Rich Horton's last article for us was a look at the 1973 Locus Award winner for Best Original Anthology, Again, Dangerous Visions. His website is Strange at Ecbatan. See all of Rich's articles here.