The Aesthetic of 1970s TV Sci-Fi
The Aesthetic of 1970s TV Sci-Fi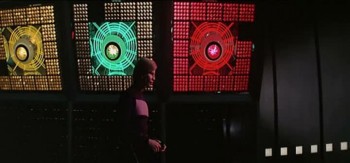 I sometimes get overwhelmed by all the things on Netflix that I don't want to watch, and yet, when I'm alone, I like to watch a bit of TV while eating. So lately I've been pulling out some old 1970s sci-fi. I watched a few episodes of my Battlestar Galactica boxed set. And surprisingly, I've been enjoying Logan's Run the TV series. And it's made me think about the way the 1970s TV sci-fi aesthetic stuck together.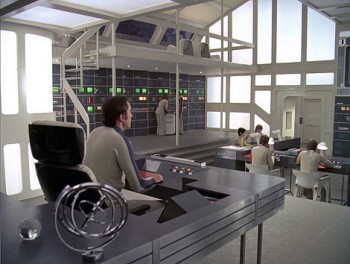 It's more than just the computers that all look the same. The brightly-lit panels on everything ring futuristic to me, perhaps because I lived through the tail end of the 70s with an impressionable aesthetic palate. I'm curious — do you guys think that there's a 1970s sci-fi TV "look and feel"?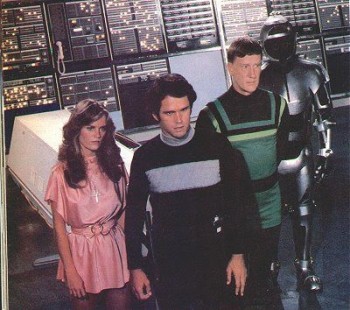 First up is Logan's Run. It ran for 9 or 10 episodes in 1977 after the 1976 movie. The TV show featured cross-country adventures in a futuristic car with Logan-5, Jessica-6 and an android called REM (*groan*), chased by a detachment of Sand Men.
They found robots, and different people and societies that had survived the nuclear war, and they all had computers that I guess looked more primitive than Vic-20s…
I'm including stills from the movie too (above), just because the movie Logan's Run played a lot on TV and because the same creators worked on both from many of the same visual cues.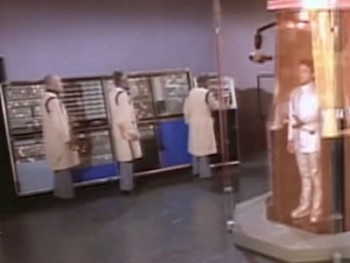 Above is a vidcap from an episode that was surprisingly sophisticated in what was not that strong a series. The guy on the right is from the past, prior to the nuclear war, travelling to the future in a time probe to see what they can do to avoid the apocalypse.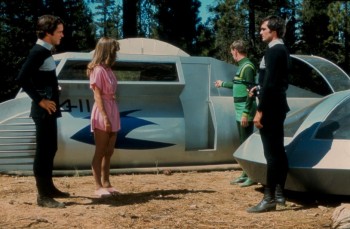 The visuals were good enough given the budget (except for their version of the teleportation effect — blech), and this little 1970s sci-fi episode actually posed a serious thematic time travel question: if the time traveller from the past could save the world from nuclear war, all the people he met in the future would cease to exist. Quite advanced for prime-time TV.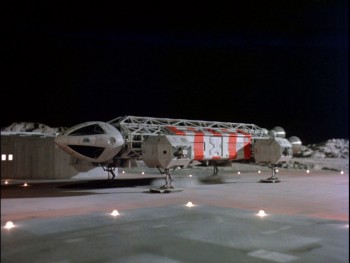 Space: 1999 was another show with a very strong aesthetic, with its ships and its interiors. And, like Logan's Run, it pre-dated Star Wars and its influence on the medium.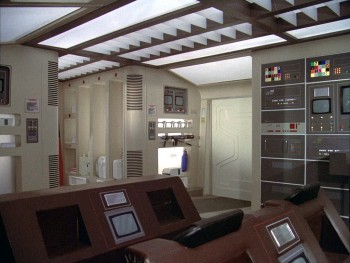 My tiny child mind was fascinated with the setting of Space: 1999, even if even then and now I find the episodes themselves boring. Three other shows that pre-date Star Wars are Space Academy, Jason of Star Command and Ark II.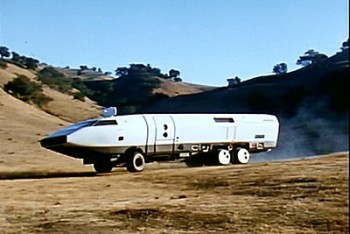 All three are children's shows by Filmation aiming at the Saturday morning cartoon crowd. Arc II was another post-apocalyptic (environmental, rather than nuclear) show, where high-tech scientists travel around in a neat-looking vehicle helping people and learning more about the environmental catastrophe.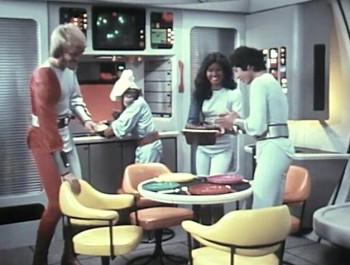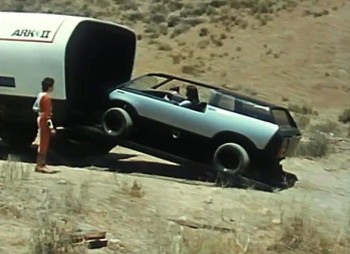 Some of the major selling features for my tiny mind were the back-loading small ground car and the talking monkey, to say nothing of the jet-pack. I would have loved to have lived in Ark II.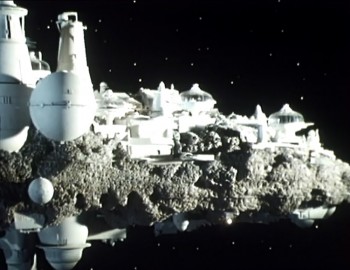 After Ark II was cancelled, Filmation re-used the Ark II car as a spaceship called a seeker, on a place called Space Academy, where super-powered kids learned to use their brains and psionic powers in a space station and went on adventures.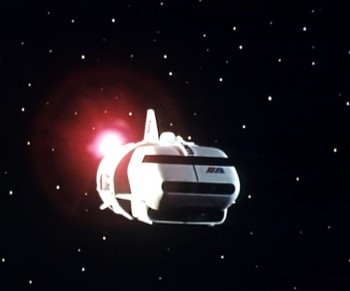 The visuals were stunning and I built more seekers and space academies out of Lego than anything else. When Space Academy was cancelled, Filmation again recycled props and sets in Jason of Star Command.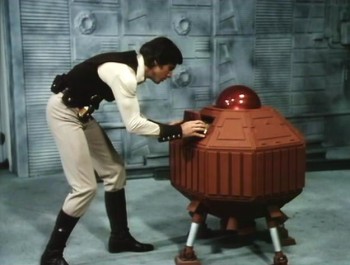 I'll note now that this show was developed after Star Wars was released, so Jason, the hero, has more than a little bit of a Han Solo air to him. But this show was no copy.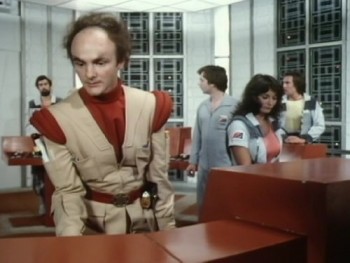 Tonally, it was space adventure far closer to Flash Gordon than Star Wars. The one other show on my childhood radar that hit before Star Wars was The Six Million Dollar Man, and while not strictly sticking always to its sci-fi premise, there were weird technological visions in it. This fembot face terrified me as a child.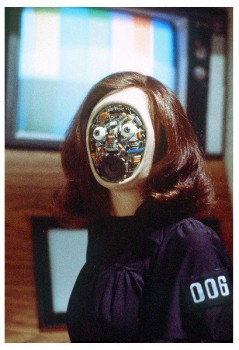 So did this relentless robot. I think I may have had to watch this episode twice as a child to finish it because it was so scary. I was probably six or seven.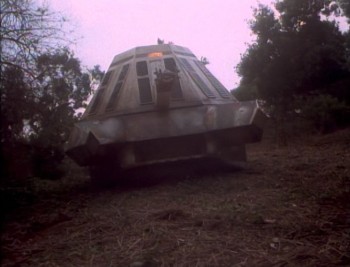 Star Wars hit in 1977, and the world was amazed at Lucas' visual and mythic imagination. I saw the movie, had the books, saw the TV Christmas Special and had the toys, and so did everyone else, so Lucas' aesthetic was such a powerful stamp that I mention its influence (and not the wall-lighting motif) among the TV shows too.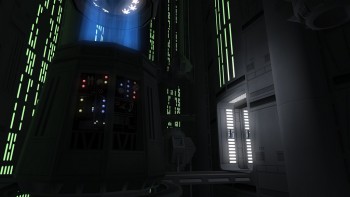 Battlestar Galactica was of course fully after Star Wars, and drew on some of the tropes of the movie, but was its own thing too.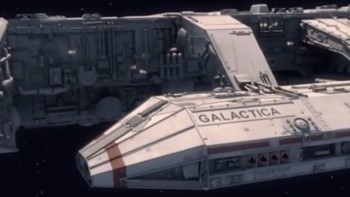 Battlestar Galactica was unfortunately rushed to production a year early and its special effects budget was big, but not as big as it ought to have been for such an ambitious series, but visually, it certainly left a mark on my brain.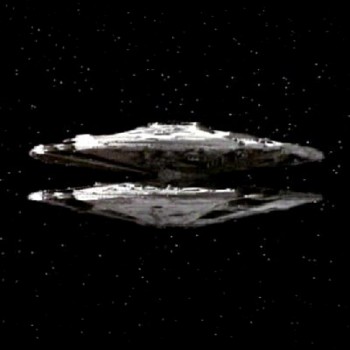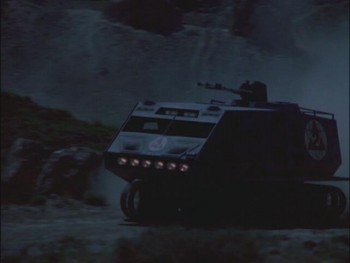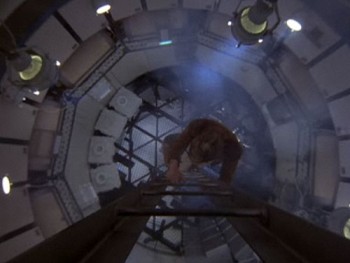 I think it's also work mentioning a couple of stragglers. I didn't watch Man From Atlantis or Starlost, although I was aware of them and they had their own neat contribution to the sci-fi aesthetic I think I saw (or see).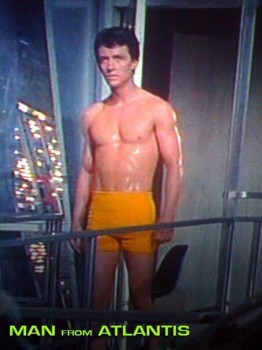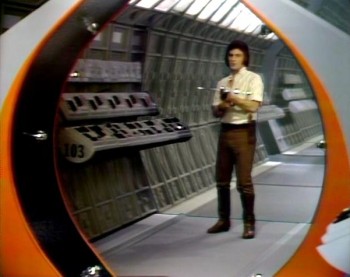 I have a really, really soft spot in my heart for 1970s sci-fi, the stuff I consumed before knowing if anything was good or not. And its aesthetic made a powerful impression on my aesthetic sensibilities. But I ask myself, and you readers, did I really see a sort of unified 1970s vision of technology and the future or is that hindsight, and perhaps childsight?
---
Derek Künsken writes science fiction and fantasy in Gatineau, Quebec. His first novel, The Quantum Magician, is available everywhere books are sold, and may still be a publisher's deal in Kindle version. Derek tweets from @derekkunsken.