When Humphrey Met Thomas, or Life Imitates Art, Silver Screen Style
When Humphrey Met Thomas, or Life Imitates Art, Silver Screen Style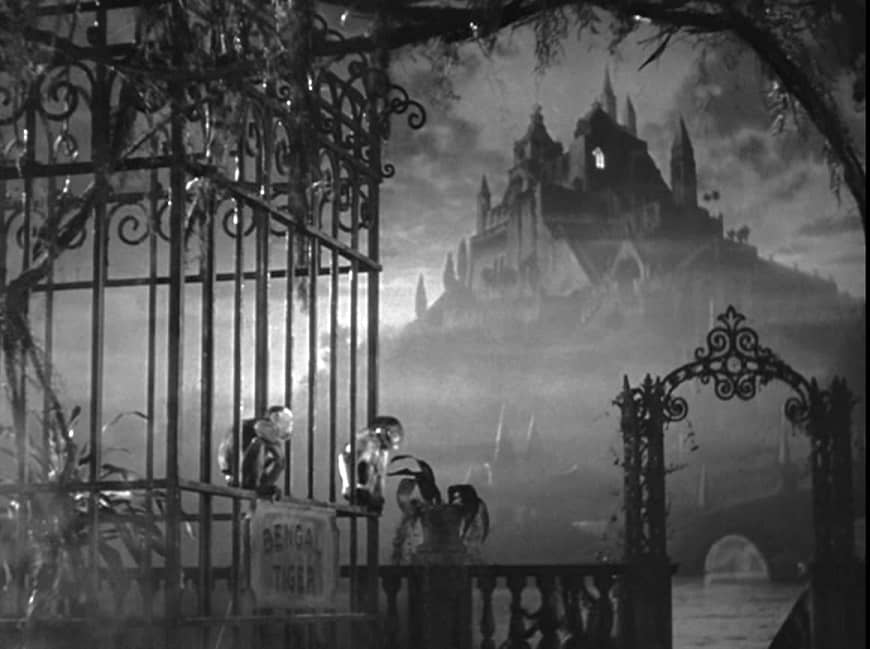 Charles Foster Kane's Xanadu
We live in a movie-saturated society, so much so that a real film fanatic may occasionally experience a blurring of the line between everyday reality and cinematic fantasy. In the middle of spinning an anecdote to an acquaintance, such a person may have to stop himself and say, "Oh… wait a minute now. I wasn't the one who made the Enquirer the biggest newspaper in the country and then went on to build Xanadu. That was Charles Foster Kane!"
Well, maybe things rarely get that extreme. But sometimes, one kind of reality actually does impinge upon the other kind, and you experience a moment in your waking life that has come straight out of a celluloid Hollywood dream. Let me tell you what I mean.
John Huston's 1941 film The Maltese Falcon is one of my favorite movies. It may be blasphemous to say so, but in some ways I consider it superior to Dashiell Hammett's brilliant novel, as Huston's screenplay wisely omits the book's only misstep, a bizarre dead-end subplot involving, of all things, the Fat Man's daughter. Back in those long-gone days when the advent of the VCR suddenly freed us forever from the tyranny of station scheduling (days I look back on with nostalgia, now), The Maltese Falcon was the first videocassette I bought, the first movie I had to own. I can't even begin to estimate how many times over the years I've seen it.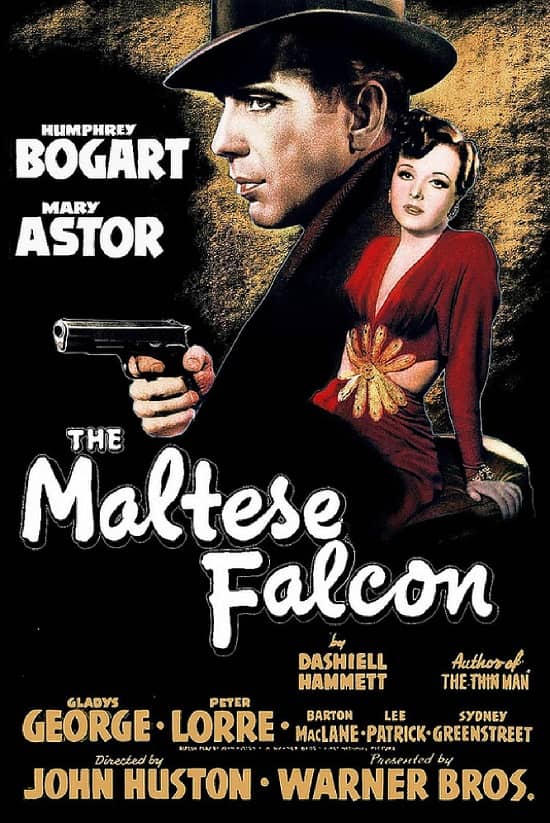 Tightly structured, sharply shot, and perfectly cast, the film has one of the all-time great endings. Having figured out that Brigid O'Shaughnessy (Mary Astor) is guilty of the murder of his partner, Miles Archer, Sam Spade (Humphrey Bogart), refuses to "play the sap" for her. Even though "maybe you love me and maybe I love you," the unsentimental Spade's head is ever the boss over his heart, and when Lieutenant Dundy (Barton McClane) and Detective Tom Polhaus (Ward Bond) arrive at his apartment after bagging Sidney Greenstreet's Fat Man and Peter Lorre's Joel Cairo, Spade unhesitatingly hands Brigid over to them with a businesslike, "Here's another one for you. She killed Miles."
Spade then gives the cops some evidence — a few guns, money that he was supposed to be bribed with, and finally, "this black statuette here that all the fuss was about." The black statuette is the fabulous Maltese Falcon, the priceless treasure that this whole crew of cutthroats was so desperate to possess that they were willing to kill for it. Except that the Falcon in Spade's possession (as everyone finds out too late) isn't the real Falcon at all, but is a fraud, a decoy. In the ultimate irony, the motive for so many betrayals and deaths turns out to be a phantom, a mere ghost of a never-to-be-satisfied desire.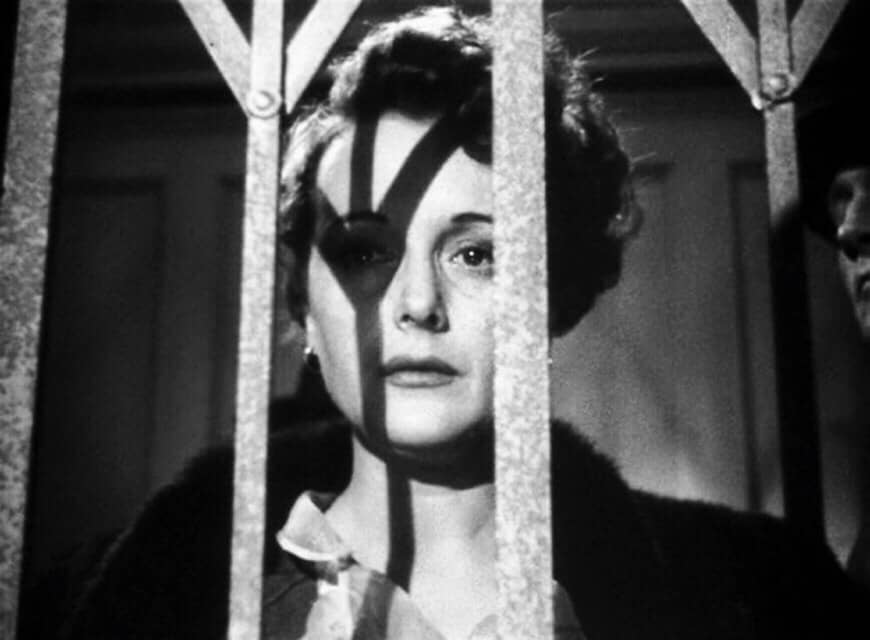 Bye bye Brigid
As Dundy leads Brigid out of the apartment (she looks and moves like a woman already dead), Tom Polhaus picks up the Falcon and says, "Heavy… what is it?" And Spade, his clouded eyes focused on an unattainable something a million miles away, reaches out and touches the figure lightly, almost lovingly, and says (in a line that Bogart himself suggested), "The, uh, stuff that dreams are made of." Spade takes the Falcon from Polhaus and walks out into the hallway where he sees Brigid standing in the elevator. The cage door closes on her, throwing the shadow of the gallows over her face; the elevator descends, and slowly, stoically, still cradling the Falcon, Spade walks to the stairs and follows her down. Fade out.
That's art. And life?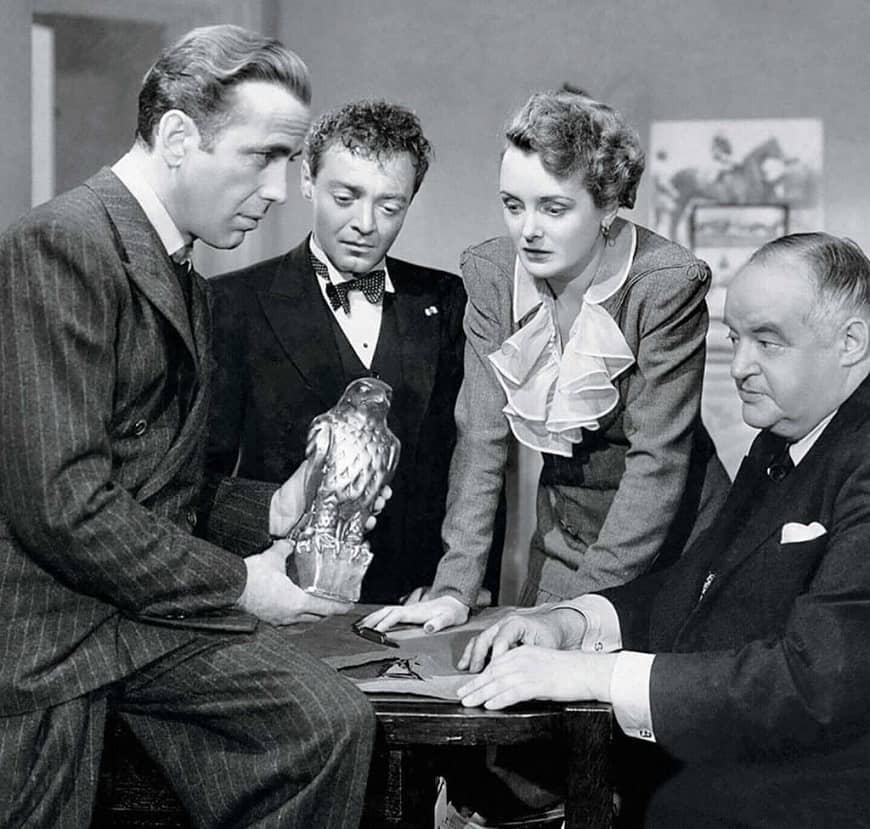 A fine lot of thieves
Sometime in the late nineties I saw an ad for a reproduction of the Maltese Falcon. Where was it? In a magazine? Online? I don't remember anymore. What I do remember is that almost two decades before that I had passed on buying a Falcon that I saw for sale in a bookshop. I regretted my thrift ever after, and promised myself that if I ever found another one, I wouldn't again let the opportunity pass me by. So, like the Fat Man himself, I had been seeking my own Maltese Falcon for the better part of twenty years.
This time I bought my statue, and when it arrived in the mail I was home with my ten year old daughter Samantha… who had never seen The Maltese Falcon. I carefully set the package down on the living room floor and began to open it. Inside, much like it was in the movie when it was delivered to Spade's apartment, the Falcon was tightly wrapped in paper, and just as the thieves in the movie did, I eagerly (not to say frantically) began tearing the wrapping off. When the paper was all stripped away, I began gathering the shreds off the carpet to stuff them into the box (unlike Sam Spade, I have a wife to answer to), and while I was occupied with cleaning up, Samantha, who had been watching in silence all this time, picked up the Falcon and said… well, you know what she said, don't you? As I hope for heaven, these words actually came out of her mouth: "Heavy… what is it?"
The Black Bird
Now I ask you, how many times in life do you get a chance like that?
I could have kissed the child, but that would have to wait. At that moment I did the only thing that I could do — I twitched my lips in that peculiar grimacing way that Bogart had, reached out to tenderly caress the Black Bird that my girl still held in her hands, and in my best imitation of Bogart's voice (which, while not great, is passable), said, "The, uh, stuff that dreams are made of."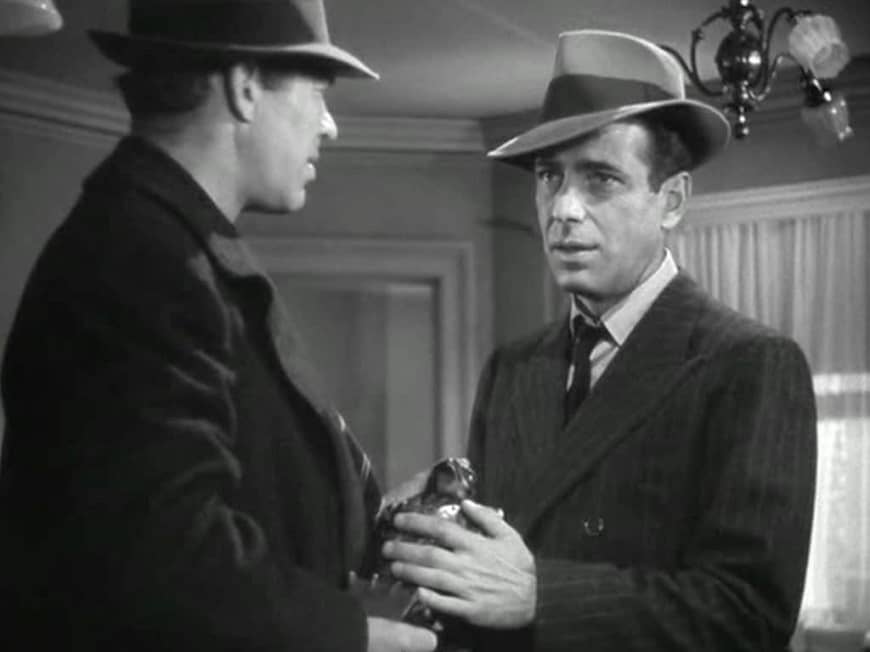 The stuff that dreams are made of
Even after all these years, it's still one of the great moments of my life. For an instant, the stars above and this mundane sphere below perfectly aligned, and I was Sam Spade, hard boiled private eye. Then the instant passed, and I finished cleaning up the mess I had made and walked out to the trashcan. Fade out.
I refuse to believe that I'm the only person that this kind of thing has ever happened to. For every movie we see that's "based on true events," we probably all have moments in our lives of which we could say, "based on When Harry Met Sally or The Breakfast Club" or some other cherished multiplex memory.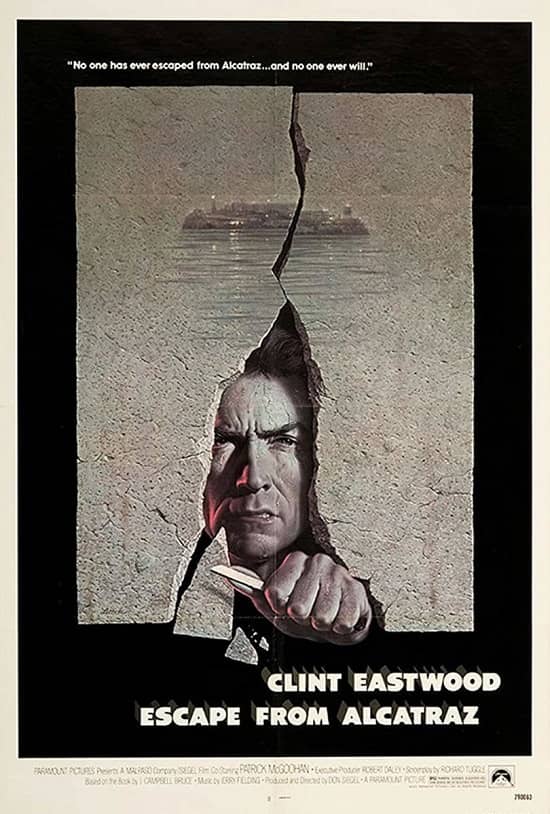 There are limits, though, and if you tell me that through some wild cosmic conjunction, you once blew a huge great white shark into so much sushi by firing a bullet into an oxygen tank that was wedged in its mouth or that on first finding out that you were adopted you got into a big fight with your biological father and he cut your hand off, I'm going to be skeptical. And if you should say that any part of your life amazingly replicates Escape From Alcatraz or Reservoir Dogs or the restaurant scene from The Godfather (especially if you played the Al Pacino part), I'm going to advise you to keep that information to yourself. Fun is fun, but you never know who might be listening.
---
Thomas Parker is a native Southern Californian and a lifelong science fiction, fantasy, and mystery fan. When not corrupting the next generation as a fourth grade teacher, he collects Roger Corman movies, Silver Age comic books, Ace doubles, and despairing looks from his wife. His last article for us was a look at the great ABC Movie of the Week The Night Stalker.