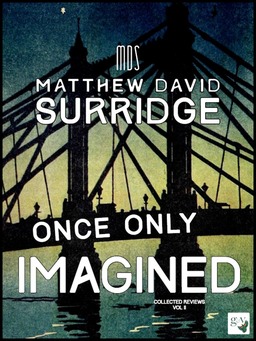 Matthew David Surridge is Black Gate's most successful blogger, both in terms of critical and popular success (his post "A Detailed Explanation," on why he declined a Hugo nomination last year, is the most popular article in our history). He's also one of our most prolific, with 270 articles to his credit, and he's had more reprinted than anyone else on our staff. Of course, that's mostly due to last year's Reading Strange Matters, which collected 24 of his posts, chiefly focusing on 21st Century writers.
Reading Strange Matters was successful enough to encourage his publishers to produce a second volume, Once Only Imagined, released last week. It collects another 30 articles, with a slightly different focus than last year's book. Matthew is our sure-footed guide to the true origins of modern fantasy, tracing them through the twisted maze of late 20th Century publishing to the nearly-forgotten fantasy masters of the era. Here's Matthew, from his introduction.
My first collection of essays about fantasy fiction, Reading Strange Matters, looked at books from the twenty-first century. This second one moves back in time, to the second half of the twentieth… There was a revival of sword-and-sorcery adventure fiction at about this time, relatively short novels focused on plot, action, and violence. And Ballantine Books reprinted several pre-Tolkien fantasies under the editorship of writer and fan Lin Carter. But many of the fantasy novels published in the 1960s and 1970s had a veneer of science fiction about them — their setting explained as another planet (as in the case of Andre Norton's Witch World and Anne McCaffrey's Dragonriders of Pern series), or their magic explained as pseudo-scientific psionic powers (as in Katherine Kurtz' Deryni series).

1977 is usually cited as the year when everything changed, with the publication of Terry Brooks' The Sword of Shannara and Stephen R. Donaldson's Lord Foul's Bane ushering in a new age of commercial fantasy fiction. This ignores several important predecessors, I feel, not only Norton, McCaffrey, and Kurtz, but also Patricia McKillip, whose The Riddle-Master of Hed came out in 1976. I think the form that eventually developed for commercial fantasy was shaped in part by these books… Writers like Raymond Feist and David and Leigh Eddings (the first few of whose books were published under David Eddings' name alone) soon had popular series as well…

Still, it'd be wrong to think of the fantasy genre of the 1980s as populated entirely by Tolkien knock-offs. Some writers were trying to do new things, and some idiosyncratic books were published as the genre developed. Writers like Glen Cook, with his Black Company series, challenged the new conventions with gritty stories set in a pseudo-medieval world but told in a very modern tone.
Matthew's knowledge of fantasy is breathtaking, and his deep insights into the evolution of the genre — and many of its greatest and most neglected works — are profoundly illuminating. At $3 for the digital edition, it's the best purchase you'll make all year.
---