Read the Best of Matthew David Surridge in Once Only Imagined: Collected Reviews, Vol II
Read the Best of Matthew David Surridge in Once Only Imagined: Collected Reviews, Vol II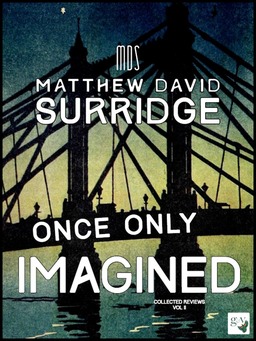 Matthew David Surridge is Black Gate's most successful blogger, both in terms of critical and popular success (his post "A Detailed Explanation," on why he declined a Hugo nomination last year, is the most popular article in our history). He's also one of our most prolific, with 270 articles to his credit, and he's had more reprinted than anyone else on our staff. Of course, that's mostly due to last year's Reading Strange Matters, which collected 24 of his posts, chiefly focusing on 21st Century writers.
Reading Strange Matters was successful enough to encourage his publishers to produce a second volume, Once Only Imagined, released last week. It collects another 30 articles, with a slightly different focus than last year's book. Matthew is our sure-footed guide to the true origins of modern fantasy, tracing them through the twisted maze of late 20th Century publishing to the nearly-forgotten fantasy masters of the era. Here's Matthew, from his introduction.
My first collection of essays about fantasy fiction, Reading Strange Matters, looked at books from the twenty-first century. This second one moves back in time, to the second half of the twentieth… There was a revival of sword-and-sorcery adventure fiction at about this time, relatively short novels focused on plot, action, and violence. And Ballantine Books reprinted several pre-Tolkien fantasies under the editorship of writer and fan Lin Carter. But many of the fantasy novels published in the 1960s and 1970s had a veneer of science fiction about them — their setting explained as another planet (as in the case of Andre Norton's Witch World and Anne McCaffrey's Dragonriders of Pern series), or their magic explained as pseudo-scientific psionic powers (as in Katherine Kurtz' Deryni series).

1977 is usually cited as the year when everything changed, with the publication of Terry Brooks' The Sword of Shannara and Stephen R. Donaldson's Lord Foul's Bane ushering in a new age of commercial fantasy fiction. This ignores several important predecessors, I feel, not only Norton, McCaffrey, and Kurtz, but also Patricia McKillip, whose The Riddle-Master of Hed came out in 1976. I think the form that eventually developed for commercial fantasy was shaped in part by these books… Writers like Raymond Feist and David and Leigh Eddings (the first few of whose books were published under David Eddings' name alone) soon had popular series as well…

Still, it'd be wrong to think of the fantasy genre of the 1980s as populated entirely by Tolkien knock-offs. Some writers were trying to do new things, and some idiosyncratic books were published as the genre developed. Writers like Glen Cook, with his Black Company series, challenged the new conventions with gritty stories set in a pseudo-medieval world but told in a very modern tone.
Matthew's knowledge of fantasy is breathtaking, and his deep insights into the evolution of the genre — and many of its greatest and most neglected works — are profoundly illuminating. At $3 for the digital edition, it's the best purchase you'll make all year.
In his Acknowledgements, Matthew is kind enough to credit our bloggers and readers for their contributions to his success.
I want to thank John O'Neill of Blackgate.com for hosting the original forms of many of these essays, and for giving me a reason to write them in the first place. I'd also like to thank all the other writers and editors at Black Gate for making it an excellent site to visit every day, and thank the commentators for their thoughtful opinions.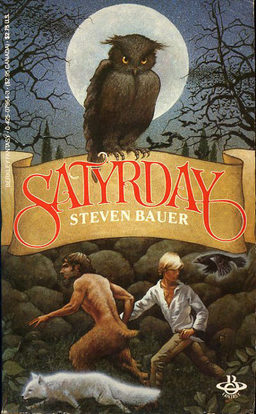 Once Only Imagined contains 22 articles previously published at Black Gate, and 8 brand new essays. Here's the complete Table of Contents.
Meaningfully Reticent: Alan Garner's The Weirdstone of Brisingamen, The Moon of Gomrath, and Elidor
A Point of Transition: Andre Norton's Witch World
Navigating the Numinous: Joan North, The Cloud Forest, The Whirling Shapes, and The Light Maze
The Adventures of Dorian Hawkmoon: Michael Moorcock's The History of the Runestaff and The Chronicles of Castle Brass
Faces in the Mirror: John Bellairs and Magic Mirrors
The Fantasist Manqué: Robertson Davies and The Deptford Trilogy
To Unbuild the Unreal City: M. John Harrison's Viriconium
Limits of Power: Gabriel García Márquez and The Autumn of the Patriarch
The Least-Expected Trumpet of Apocalypse: Leonora Carrington's The Hearing Trumpet
A Personal Reconsideration: Walter Wangerin, Jr., The Book of The Dun Cow, The Book of Sorrows, and Peace At the Last
How to Start a Fantasy Saga: Kauru Kurimoto's The Leopard Mask
What Might Have Been: Steven Bauer's Satyrday
The Gamification of Magic: Lyndon Hardy, Master of the Five Magics, Secret of the Sixth Magic, and Riddle of the Seven Realms
The Character of a Hero: Charles Saunders, Imaro, and "Turkhana Knives"
"All Folk Cherished Their Legends": Phyllis Ann Karr's Wildraith's Last Battle and At Amberleaf Fair
Extravagant Appearances: Virgil Burnett's Towers at the Edge of a World
Spiral Architect: Keri Hulme and the bone people
True Places: Jan Morris' Hav
"The Distances Between Things": Patricia A. McKillip's The Changeling Sea
Levelling Up For Real: Katherine Blake (or Dorothy Heydt) and The Interior Life
Ballad of Innocence: Greer Gilman's Moonwise
Masks & Daggers: Teresa Edgerton's Goblin Moon and The Gnome's Engine
Plasticity of Vision: Ben Okri's Famished Road Cycle
Dreamlike Knowingness: Gill Alderman and The Memory Palace
Ruminations on Ice and Fire: George R.R. Martin's A Song of Ice And Fire
The High House and the False: James Stoddard's Evenmere
Heart of the City: Nalo Hopkinson's Brown Girl in the Ring
The Unreal Part of Reality: Louise Erdrich's The Antelope Wife
The Meanings of Uplift: Colson Whitehead's The Intuitionist
The Unmaking of History: Mary Gentle's Ash
Once Only Imagined: Collected Reviews, Vol II was published on May 29 by Grace & Victory Publications. It is offered in digital format (as a 7 Meg download containing ePub, mobi, and PDF formats) for $3, and is available from Payhip here.