June Analog Now on Sale
June Analog Now on Sale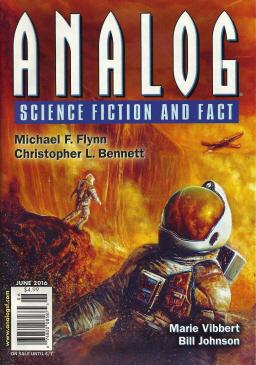 I know I said last time that I'd limit myself to covering issues of Analog that have dinosaurs on the cover. But Bob Eggleton's cover for the June issue is so good I made an exception (click the image at right for a super-big version. You're welcome.)
To be honest, I kinda gave up on Analog during the Stanley Schmidt era. The science was great, but the fiction just didn't cut it for me. And since he was the longest-serving editor in the magazine's history (34 long years, from 1978 to 2012), that's virtually all of my adult life. I want to like Analog, I really do, but at this point it's kinda like trying to date the girl who kissed you on the playground in Junior High… the memories are magical, but there's been a lot of years, and a whole lotta great kisses, between then and now.
But I hear good things about the new editor, Trevor Quachri. Promising things. And Quachri sure knows how to pique my interest with his issue summaries. Here's his enticing words for the June issue.
It's rare that we'll pick a later installment in a series to be the lead in an issue, but when the story is as good as Michael F. Flynn's "The Journeyman: In the Great North Wood," we make an exception. As the title suggests, we find Teodorq sunna Nagarajan in the Great North Woods, where he and his compatriots are roped into protecting a team of proto-archeologists, but of course, there's more going on than anyone expects or understands. (And as ever, the story rewards close reading.)

We also have part two of Edward M. Lerner's time travel fact piece, "Here we go Loopedy Loop," as well as a story about time travel, Bill Johnson's "When the Stone Eagle Flies"; and a story about, well, the opposite of time travel, in Marie Vibbert's "Hold the Moment"; as well as Christopher L. Bennett's tale of "Murder on the CisLunar Railroad"; Jay Werkheiser's "The Anthropic War"; J.T. Sharrah's tongue-in-cheek (but not entirely unrealistic) "The Nult Factor"; and Brandon Ghislain's take on the dangers of taking some proverbs too literally in "That Which Grows on Trees."
There's a Bill Johnson story? I love Bill Johnson! We shared an office at Motorola about a hundred years ago, around the time he won a Hugo for his magnificent tale "We Will Drink a Fish Together." I even bought a novella from him, "Mama Told Me Not to Come," which I published in Black Gate 4. Okay, if Bill Johnson is back in Analog, things are definitely looking up.
Here's the complete Table of Contents for the June issue.
NOVELLA
"The Journeyman: In the Great North Wood," Michael F. Flynn
NOVELETTES
"When the Stone Eagle Flies," Bill Johnson
"Murder on the Cislunar Railroad," Christopher L. Bennett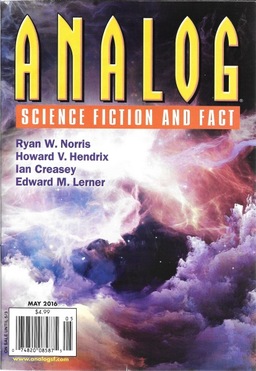 SHORT STORIES
"Hold the Moment," Marie Vibbert
"That Which Grows on Trees," C. S. Lane
"The Anthropic War," Jay Werkheiser
"The Nult Factor," J. T. Sharrah
SCIENCE FACT
"Here we go Loopedy Loop, Part II," Edward M. Lerner
POEM
MACHINERIES OF THE HEART, Robert Frazier
READER'S DEPARTMENTS
GUEST EDITORIAL: A DIALOGUE CONCERNING THE INTERNAL WORLD SYSTEM, Michael F. Flynn
THE ALTERNATE VIEW, Richard A. Lovett
IN TIMES TO COME
THE REFERENCE LIBRARY, Don Sakers
BRASS TACKS
UPCOMING EVENTS, Anthony Lewis
See the complete issue contents here.
Analog Science Fiction and Fact is edited by Trevor Qachari and published by Dell Magazines. The cover price is $4.99 for 112 pages; a one-year subscription is $34.97 (US) or $49.97 (International). It is also available in a variety of digital formats. Check out the complete TOC, story excerpts, and additional free content at the website.
The June issue is on sale until June 7. The awesome cover is by Bob Eggleton.
We last covered Analog with the April 2016 issue (which, yes, had dinosaurs on the cover. It was awesome).
Our May Fantasy Magazine Rack is here. See all of our recent fantasy magazine coverage here.