Future Treasures: Steeplejack by A. J. Hartley
Future Treasures: Steeplejack by A. J. Hartley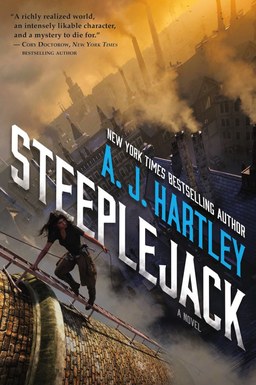 In his author bio, A. J. Hartley says he writes "fantasy adventures of the swords and sorcery variety (albeit from the slightly unusual perspective of a smart-mouthed young actor called Will Hawthorne)." That includes Act of Will (2009) and Will Power (2010), both available in paperback from Dystel & Goderich.
His latest is the first installment of a new young adult fantasy series set in an industrial city in a country reminiscent of Victorian South Africa. It arrives in hardcover from Tor next week.
Seventeen-year-old Anglet Sutonga lives repairing the chimneys, towers, and spires of the city of Bar-Selehm. Dramatically different communities live and work alongside each other. The white Feldish command the nation's higher echelons of society. The native Mahweni are divided between city life and the savannah. And then there's Ang, part of the Lani community who immigrated over generations ago as servants and now mostly live in poverty on Bar-Selehm's edges.

When Ang is supposed to meet her new apprentice Berrit, she instead finds him dead. That same night, the Beacon, an invaluable historical icon, is stolen. The Beacon's theft commands the headlines, yet no one seems to care about Berrit's murder―except for Josiah Willinghouse, an enigmatic young politician. When he offers her a job investigating his death, she plunges headlong into new and unexpected dangers.

Meanwhile, crowds gather in protests over the city's mounting troubles. Rumors surrounding the Beacon's theft grow. More suspicious deaths occur. With no one to help Ang except Josiah's haughty younger sister, a savvy newspaper girl, and a kindhearted herder, Ang must rely on her intellect and strength to resolve the mysterious link between Berrit and the missing Beacon before the city descends into chaos.
Steeplejack will be published by Tor Books on June 14, 2016. It is 336 pages, priced at $17.99 in hardcover and $9.99 for the digital edition. The cover is by Mike Heath.