… Not to mention Matthew David Surridge and C.S.E. Cooney
… Not to mention Matthew David Surridge and C.S.E. Cooney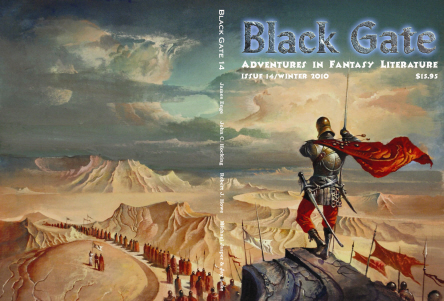 Congratulations to James Enge on the inclusion of his latest novel The Wolf Age in the Locus 2010 Recommended Reading List!
This is the second time on the list for James — his first novel, Blood of Ambrose, made the list in 2009.
Both novels feature Morlock the Maker, who appeared in Black Gate 8 in James' first published story, "Turn Up This Crooked Way."
Since that first appearance Morlock has been in our pages a half-dozen times. We're practically his second home — he doesn't even knock when he drops by anymore.
But that's not the only reason we're celebrating the Locus list. Also on the list is Matthew David Surridge's "The Word of Azrael", from Black Gate 14, which was recently selected for the upcoming Year's Best Science Fiction & Fantasy, edited by Richard Horton.
And although she was too modest to mention it in her post below, C.S.E. Cooney's own story "Braiding the Ghosts", from the anthology Clockwork Phoenix 3, made the list as well.
[While we're on the topic, C.S.E. made the list last year too, with "Three Fancies from the Infernal Garden", from Subterranean magazine, Winter '09. "Braiding the Ghosts" will also be in Rich's Year's Best Science Fiction & Fantasy volume, coming this summer.]
Congratulations to all!