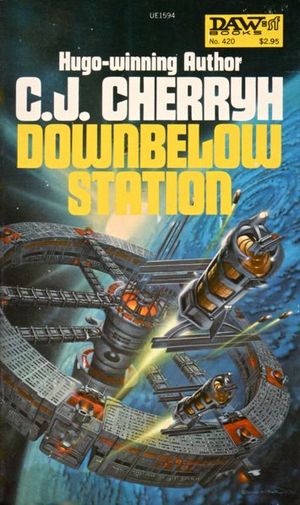 Welcome to the final round of the Black Gate Book Club, where we hash out or feelings and impressions on C.J. Cherryh's 1981 classic Downbelow Station (DbS).  We also give DbS our final score– and things get contentious!
Need to catch up on the discussion?  Easily done with these convenient links to the first, second, third, and fourth rounds.
Adrian S.
I finished DbS last week. Third time was on the money!  Since I appeared to be the slow elephant I assume that everyone else was probably finished before I was.  In our set-up for the Black Gate Book Club we said that we'd give a final 1 to 10 rating on the books and this is our opportunity for that, as well as for final thoughts/quibbles/arguments.

Me? I'm going to give DbS a 6 out of 10.

I acknowledge the vastness of the story and the world(s) that Cherryh constructed. It is intricate, it is dynamic, it is chaotic; she has two generations of station masters vs. two generations of saboteurs, vs. a rag-tag Company Fleet, vs. an unknown foe of the Union forces, and throws in the Downers and the Merchanters and all that.

That said, did we really have to spend 300 pages setting the board so that some things could start happening? Yes, I get it, a slow burn, small disasters leading to bigger disasters.  But 300 pages of it?

300 pages of characters that seem completely interchangeable. Is there much of a difference between Angelo Konstantin and his sons Emilio and Damon.  Is there much of a difference between Emilio and Damon?   Ditto Jon Lucas and his two sons?   Double ditto between Conrad Mazian and Seb Azov.  Double damn ditto the women in the story,  Miliko (Emilio's wife) and Elene (Damon's).

I'm going to expand on something that Chris Hocking said about Cherryh's lack of a sense of wonder. Not only is there no real sense of wonder, but Cherryh seems to be able to only write one real emotional state—a crippling sense of dread (CSoD).  And that's why each of those characters comes across pretty much the exact same way—they all have intricately explored, elaborated, and expanded CSoD.  There seems to be no character that she doesn't put into a claustrophobic environment to stew in their own cold terror.

That's why Jon Lukas, Jessad, Ambassador Ayers and even Satin stand out in this story like giants—they are the only characters who take an active hand in their own fate.  Even Bran Hale and the goon from Q , secondary characters at best, bestride Downbelow Station like colossi because they do something. The rest just bounce around like terrified pinballs until they are finally forced to take some action.
---