Ellsworth's Cinema of Swords: Peak '90s Wuxia
Ellsworth's Cinema of Swords: Peak '90s Wuxia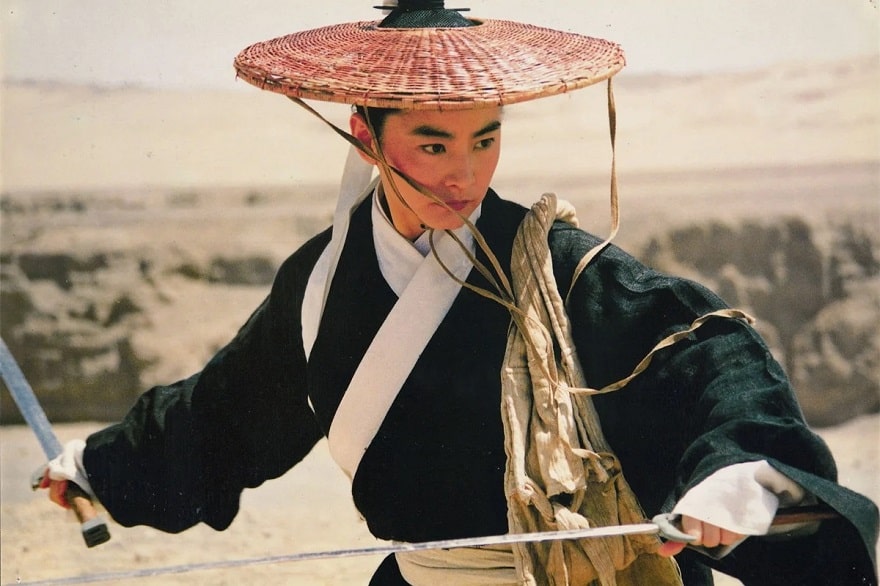 Dragon Inn (Hong Kong, 1992)
Wuxia, which roughly translates as "chivalrous martial heroes," is the term for armed historical martial arts adventures, fantasy tales with a history in China dating back to early medieval times. Wuxia stories were adapted to film in China as early as the 1920s, but they were never a major genre until revived in the '60s and '70s in Hong Kong cinema by directors King Hu and Chang Cheh. Wuxia movies were eclipsed by the kung fu explosion in the early '70s but they never really went away, and when producer-director Tsui Hark had breakout hits with his Chinese Ghost Story and Once Upon a Time in China trilogies, the Hong Kong movie machine responded in emulation.
From 1991 through 1995 an avalanche of crowd-pleasing wuxia movies burst from the Hong Kong studios. A lot of these films were low-budget quickies made to formula, but that formula could be stretched to include a great variety of approaches. The three movies covered here illustrate how eclectic the Wuxia Boom was at its height. In the late '90s, wuxia movies returned to occasional and irregular productions, but the eclecticism of the boom years remained a hallmark of the genre, one that continues until today.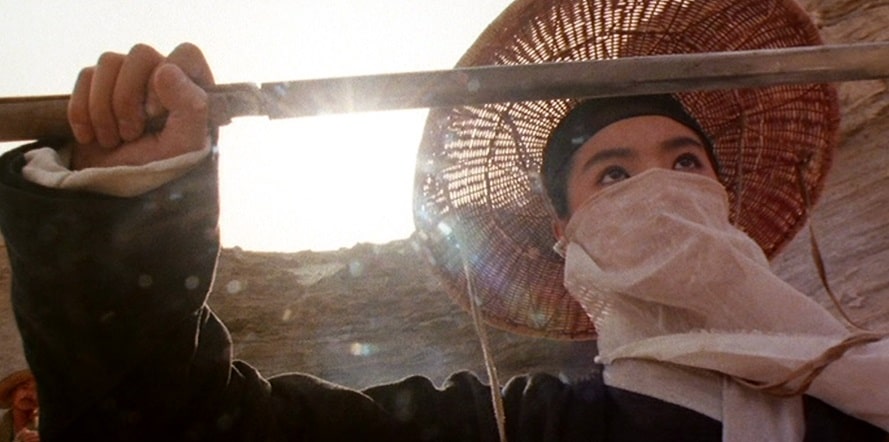 Dragon Inn (1992) (or New Dragon Gate Inn)
Rating: ****
Origin: Hong Kong, 1992
Director: Raymond Lee
Source: Hong Kong Legends DVD
Produced and co-written by Tsui Hark, this film is a remake of King Hu's Dragon Inn (1967), one of the foundational modern wuxia movies. This version is darker, more violent, and sexier than its predecessor, and where the original film's story was carried by an ensemble cast, here it's all about the star power of lead actors Brigitte Lin, Maggie Cheung, and Tony Leung, ably opposed by Donnie Yen and Lau Shun as the villains.
Though all the details are changed and reworked, the spine of the story is the same: during the Ming Dynasty, under the misrule of the eunuchs, Commander Tsao (Yen) of the Eastern District is ruthlessly removing all rivals. After the judicial murder of the honorable General Yang, his children are sent in chains into the western desert as a ploy to lure out Yang's chief ally, General Zhou (Leung) and his bodyguard and sometime lover, Mo-yan (Lin). Tsao marches west with his Black Flag Force, sending ahead his Dong Chang secret police incognito under the command of Cha (Shun). All of these forces converge in an arid mountain pass at the Dragon Gate Inn, a remote hostelry run with an iron grip by its ruthless proprietor Jade (Cheung).
The heart of this film is its long second act at the inn during the three days and two nights before the arrival of Tsao and his troops. Though Zhou and his aides, including Mo-yan, are badly outnumbered by Cha and the Dong Chan, Zhou and company are known to be formidable so Cha is unwilling to attack them openly, preferring to keep them bottled up in the Dragon Gate until Tsao arrives. A duel of wits follows, punctuated by nighttime assassination attempts, in which Zhou is unable to escape the inn with children, but Cha is unable to get the upper hand. The wild card is Jade, who has passionately desired Zhou from the moment she saw him, and who commands her own force of quite brutal brigands along with being a martial arts whirlwind herself. She offers escape through a hidden tunnel, but the price is Zhou's love if he wants to save the children and his own love, Mo-yan.
The wuxia combat here is pretty good, but we've seen better; the issue is Raymond Lee's direction, which is often poorly set up and confusing, shot in low-light conditions or amid blowing smoke or sand. Cheung and particularly Lin are the standout fighters, with special kudos to Donnie Yen for his demented energy in the final boss battle.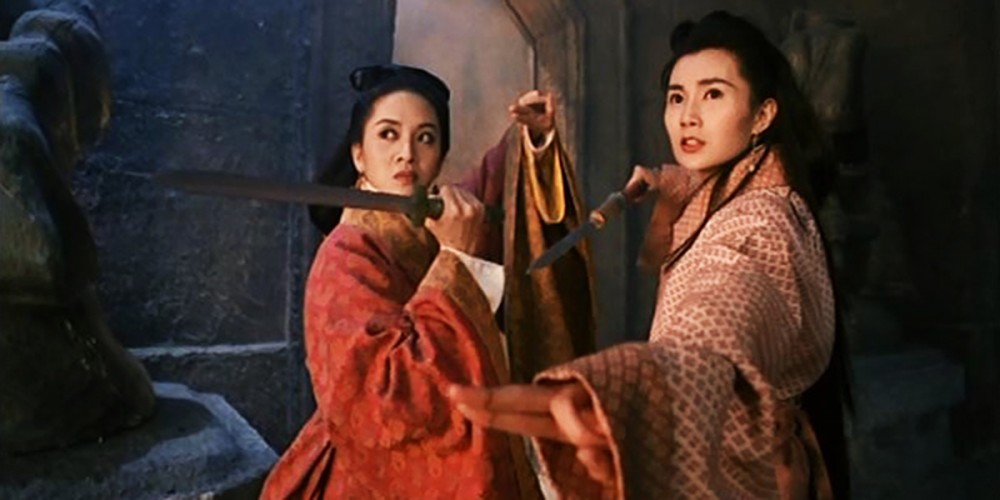 Moon Warriors
Rating: ****
Origin: Hong Kong, 1992
Director: Sammo Hung
Source: Hong Kong Legends DVD
This is the best wuxia adventure you'll ever watch in which the hero's best friend is a killer whale.
Handsome Fei (Andy Lau), though naturally gifted with sword-fighting skills, leads a simple life as the genial leader of a bucolic coastal fishing village, often playing in the sea with Wei, his friendly orca pal. One day in a bamboo grove he stumbles upon an ambush, assassins planning to waylay the 13th Prince of Yin (Kenny Bee) and his entourage, which includes his bodyguard Lady Hsien (Maggie Cheung). After Fei, the prince, and Hsien fight off the assassins, Fei learns that the prince's throne has been usurped by the cruel 14th Prince, who has driven 13th into exile. Fei shows the prince a seaside grotto where he can hide, a fantastic structure that turns out to be the lost tomb of the Yin dynasty. Score!
The prince sends Fei and Hsien to gather his allies Lord Nanning (Chang Yi) and Nanning's daughter Yuet (Anita Mui), 13th's intended bride, but someone betrays them and there's another ambush by 14th's assassins. Fei escapes with Princess Yuet and escorts her back the long, romantic way through fields of flowers where he gifts her a snow-white baby bunny. (No, really, he does this.) Fei falls for the princess, and suddenly we're in heartbreak territory, because Yuet has feelings for Fei but also for 13th Prince, who is also loved by Lady Hsien even though she's supposed to assassinate him for the wicked 14th Prince (who nobody loves). Tangled! What's the solution to this doomed romantic quadrangle? Kickass martial arts battles, duh.
And fortunately, this film is directed by the great fight arranger Sammo Hung, and the martial arts swordplay is dazzling: fast, fierce, and clearly choreographed. On top of that, we get fighting kites, the Forest of Thorns, magical jade pendants, and yes, that killer whale has an important part to play at the climax. The soundtrack is solid and the cinematography, led by the celebrated Arthur Wong, is even better; I'm convinced this very handsome film was a primary influence on Crouching Tiger, Hidden Dragon (2000). And it does it all in only 83 minutes — in the time it takes to sit through any James Cameron film, you could watch this twice!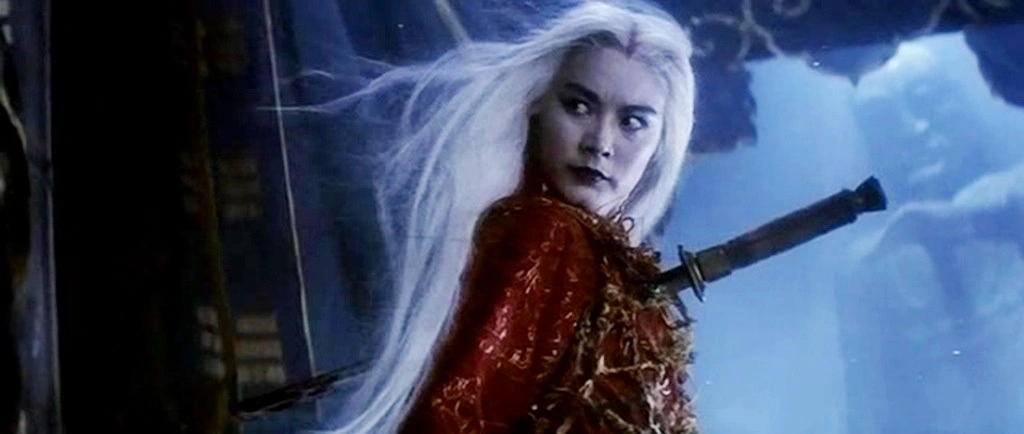 The Bride with White Hair
Rating: *****
Origin: Hong Kong, 1993
Director: Ronny Yu
Source: Universe DVD
Atop icy Mount Shin Fung, once every twenty years there blooms a magic flower that can cure any ill. The Ming Emperor is diseased and dying, so his four greatest soldiers are sent to gather the flower that might save him. But the flower is protected by a lone swordsman who has been waiting a decade for it to bloom. He needs it for his lost love, and not even an emperor can have it. The soldiers attack, and he slays them all.
This is a classic. Less an adventure wuxia than a romantic fable, it follows the doomed love story of two enemies who are also lonely supernatural kung fu badasses. Yihang (Leslie Cheung), an androgynously handsome long-haired youth, has been raised by the conservative Wu-Tang clan to be the greatest martial artist of his generation — but as a child, he tended toward disobeying his master and going off on his own. Lost in the woods and pursued by wolves, he is saved by a smiling feral wolf girl who calls off the pack with a tune from her flute.
Years later, the Wu-Tang and other old clans are threatened by a burgeoning death cult led by cruel and insane magical conjoined twins, male Ji (Francis Ng) and female Ji (Elaine Lui) — and their leading warrior is the now-adult nameless wolf witch (Brigitte Lin). Yihang and his "clan sister" Luhua (Yammie Lam) are charged with bringing down the cult, but instead Yihang and the wolf witch save each other from some brutal imperial soldiers, retreat to a romantic ruined temple to tend their wounds, and there fall in love. Yihang gives the witch a name, Nichang, and vows never to distrust or betray her. But fate has other plans for the lovers.
Bride with White Hair is masterfully directed by Ronny Yu, best known for horror films, and shot in glowing, gemlike colors by the celebrated cinematographer Peter Pau (Crouching Tiger, Hidden Dragon). The incredible costumes are by Emi Wada, who won an Oscar for Ran, and the outstanding fight choreography is by Phillip Kwok. This is a highly theatrical production, a wuxia fairy tale that weaves its own reality. Lead Leslie Cheung is fine as the brooding Yihang, but as the wolf witch, Brigitte Lin steals every scene she appears in. Her final transformation into the white-haired bride is visually stunning, a look so memorable it's enough to call for a sequel on its own just so we can see more of it. This film is one of the highlights of the '90s wuxia boom and shouldn't be missed.
Where can I watch these movies? I'm glad you asked! Many movies and TV shows are available on disk in DVD or Blu-ray formats, but nowadays we live in a new world of streaming services, more every month it seems. However, it can be hard to find what content will stream in your location, since the market is evolving and global services are a patchwork quilt of rights and availability. I recommend JustWatch.com, a search engine that scans streaming services to find the title of your choice. Give it a try. And if you have a better alternative, let us know.
Previous installments in the Cinema of Swords include:
The Barbarian Boom, Part 7
Avenging Women
Mondo Mifune
Near Misses in the Near East
Banditti!
Zatoichi at Large
Invitation to a Keelhauling
Sequel Debacle
Deuces Wild
Beware of Greeks
---
LAWRENCE ELLSWORTH is busily promoting the Cinema of Swords compilation from Applause Books that was born right here at Black Gate! The volume out now covers swordplay movies up through the '80s, but Ellsworth is continuing with new material for a Volume Two and is now working his way up through the 1990s. These later reviews are being published weekly on his new Cinema of Swords Substack blog, at cinemaofswords.substack.com
Meanwhile, Ellsworth soldiers on in his mega-project of editing and translating new, contemporary English editions of all the works in Alexandre Dumas's Musketeers Cycle; the sixth volume, Court of Daggers, is available now as an ebook or trade paperback from Amazon, while the seventh, Devil's Dance, is being published in weekly installments at musketeerscycle.substack.com. His website is swashbucklingadventure.net. Check them out!
(Ellsworth's secret identity is game designer LAWRENCE SCHICK, who's been designing role-playing games since the 1970s. He now lives in Dublin, Ireland, and is Principal Narrative Designer for the Dungeons & Dragons videogame Baldur's Gate 3.)