A Political Thriller in a Gaslamp World: The Grand Illusion by L. E. Modesitt Jr.
A Political Thriller in a Gaslamp World: The Grand Illusion by L. E. Modesitt Jr.

The Grand Illusion novels: Isolate, Councilor, and
Contrarian (Tor Books, 2021-2023). Covers by Chris McGrath
L. E. Modesitt Jr. is one of the most popular and prolific authors of modern fantasy. He's written over 80 novels, including the long-running Saga of Recluce (22 books), The Imager Portfolio (12 books), the Corean Chronicles (8 books), the Spellsong Cycle (5 books), and the Ecolitan series (4 books).
His latest series is The Grand Illusion, in which he is "Masterfully blending gas lamp fantasy, mystery, and political thriller" (Booklist), and it's the first set of books from Modesitt that have worked their way to the top of my TRB pile in a long time. The opening novel Isolate won wide acclaim — Publishers Weekly said it "skillfully melds mystery and supernatural elements [into] a taut thriller," and Library Journal said "Anyone who likes to delve into the way worlds work will be riveted" — but these days I like to wait until the first three books are available before I make a serious commitment.
The third novel, Contrarian, arrived in hardcover from Tor on August 15, and I'm finally ready to settle into my big green chair and put myself in Modesitt's hands.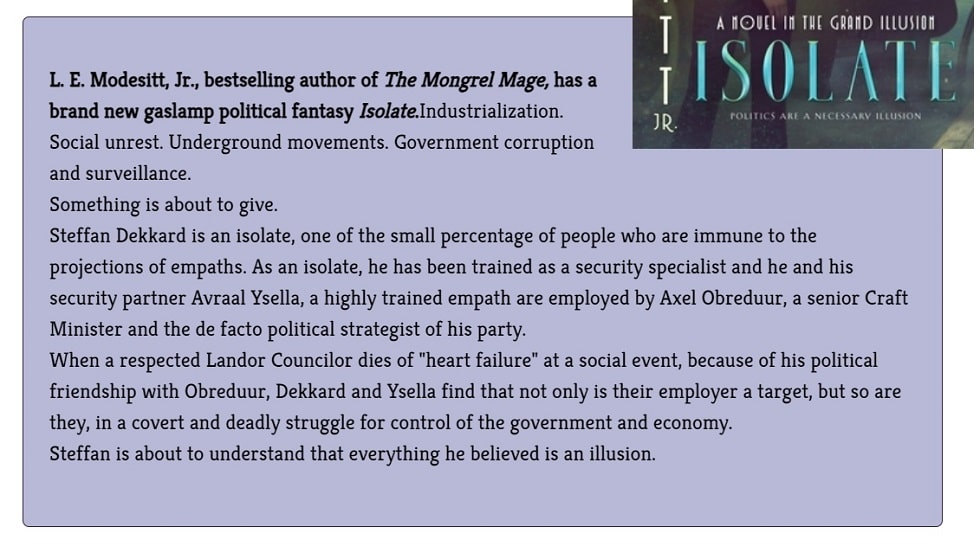 Lee Modesitt has an intriguing summary of the series on his website.
While marketing pitches call the series "Gaslamp" fantasy, I'd describe it as high-tech coal-power, because in the world of Guldor — the Empire of Gold — electricity is not technically possible, and thus illumination is by gas lamps, kerosene lanterns, or candles, but industry is coal-powered. The first three books focus on politics at the heart of Guldor, which is a constitutional Imperium, where power largely, but not exclusively, rests in the Council of Sixty-Six at a time of social, economic, and technological change. And… oh, yes, there are empaths who can read and project emotions, and isolates, who cannot be emotionally read or influenced by empaths.
And Judith Utz at Booklist has my favorite review of the first novel.
Masterfully blending gas lamp fantasy, mystery, and political thriller, Modesitt's latest is vast in scope and rich in detail, proving a captivating start to his Grand Illusion series. In Guldor, where coal is the primary source of energy and trained empaths can influence those around them for personal or professional gain, three opposing political parties vie for control of the Council-led government. Steffan Dekkard, an isolate whose feelings and emotions cannot be sensed or controlled, and Avraal Ysella, a talented empath, are the two-person security team hired to protect a high-ranking minister, Councilor Axel Obreduur. After the pair saves the Councilor from a would-be empathic assassination, a scandal is uncovered that ties government officials to a powerful corporation… as Dekkard digs deeper into Guldor's political underbelly, his interactions with all levels of Guldoran society highlight Modesitt's superlative world building skills.
Here's the complete publishing details.
Isolate (608 pages, $29.99 hardcover/$11.99 paperback/$14.99 digital, November 16, 2021)
Councilor (528 pages, $29.99 hardcover/$10.99 paperback/$14.99 digital, August 9, 2022)
Contrarian (624 pages, $32.99 in hardcover/$16.99 digital, August 15, 2023)
All three books were published by Tor, with covers by Chris McGrath.
Our previous coverage of L. E. Modesitt includes:
L. E. Modesitt Jr. Wraps Up The Imager Portfolio with Endgames (2019)
New Treasures: Solar Express by L.E. Modesitt (2015)
See all our latest coverage of the best new fantasy series here.