Goth Chick News: I Believe The Exorcist: Believer Looks Pretty Good (Maybe)
Goth Chick News: I Believe The Exorcist: Believer Looks Pretty Good (Maybe)
If you've hung around here for a while, then you know how I feel about tampering with classics. We've had some close calls in the past. For instance, around 2014 and then again in December of last year, there was a lot of buzz around remaking Alfred Hitchcock's The Birds. Frankly I'm still holding my breath hoping this one doesn't actually happen, since as late as January of this year there was still Hollywood scuttle that Michael Bay would direct Scarlett Johansson in a reboot. 2016 saw remake rumors for, wait for it… Gone with the Wind, which were thankfully also gone just as quickly. I mean, some things just need to be left alone, I don't care how desperate the entertainment industry is for material.
Admittedly, I am a bit of a hypocrite when it comes to classic horror. I cut my tiny goth girl fangs on Bela Lugosi, Boris Karloff and Lon Chaney who starred in the most classic of classic monster movies. But revisiting Dracula, Frankenstein and The Wolf Man in contemporary times has usually been done in films I've looked forward to. I guess it is because the monsters themselves have been ingrained in our collective conscience for so long, that it seems okay to update their stories for new generations of audiences. Which is why I'm on the fence about the news I am about to share.
When The Exorcist first hit screens in December 1973, it was late and over budget. No one, not even the studio, expected it to be successful. Instead, it became the first official horror blockbuster, driven by not only its shock-value, but by the stories of audience members going screaming out of theaters, or being sick in the aisles. In fact, there is a fascinating short film available on YouTube which documents the audience reactions.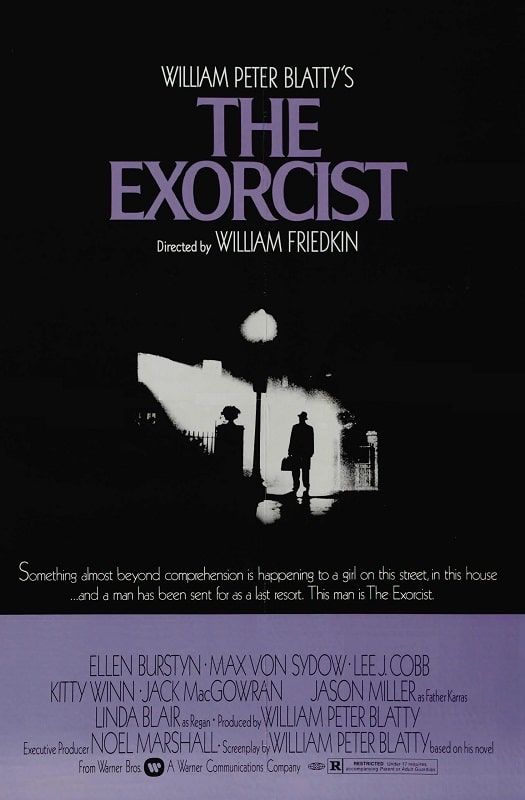 The Exorcist (Warner Bros, December 26, 1973)
The Exorcist went on to be the first (and only 1 of 6 in history) horror film nominated for a Best Picture Academy Award. It was nominated for nine other awards as well, ultimately earning one for author William Peter Blatty for Best Adapted Screenplay, and one for the sound engineers for Best Sound. The Exorcist was to remain the highest-grossing R-rated horror film for twenty-four years (adjusted for inflation) until being unseated by IT in 2017. It spawned multiple sequels, a television show, and more rip-off films than I could count. Just type "The Exorcist" in IMDB.com and see what you get.
Interestingly, Ellen Burstyn who played the possessed Regan's (Linda Blair) mother, Chris MacNeil, never participated in any of the follow-on Exorcist projects. All these years later, audiences are more likely to remember Burstyn for her roles in Requiem for a Dream (2000), Interstellar (2014), or House of Cards (2016). But it's Burstyn that makes this latest Exorcist outing kind of exciting.
This week we finally got a look at what is being billed as a direct sequel to The Exorcist, entitled The Exorcist: Believer, with Burstyn reprising her role as Chris MacNeil. What is meant by "direct sequel" is that Believer is ignoring the other four films billed as sequels and positioning itself as the only events to directly follow the original film. The other four films were largely forgettable anyway, but if you're wracking your brains, they are Exorcist II: The Heretic (1977), Exorcist III (1990), Exorcist: The Beginning (2004), and Dominion: Prequel to The Exorcist (2005).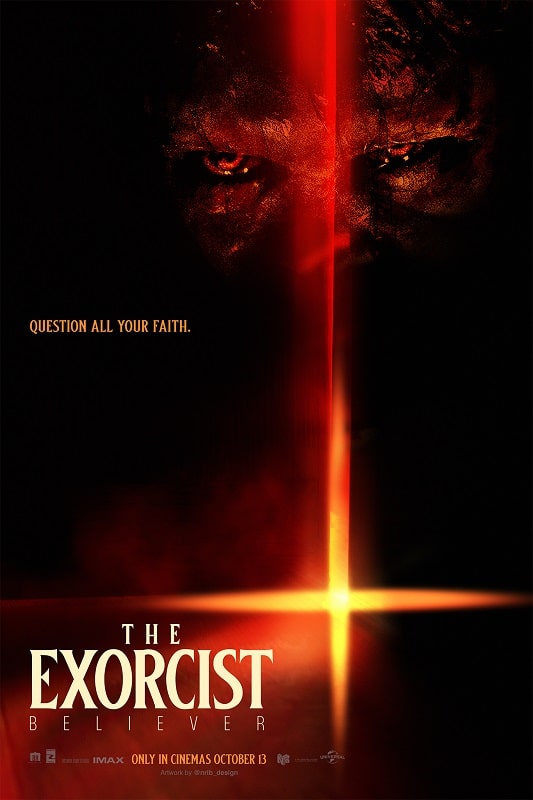 The Exorcist: Believer (Blumhouse, October 13th, 2023)
There is another reason to be excited about Believer besides Burstyn's starring role. It's being produced by Jason Blum of Blumhouse Entertainment, the horror master responsible for Paranormal Activity (2007), the Insidious franchise, Jamie Lee Curtis' return to Halloween (2018), and The Black Phone (2021). That said, I think the story is in good hands. Here's what Blumhouse released as a synopsis to go along with the trailer.
Since the death of his pregnant wife in a Haitian earthquake 12 years ago, Victor Fielding has raised their daughter, Angela on his own. But when Angela and her friend Katherine disappear in the woods, only to return three days later with no memory of what happened to them, it unleashes a chain of events that will force Victor to confront the nadir of evil and, in his terror and desperation, seek out the only person alive who has witnessed anything like it before: Chris MacNeil.
And here's the trailer, which I think looks pretty darn good, in addition to several nods to the original film.
The reason I have mixed feelings is that The Exorcist was incredible for its place in time. It was groundbreaking for its subject matter, and all the many boundaries it pushed. It graphically depicted two subjects that were still taboo at most dinner tables in the early 70's, religion and sex, and the star was a mere 14 years old.
Believer is not trying to remake The Exorcist, which is a good thing because a remake could never recapture the shock and awe of the original. But in a time when the magic of film can serve up the most hideous gratuitous violence to audiences, and almost no topic is taboo in media (I'm looking at you Terrifier I, II and III), there seems a good chance that Believer will end up being another interesting but forgettable horror movie. Which would be a huge disservice to its source material.
The Exorcist: Believer fittingly hits theaters on Friday, October 13th.
So, what do you think about this Exorcist "direct sequel?"