What I've Been Listening To: September, 2022
What I've Been Listening To: September, 2022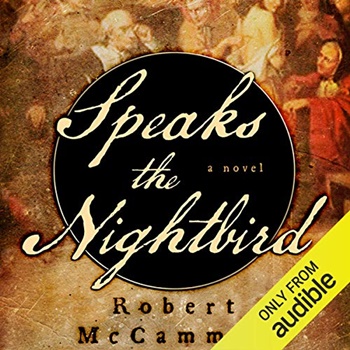 Last week, I talked about what I've been watching. I could do another entry on that, but I want to mix it up a little bit. So, this week, I'm gonna talk about five things I've listened to, lately. I listen to audio books, and radio plays, when I'm driving by myself. And I can also listen to them during most work days. My mind can listen to them, and focus on my work, most of the time. I'm fortunate that way.
When I have to split my attention, I often listen to something I've heard before, like the Dirk Gently broadcast. Or an old radio show.
SPEAKS THE NIGHTBIRD – Robert R. McCammon
I wrote this essay about the introduction to my favorite novel of all time: McCammon's Boy's Life. It's simply a tour-de-force of writing. McCammon is the only straight horror author I like. That genre creeps me out too much. King, Lovecraft, Robert E Howard – don't care for any of their horror stuff. But man, do I love me some McCammon.
One of the genres best-sellers, he wanted to write something different after 1992's Gone South (that has the most memorable opening line I've ever read). His publisher, not wanting the money train to move onto a siding, told him 'No' and to keep the horror coming. Denied an outlet for a historical fiction novel, McCammon took his toys and went home. He quit.
He wrote the book on his own, and a decade later, it came out from a small publisher. The ninth Matthew Corbett book is upcoming, and he has also written a few more 'regular' horror books. He came back to the industry on his own terms.
Speaks the Nightbird introduces Corbett, a clerk to a traveling Magistrate, as they oversee the murder and witchcraft trial of Rachel Howarth, in 1699. There is a LOT going on, and Corbett, an inexperienced young man, learns much about life.
It's an NSFW book (I listened to the audio book – just a warning there), but it's excellent. McCammon's time off did not diminish his skills in the least. It's a complex plot, and I didn't see things coming. The narrator was quite good. I plan on continuing the series, with The Queen of Bedlam the next title. I think that Robert R. McCammon is a world-class writer, and I'm pleased to have a 'new' series to explore.
UPDATE 9/29/22 –  I just used my latest credit for the next book, Queen of Bedlam. Excited to continue on.
STONEWIELDER – Ian C. Esslemont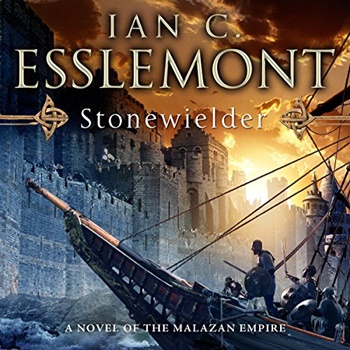 Stephen Erikson and Esslemont created the world of Malazan for their RPG game. Erikson would turn it into an epic, ten-book, Wheel of Time-size, sprawling saga, The Malazan Book of the Fallen. The average mass market paperback was over 1,000 pages. I've read the first eight, and have the final two on my shelf. Just saving them for the right time.
The series is rather dark, and I took a break after reading two in a row. Some unpleasant stuff happens. But quite simply, it's amazing. If you like dark fantasy, this stands alongside Glen Cook's The Black Company, as my favorite. And Malazan is far more grand, complex, and in-depth. Stunning world building, and terrific stories.
Midway through the series, Esslemont started writing some independent novels, which fit in the Canon. I read the first two, and quite liked them. Esslemont's writing style is different than Erikson's but it works. I decided to use an Audible credit and listen to his third book. It actually fits in after book nine of Malazan – so I listened to it a bit out of order. I don't think this will be a problem, though.
The story builds on his prior novel, Return of The Crimson Guard. It both explains some of what had been mentioned before, and it expanded the story. As with every Malazan book, there are many story threads to follow. You definitely need to pay more attention than with a 'normal' audio book.
I liked this book, and I'll read Esslemont's other three, after I finish Erikson's remaining two. Each man has written a prequel series, but I haven't looked into those at all. I am a Malazan fan, and I like Esslemont's additions to the saga.
DIRK GENTLY'S HOLISTIC DETECTIVE AGENCY – Douglas Adams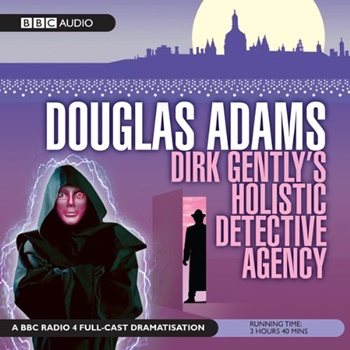 I am a Hitchhiker's Guide to the Galaxy fan. But this is actually my favorite Douglas Adams book. Gently is England's leading – and likely only – holistic consulting detective. He believes in the fundamental interconnectedness of everything. Which he uses as a lever to pry money out of gullible clients. It's one of my favorite books, and I've read it a couple times. I used to have it on cassette, read by Adams himself. And I do have a terrific BBC radio play version, with Billy Boyd (Pippin, LotR), which I listen to every couple of months. And I just did so again last week. Love it.
Though it's not available in the US, there is an audio book read by Stephen Magnan, who starred as Gently in a very good BBC miniseries. As opposed to the utter trash that was the Elijah Wood version.
This is one of my favorite radio plays. Adams wrote a sequel, The Long Dark Tea Time of the Soul (GREAT title) which is good, but not great. That BBC radio play is more freely adapted. I am currently listening to an audio book of that one.
Cannot recommend the Dirk Gently BBC radio play, enough. It is a total treat.
OF NOTE
I am a huge fan of the movie, Blade Runner. I quit Blade Runner 2049 partway through – it was not good. I LOVED the Blade Runner computer game, which needs to be remastered (that's an ugly story). And I read K. W. Jeter's terrible sequel novels. Which brings me to the original Philip K. Dick novel that the movie based on: Do Androids Dream of Electric Sheep?
I read it way back when the movie came out. I thought it was okay. I am currently listening to it as an audio book. It's got a lot of stuff that movie dropped. And the movie changed several things. Quite frankly, for the better. This is confirming for me that the movie is far superior to the book. As if the book were a good idea, but not executed as well as it could have been. And the movie got it right.
I'm not saying it's a bad book, but I don't find the story nearly as absorbing as I do the movie. It feels cluttered, and I'm not interested in parts of it.
---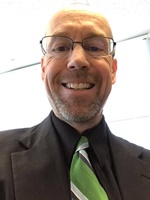 Bob Byrne's 'A (Black) Gat in the Hand' made its Black Gate debut in 2018 and has returned every summer since.

His 'The Public Life of Sherlock Holmes' column ran every Monday morning at Black Gate from March, 2014 through March, 2017. And he irregularly posts on Rex Stout's gargantuan detective in 'Nero Wolfe's Brownstone.' He is a member of the Praed Street Irregulars, founded www.SolarPons.com (the only website dedicated to the 'Sherlock Holmes of Praed Street') and blogs about Holmes and other mystery matters at Almost Holmes.
He organized Black Gate's award-nominated 'Discovering Robert E. Howard' series, as well as the award-winning 'Hither Came Conan' series.
He has contributed stories to The MX Book of New Sherlock Holmes Stories – Parts III, IV, V, VI and XXI.
He has written introductions for Steeger Books, and appeared in several magazines, including Black Mask, Sherlock Holmes Mystery Magazine, The Strand Magazine, and Sherlock Magazine.