So I'm Writing a Novel: A Sword & Sorcery Podcast
So I'm Writing a Novel: A Sword & Sorcery Podcast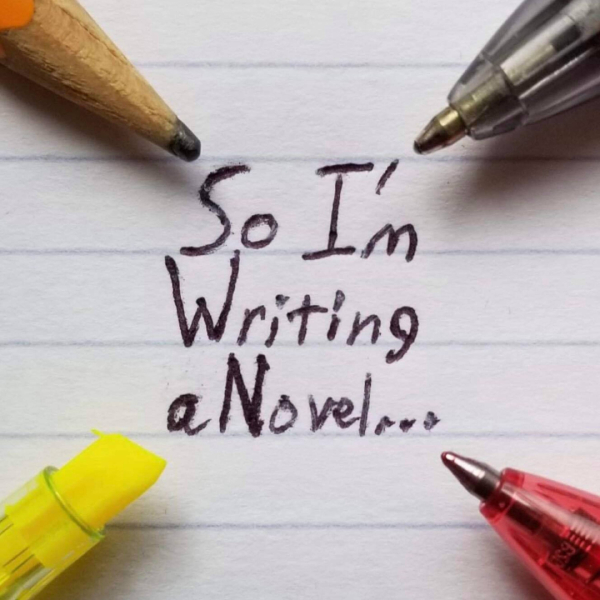 There is a swell of community growing around Sword & Sorcery (S&S) fiction. At least on the amateur and semi-professional level, there are a wealth of markets to enjoy and submit to, including (a partial list in alphabetical order): DMR books, Heroic Fantasy Quarterly, Parallel Universe Publications, Pulp Hero Press,  Rogue Blades, Swords and Sorcery Magazine, Tales From the Magician's Skull, Weirdbook. and Whetstone: Amateur Magazine of S&S. As the ranks of authors, readers, and platforms grow, members are gathering across platforms such as Goodreads S&S group, the Whetstone S&S Tavern on Discord… and even podcasts.
This January, Black Gate highlighted the Rogues In the House S&S podcast. This round we highlight the So I'm Writing a Novel (SIWAN), a podcast chronicling author & freelance editor Oliver Brackenbury's journey of writing an S&S novel, discussing craft and building community with a focus on the genre.
Writing a novel? Looking for a community?
So I'm Writing a Novel (SIWAN) Podcast:
Launched in 2021, SIWAN is a literary podcast. It provides a highly transparent look into the process of creating a novel, from first ideas through to publication & promotion, by following host Oliver Brackenbury as he works on his latest book. That book is a sword & sorcery short story cycle; a collection of stories telling the adventures of its main character, Voe, over several years of her life. As with these stories, each episode of the podcast is crafted so new listeners can start anywhere without feeling lost, yet those who like to listen through in order are rewarded for doing so. Oliver's even made a page helping new listeners find the best place for them to start.
When Oliver isn't doing a solo craft episode, he has special guests on for interviews, and sometimes a brave individual will let him do a public story consultation on their current work-in-progress. Guests have included authors, publishers, editors, RPG designers, and yes, Oliver's mum. She thinks he's cool! SIWAN currently releases new episodes twice a month, plus several updates a month for its Patreon-exclusive bonus podcast So I WROTE a Novel…, where Oliver reads chapters of his previous works, then provides behind-the-scenes commentary. Patrons also get to listen to new episodes of SIWAN a week early, among other bonuses earned by financially supporting the show.
Discussed in the first episode, Oliver is using Brian Murphy's flexible definition of sword & sorcery, from Flame & Crimson, as his guide for the project. Oliver has been heavily researching sword & sorcery for almost five years now, mostly by taking advantage of the western hemisphere's largest publicly accessible genre fiction archive, The Merril Collection of Science Fiction, Speculation & Fantasy. This has given him access to virtually every edition of every S&S-related publication, including original issues of Weird Tales, obscure characters like Pat McIntosh's Thula, and expensive, out of print material like Fritz Leiber's "Fafhrd & Me" collection of essays. He brings all this knowledge to bear in this show where he connects S&S's history to its present and possible future.
Select Episodes
 Meet host Oliver Brackenbury as he introduces the podcast, himself, and the titular novel Untitled Sword & Sorcery novel. He also discusses the genre of sword & sorcery, then shares his experience working with an editor on the short story which become the first chapter of the novel. It can be lonely writing a novel, and Oliver would love some company. Maybe, through the podcast, you'll join him?
Ep 10 – The Red Man And Others w/ Angeline B. Adams & Remco van Straten: The show's first interview featuring Angeline B Adams & Remco van Straten, authors of the sword & sorcery novel The Red Man and Other Stories.
Ep12 – Interview with Howard Andrew Jones: Author of the recently concluded Ring-Sworn trilogy, editor of the most excellent sword & sorcery magazine Tales of the Magician's Skull, and teacher of a heroic fantasy writing class Oliver recently attended, Howard Andrew Jones has been a source of inspiration, knowledge, and encouragement for Oliver while our earnest podcast host has worked on his book.
Ep20 – Interview with Milton Davis about Sword & Soul: Oliver and Milton have plenty of laughs talking about what it's like being both a writer and a publisher, knowing Charles Saunders and what's going on with the Imaro TV adaptation, when the history nerds come for you, origin stories, designing and playtesting an RPG, and so much more!
Ep21 – Interview with Matt John of Rogues in the House: Oliver speaks with a host from the popular sword & sorcery podcast Rogues in the House, Matt John, about the genre, gatekeeping vs helping the S&S scene thrive, the trials of buying books online when you're Canadian, working sword & sorcery and role-playing games into the classroom, Army of Darkness hot takes, He-Man, "Good Rudes", letting go of the things you don't want to write and just writing the things your inner child wants to write, good and bad nostalgia, and "more"!
Ep 30 -Story Consultation with Matt John: Since Oliver Brackenbury is also a freelance editor, he invited some brave writers on the show, opening up a work-in-progress to the topics. In this episode Matt John (of Rogues In The House) surprised listeners with a very touching point of origin for the story he had Oliver look at.  A very thoughtful, impactful discussion that emphasizes the strength of the show and the community building.
Ep24 – Interview with Michael Curtis: Since Oliver greatly enjoys the role-playing games & adventures written by Fritz Leiber scholar Michael Curtis, while Leiber's Fafhrd & Grey Mouser stories have been a great source of inspiration for Oliver's novel-in-progress, you better believe he was excited to talk with Michael about: Why people should read the Fafhrd & Grey Mouser stories, how these characters so defined by their friendship were born of a real life bromance, what defines Leiber's writing style, what makes F&GM's home – Lankhmar – the ultimate fantasy adventure city, how Michael made writing RPGs his career, what it was like poring over Leiber's original papers at an archive in Houston, and more.
Ep32 – Interview with Jordan Smith of Dark Crusade: This episode will introduce you to fantasy & horror author Karl Edward Wagner, as well as his iconic sword & sorcery supervillain, Kane! Oliver and Jordan discuss subjects like The Carcosa Papers, the magic of seeing author's original notebooks (and fantasizing about others feeling that way seeing yours), getting deep into why Kane stands out from other well-read S&S protagonists, Kane as villain, as manipulator; as being almost secondary to his own stories, erotic horror, how Wagner's psychiatry education enhanced his writing, reading an author's personal issues in their work and then connecting them to your own, and a whole lot more.
Ep33 – Interview with Jason Ray Carney of Whetstone Magazine: Oliver speaks with the editor of Whetstone: Amateur Magazine of Sword & Sorcery, covering a wide variety of subjects germane to running a semi-pro literary magazine, online community, and good old sword & sorcery.
Evangelize Sword & Sorcery, Fuel the S&S Renaissance.
Listen, Participate, Join the Community!
Some Future Episodes
March 21st: Author Cora Buhlert
April 4th: Chase A. Folmer to discuss his new novella Frolic on the Amaranthyn
Many more interviews regarding sword & sorcery
More craft episodes & story consultation episodes
About Oliver    
Oliver Brackenbury grew up around the corner from a five-story deep cold war bunker, as one does, and can now be found living not far from a popular 1,815.4 ft tower in Toronto. Among many other things, he's written two novels. His first was traditionally published, then he tried self-publishing with the second. Now that he's working on his third, he really wants to step up his game in terms of writing skill and readership; So I'm Writing a Novel… is an experiment in boosting both!