Vintage Treasures: Swords Against Darkness edited by Andrew J. Offutt
Vintage Treasures: Swords Against Darkness edited by Andrew J. Offutt

Swords Against Darkness (Zebra Books, February 1977). Cover  by Frank Frazetta
Sword Against Darkness was a seminal five-volume sword & sorcery anthology series edited by Andrew J. Offutt in the late seventies (1977-79). It published original fantasy by some of the biggest names of the era, including Andre Norton, Tanith Lee, Keith Taylor, Charles de Lint, Charles R. Saunders, Orson Scott Card, Simon R. Green, David C. Smith, Robert E. Vardeman, Darrell Schweitzer, Diana L. Paxson, and many others.
The first volume appeared in early 1977, and it was one of the strongest original fantasy anthologies of the decade, packed full of tales of the haunted Roman frontier, a plague of giants, the wily goddess of Chance, the last survivor of Atlantis, Lovecraftian horrors, scheming demons, resourceful rogues facing evil spirits, and much more. It included a Simon of Gitta novelette by Richard L. Tierney, a powerful Robert E. Howard fragment completed by Andrew J. Offutt, plus Poul Anderson, Manly Wade Wellman, David Drake, Ramsey Campbell, and many others.
[Click the images for ensorcelled versions.]
The Swords Against Darkness anthology series was included in Gygax's legendary Appendix N, the list of inspirational literature in the back of the Dungeon Masters Guide. Swords Against Darkness I has been much discussed in the decades since its original publication, and perhaps no story has received more scrutiny than the opening tale "Nekht Semerkeht" by Howard and Offutt.
It's an unusual piece from Howard, the creator of Conan, written very late in his career and with disturbing premonitions of his coming suicide at age 30. Over at Goodreads, Jamie offers a thoughtful summary.
An excellent S&S collection with a decided emphasis on adventure and swashbuckling against some interesting historical backdrops, as well as occult themes. Among the standouts are "Nekht Semerkeht" by Robert E. Howard, "The Tale of Hauk" by Poul Anderson, "Straggler from Atlantis" by Manly Wade Wellman and "Dragons' Teeth" by David Drake.

"Nekht Semerkeht," the first story featured, is notable as it's considered the last story REH ever (partially) wrote, left unfinished before his suicide later that year. It was completed admirably by Offutt for this collection. Some longish, yet intriguing philosophical musings early in the story reflects what must have been REH's own somber mood leading up to his suicide… The story tells the tale of a Spanish Conquistador (unsurprisingly headstrong and barbarian) lost and desperately wandering the great American plains, who stumbles on an unknown inhabited city of magnificent riches and ancient horrors. It may seem initially that the Conquistador's perseverance to continue pushing ahead has paid off, but the city has some surprises in store for him… perhaps it would have been better for him to give up and die peacefully in the wilderness.
At The Silver Key, S&S scholar (and early Black Gate blogger) Brian Murphy shares some of his own insight on this story, and the anthology as a whole.
[Swords Against Darkness I] is quintessential sword-and-sorcery. Quite the roll-call of S&S heroes — Kardios of Atlantis, Simon of Gitta, Ryre, Vettius, etc.

Editor Andrew Offutt is perhaps best known these days as the subject of My Father, the Pornographer: A Memoir. But he wrote many credible S&S stories for the likes of Thieves' World, three Conan novels, Cormac Mac Art stories including a couple with Keith Taylor (When Death Birds Fly and Tower of Death)…

"Nekht Semerkeht"

Page 16 — This line "The new world and the old personified in the two men," describes an interesting clash of the conquistador de Guzman and native American. Double meaning in that North America is the new world, but also alludes to civilized vs. barbarian, at the same time. Paragraph is exquisite…

Page 18 — Beautiful metaphor of expedition as a ship adrift on the open sea. REH's love of the west is plain here. He was writing this very late in his life circa 1936 when westerns were his passion. And suicide was weighing heavily on on his mind ("the game is not worth the candle"). This extended dialogue puts to rest the simplistic notion that REH only killed himself due to his mother passing. He was meditating on the futility and sordidness of existence long before his mother's death, and suffering from depression.

Attackers of the city Tlasceltec are slain by necromancy, a blue cloud of death. This city received tribute from Montezuma? Wow.

A lot of weirdness going here — Feeders from the sky, children of darkness with hairy bodies and hands of a woman (WTF?)
It's worth reading Brian's complete notes on the entire anthology here.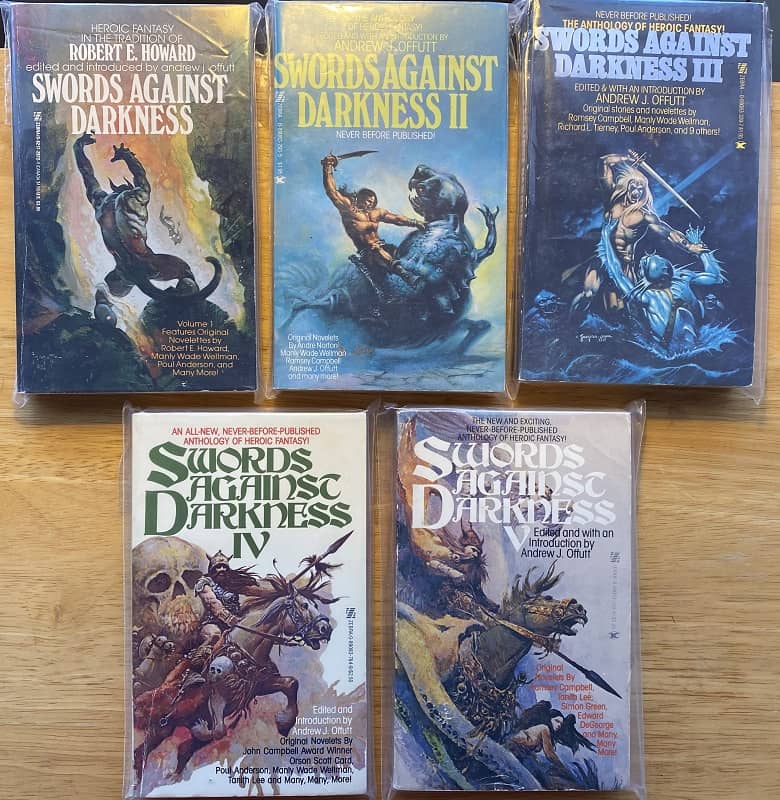 A complete set of Swords Against Darkness in unread condition, purchased on eBay for $32
Looking beyond the Howard story, there's a lot here to chew on for modern readers. Here's a sampling of recent Goodreads reviews.
Joseph writes:
This is a bang-on showcase for sword and sorcery or heroic fantasy fiction. All the stories here are better than average, and the best are amazing..

The second story, "The Tale of Hauk" by Poul Anderson is one of the best heroic fantasy stories I have read. It is written in the language of the Viking sagas, has a marvelous supernatural element well grounded in the real, and characters that live and breath and make you care. Superb…

The last story by Ramsey Campbell, "The Sustenance of Hoak" is tied with the "Tale of Hauk" for best story in this anthology for me. Dark and brooding, with a hero out of Howard, supernatural enemies that would be comfortable in a Lovecraft story, and a great dark atmosphere. Very well done.
Derek writes:
A very strong collection… Many stories are hard to obtain elsewhere and some felt like series that never quite took off…

"The Ring of Set" was a pleasant discovery: Simon of Gitta is a wizard, but a wizard trained diversely and extensively in a range of skills (even though he gets into trouble by being an idiot). And now he's in possession of a dangerous power source that he doesn't entirely know how to wield. This is a character and series that merits further investigation…

Campbell's "The Sustenance of Hoak" shares elements with Karl Edward Wagner's Kane stories, with deep dips into horror elements and a miasma of unease. From the very start there is a sense of wrongness to Hoak, and it up to Ryre to puzzle it out. This is akin to several Conan stories but more complex and wielding menace in new and interesting ways.
And finally we have Ray's 2019 story rankings.
This is a very good, classic collection of Sword & Sorcery fiction… The stories [each have] a short, informal introduction by the editor, Andrew Offutt.

"The Smile of Oisia" – Geo. W. Proctor *** This was a messy, but fairly well written story in which, "The goddess of Chance gambles with a barbarian swordsman — for his life." The style reminded me of Fritz Leiber's Lankhmar stories.

"Straggler from Atlantis" – Manley Wade Wellman **** A great little tale! Offutt teases it well with, "The last survivor of Atlantis is called upon to do battle against a human-eating creature only he can brave — to save a race of giants." I might also mention that the protagonist is a something like a "bard in D&D terminology, which is interesting.

"Largarut's Bane" – Raul Carcia Capella *** – A straightforward, somewhat charming tale of a fisherman who goes to great lengths to rid his daughter of a haunting demon.

"Dragon's Teeth" – Dave Drake *** A promising story set in the Roman Empire… A soldier and a merchant ride into the frontier to investigate the source of a plague of giants. The "accommodating" wizard who raises the giants gives them a demonstration.

"The Sustenance of Hoak" – Ramsey Campbell **** A very cool story about two rogues… who seek out a treasure within the 'lost' town of Hoak. Some seriously creepy and weird fantasy ensues.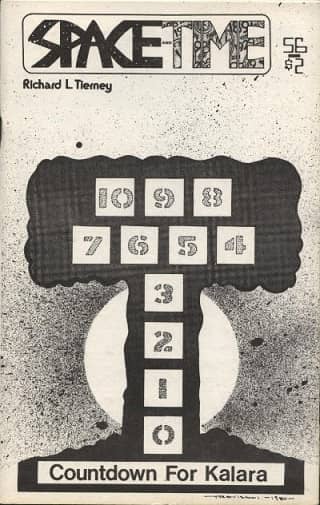 Swords Against Darkness I appeared in February 1977, and Offutt published another volume roughly every six months until the end of the decade. Why did he conclude after five volumes? One of the more interesting theories is Dave Ritzlin's, floated in his August 2021 article "The Premature End of Swords Against Darkness."
If you ask sword-and-sorcery fans what their favorite anthology series is, the answer you're most likely to get is Swords Against Darkness. Coming at the end of the S&S boom in the late '70s, in only three short years editor Andrew J. Offutt produced five volumes of the series. The contents hold up well today… The question remains, why didn't the series go on longer?

I recently came across a copy of the fanzine Space and Time #56 (dated July 1980) which might provide a clue. While perusing the letters column, I discovered a missive from Offutt venting his frustrations with Zebra Books, who had just published the fifth volume of Swords Against Darkness. Offutt wrote, in part:

"I was never sent one copy of #5, much less a box full so I could send every contributor the four copies I have made standard…

"It is a monstrous, painful embarrassment. I learned the book was for sale, in print, when someone handed me a copy to sign at the World Fantasy Convention, back in mid-October [1979]. In mid-November, none having arrived for me (contract calls for 75 copies), I wrote Roberta Grossman at Zebra… Saw her on the 30th November. No books came.

"On 16 January I called her. Absolutely ghastly; what a ghastly insensitive uncaring publisher; what constant anguish and embarrassment to me — because I love putting together my anthologies. She said there were no copies left in the warehouse! None. All sent out. (Jesus — where? Barcelona? Zamora?)

"She told me they'd send me some as soon as they had returns from the stores… I pointed out that the book has been out for three months, and since there have been no returns in that quarter of a year, maybe, just maybe the stores were selling some. Since they had not sent any books back unsold and since 'we' didn't have any more to ship, obviously we're past due for a 2nd printing, I said. Oh no, she said. Obviously poor li'l Andy doesn't understand."

While Offutt may have gotten overly melodramatic in expressing himself, his gripe with Zebra and Grossman was legitimate. To forget to tell the editor the book is on store shelves is one thing, but failing to send contractually-obligated copies to him (and by extension, all twelve of the contributors) is certainly unprofessional. Perhaps this sheds some light on why Swords Against Darkness V was the final volume in the series. Was Offutt too fed up with Zebra to continue working with them?
Yes, it's entirely possible Offutt became fed up with his publisher. But in my experience, you don't write a scathing (and public) letter about a publisher you're in good standing with — and one who's still cutting you checks — because of logistical oversights like not mailing contributor copies.
More likely Offutt (and his anthology series) were released by Zebra after five volumes, and the letter to Space & Time is a distilled expression of rage and frustration at an ex-publisher. That's certainly the way it reads to me, anyway.
Here's the complete table of contents for Swords Against Darkness.
Foreword by Andrew J. Offutt
"Nekht Semerkeht" by Robert E. Howard and Andrew J. Offutt
"The Tale of Hauk" by Poul Anderson
"The Smile of Oisia" by Geo. W. Proctor
"Pride of the Fleet" by Bruce Jones
"Straggler from Atlantis" by Manly Wade Wellman
"The Ring of Set" by Richard L. Tierney
"Largarut's Bane" by Raul Garcia Capella
"Dragons' Teeth" by David Drake
"The Sustenance of Hoak" by Ramsey Campbell
Swords Against Darkness was published by Zebra Books in February 1977. It is 288 pages, priced at $1.95. The classic cover is by the great Frank Frazetta.
Swords Against Darkness was reprinted once, in 1990; that edition has a cover price of $3.95. It has been out of print for over three decades, and there is no digital edition. There are plenty of copies in circulation however, and it's not a hard book to find. Expect to pay $10-$20 for a copy in good condition. I paid $32 for a complete, unread set of all five volumes on eBay last year; bargains like that are still out there.
See all our recent Vintage Treasures here.