New Treasures: Beneath the Keep by Erika Johansen
New Treasures: Beneath the Keep by Erika Johansen

Beneath the Keep (Dutton, February 1, 2022). Cover design by Vi-An Nguyen
Yesterday I made my bi-weekly pilgrimage to Barnes & Noble, in search of the latest issue of The Magazine of Fantasy & Science Fiction. No dice; the newsstand still had the old issue. My wife and daughter were shopping next door at J. Jill, and there was no hope they'd be out of there any time soon, so I spent the next hour leisurely browsing the SF and Fantasy sections. I ended up leaving with an armful of books (and a copy of Mad magazine), so I consider it time well spent.
One of my most interesting finds was Beneath the Keep by Erika Johansen, which looked like a dungeon-delving tale but read more like a high fantasy with plenty of court intrigue. I'm a sucker for a great cover, so I brought it home. A little homework revealed it's a prequel to Johansen's bestselling Queen of the Tearling series, which is probably worth another look.

[Click the images to journey beneath the keep.]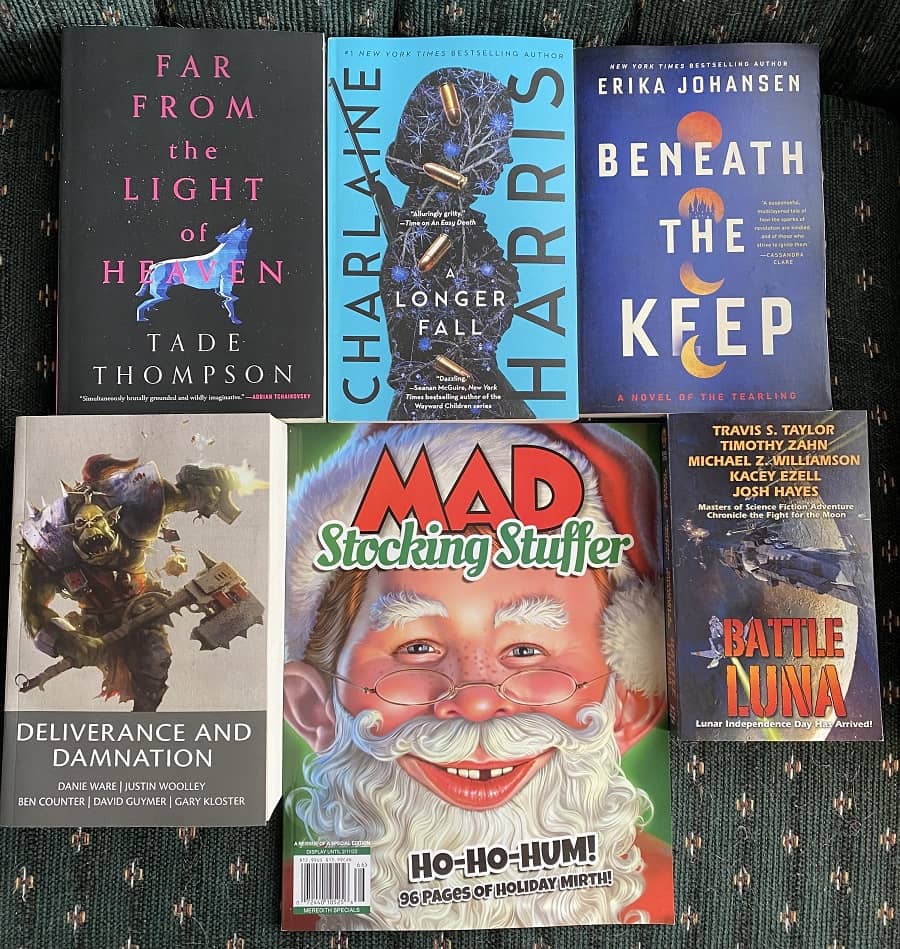 My Saturday book haul at B&N. I haven't bought an issue of Mad magazine in decades.
Here's a sample from Lacy Baugher's rave review of Beneath the Keep at Culturess.
Erika Johansen's fantasy debut The Queen of the Tearling was published in 2014 and the trilogy that followed was everything that readers could have asked for: A compelling story set in a rich, fully-formed universe with three-dimensional characters and real, life or death stakes. I read much of the original series with my heart in my throat and cried real tears when it was over.

Beneath the Keep is a prequel, set in the same world… [it] is a story that can stand on its own; you don't need to have read any of Johansen's other novels to fully enjoy this twisty tale of statecraft and rebellion, prophecy, and growth… The story follows multiple characters, but predominantly focuses on a man named Christian but known as Lazarus, a bare-knuckle fighter who ekes out a living in the Creche, the seedy underworld of New London, where rebel group Blue Horizon's dreams of a better world don't often penetrate. Elsewhere, Princess Elyssa Raleigh dreams of a day when she'll take her mother's throne, and become a queen who can help the people suffering…

Their stories all eventually intertwine… There's a dark plot to take over a kingdom, a prophecy of a better world for all, a witch attempting to bend the world to her master's whim, and a child sent to one day lead her kingdom into the light. Sacrifice, betrayal, and shocking twists abound, all the way up to an ending that's somehow both grim and hopeful at the same time.

Reader, I adored it… Beneath the Keep is a rare story that actually feels as though it adds valuable information and perspective to the books that come after it. A must-read for those who liked the original series, and a strong recommendation for anyone who likes well-written fantasy.
The Queen of the Tearling trilogy is still very much in print in trade paperback from Harper. Here's all three books; click the images for bigger versions.

The first three novels in The Queen of the Tearling: The Queen of the Tearling (2015), The Invasion of the Tearling (2016),
and The Fate Of The Tearling (2017), published in paperback by Harper. Cover designs by Milan Bozic.
The original series was published in paperback by Harper; Beneath the Keep will be published on February 1 by Dutton. It is 436 pages, priced at $17 in trade paperback and $14.99 in digital formats. The eye-catching cover was designed by Vi-An Nguyen.
See all our recent New Treasures here.