Relive the Glory Days of BattleTech with Shrapnel Magazine
Relive the Glory Days of BattleTech with Shrapnel Magazine

Shrapnel magazine, issues 4-6 (InMediaRes Productions, March, June & September 2021).
Covers by Florian Mellies (left) and Ken Coleman (middle and right)
I bought a few issues of the new Warhammer paperback magazine Inferno! last year, and was impressed enough to start looking around for similar publications. It wasn't long before I found Shrapnel, the Official BattleTech Magazine published by InMediaRes Productions, and I picked up the first three issues.
Shrapnel is edited by John Helfers and Philip A. Lee, and published four times a year. In many ways it's a spiritual successor to the old BattleTechnology print mag from the early 90s, edited by William H. Keith, Jr. and Hillary Edith Ayer. Shrapnel began life as a stretch goal for Catalyst Games' 2019 Clan Invasion Kickstarter; organizers committed to four issues if they hit the goal. The campaign raised a whopping $2,580,000, and Shrapnel has been with us ever since.
Back covers of Shrapnel, issues 4-6 (March, June & September 2021). Click for bigger versions.
I'm glad to see it — and grateful to the Kickstarter supporters who helped make it happen — because the mag is a lot of fun for BattleTech fans of all stripes. I'm not exactly sure how long it will be around, but I'm very glad we have it now.
The first six issues have included serial novels from Michael A. Stackpole and Craig A. Reed, Jr., and new fiction from Blaine Lee Pardoe, Eric Salzman, Tom Leveen, Daniel Isberner, and many others — plus tons of articles from BattleTech writers new and old, including game scenarios, new weapons, technical readouts on new mechs, planet digests, lengthy role-playing adventures, new art, and more.
The non-fiction pieces cover a wide range, from reports on the Draconis Combine's Succession Wars-era raid on Barlow's End, an analysis on poisons, notes on assassins, a guide to navigating League politics, an in-depth look at House Steiner culture, a look at cryogenic technology, details on a warship that mysteriously went missing during the Clan Invasion, and so much more.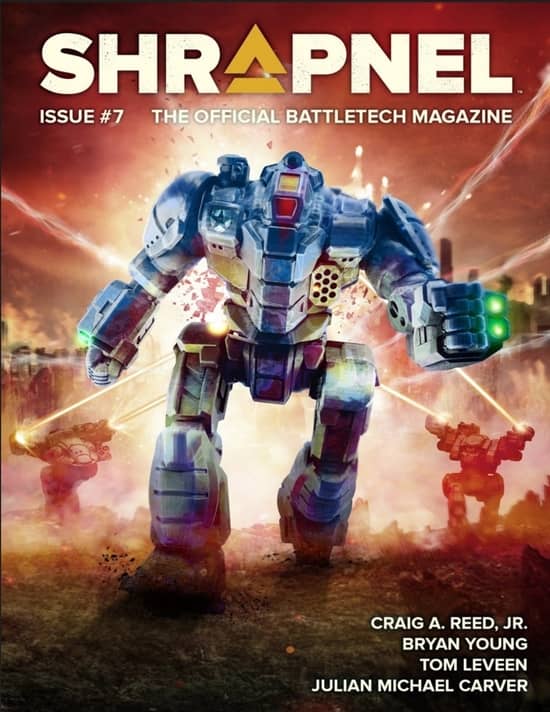 Shrapnel issue #7, published December 17. Cover artist unknown
The first issue was digitally released to backers on May 28 2020 and eventually made available in print-on-demand format; subsequent issues have been released every quarter. Issue #7 — with work by Bryan Young, Craig A. Reed, Jr., Joel Steverson, Jim Hauser, E. Stephenson Auerbach, and others — arrived just two days ago in digital format, and will be available in print format shortly.
The BattleTech universe, with its widely diverse warring human factions scattered across the galaxy, is one of the most richly detailed fictional creations in science fiction, and it's a delight to revisit it, and see such a creative group of individuals bringing it to life again.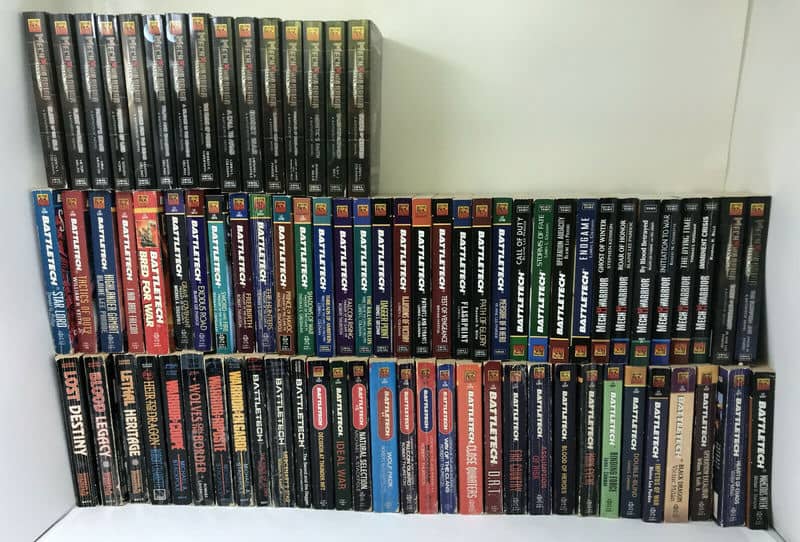 80 BattleTech novels published in the 80s and 90s, mostly by Roc
Check out the detailed contents for each issue of Shrapnel at Sarna.net. You can order copies directly from Amazon. Print issues are $9.95 ($10.95 for #5 and later); digital copies are just $5.99. Recent issues have averaged around 200 pages each.
See all of our recent Games coverage here.