Step into a World of RuneQuest Adventure with The Smoking Ruin and The Pegasus Plateau
Step into a World of RuneQuest Adventure with The Smoking Ruin and The Pegasus Plateau
Cover art by Andrey Fetisov
Maybe it's because I've only recently started paying close attention, but it seems to me that the RuneQuest RPG has been experiencing something of a renaissance since returning to the fold at Chaosium. Certainly there's been a flurry of attention-grabbing new releases anyway, including the epic and original Red Cow campaign, the tale of a small clan's desperate battle for freedom against the oppressive Lunar Empire, a tribe of werewolves, and even darker threats; the Rough Guide to Glamour, a compilation of long out-of-print articles on Lunar magic and colorful personalities; and of course the gorgeous new hardbound rulebooks.
But the drumbeat of new releases has not slowed, and I recently acquired two adventure anthologies that make excellent resources for any RPG fan: The Smoking Ruin & Other Stories, a collection of three long ready-to-play adventures, and The Pegasus Plateau & Other Stories, containing seven shorter adventure scenarios.
Both are essential purchases for serious RuneQuest players. The first focuses on an area in Dragon Pass known as the South Wilds, and includes the full-length scenario "The Smoking Ruin," in which the players tread the haunted streets of an ancient city in search of a lost artifact. The Pegasus Plateau & Other Stories contains seven fast-run adventures set in ghoul-haunted catacombs, mystic ruins, the deserts of Prax, and the rocky pinnacle of the Pegasus Plateau. Both books are gorgeously designed and well written; here's a peek at the lovely interiors.
[Click the images for Glorantha-sized versions.]
First up: The Smoking Ruin & Other Stories.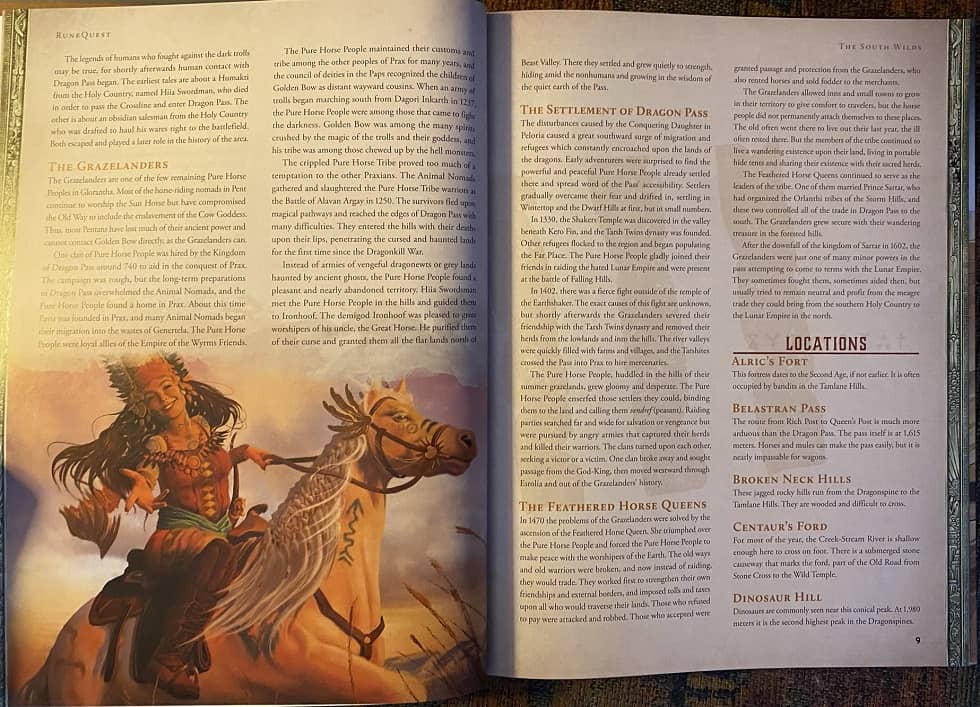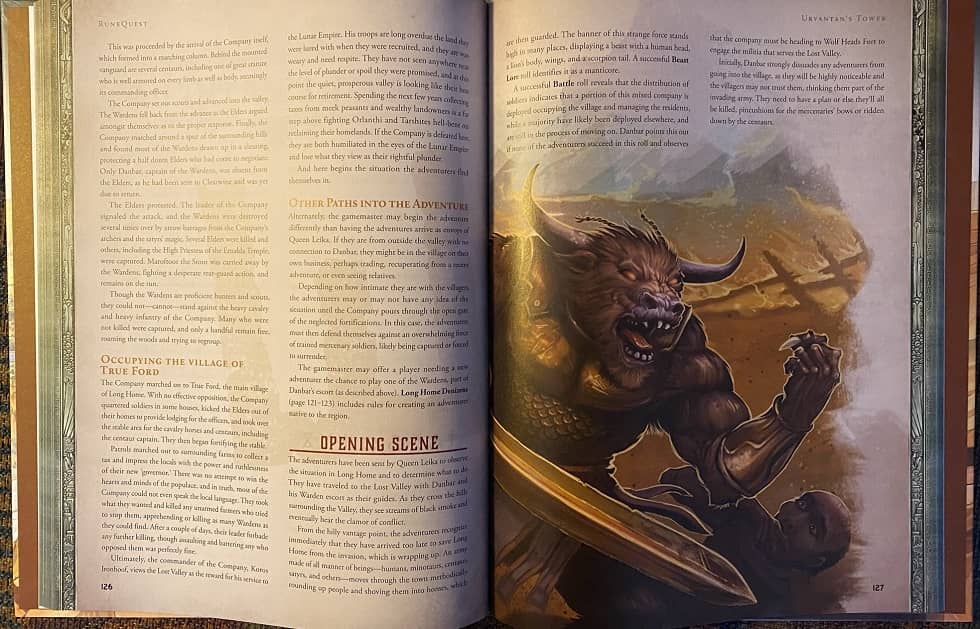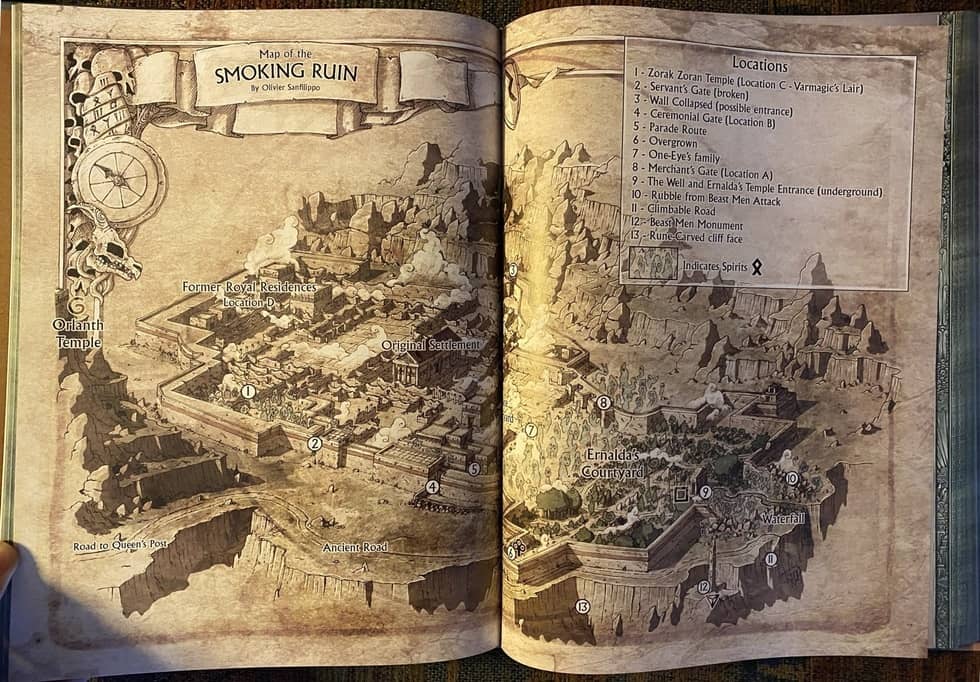 Here's the description from the publisher's website.
The Smoking Ruin & Other Stories contains ready-to-play scenarios for RuneQuest, taking your adventurers across the untamed South Wilds, a region filled with reclusive villagers, ancient standing stones, Beast Folk, troll spirits, undead, Wolf brothers, dinosaurs, monstrous mercenary companies, living trees, river spirits, and even more spectacular perils and wonders!

– A highly detailed gazeteer of the dangerous and mysterious region of Glorantha known as the South Wilds. You'll learn the secrets of the Wild Temple, a vast network of megalithic standing stones and a sacred Beast Man shrine, and the Lost Valley, a secluded, seemingly forgotten refuge known to its inhabitants as Long Home.

– The Smoking Ruin: a full-length scenario taking adventurers into the haunted streets of a once great city in search of a lost artifact.

– Urvantan's Tower: a full-length scenario set in the Lost Valley, that pits the adventurers and its Wardens against a monstrous army, with their best hope for victory secreted in the tower of the legendary, and mysteriously absent, sorcerer Urvantan.

– The Grove of Green Rock: a serialized scenario set over the span of several years, giving the adventurers the opportunity to participate in an annual ritual intended to reinvigorate the elves' fading magic in a sacred grove and reestablish their claim to the region.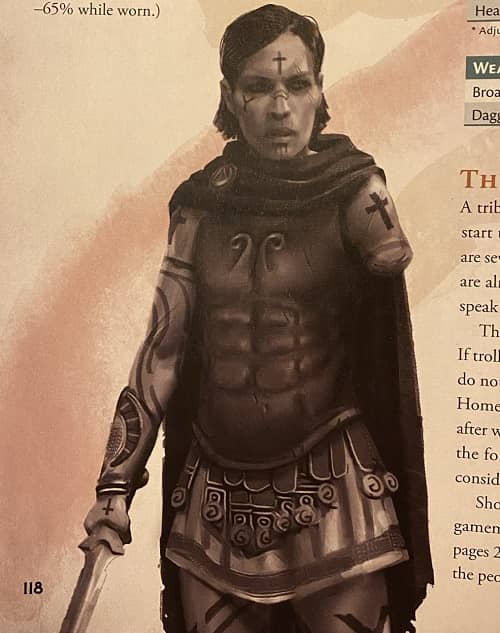 Captain Terentha
Antonios S's review at RPG.Net hits many of the high points:
The artwork is great, and continues with the line's very strong tradition. It looks ancient Greek; it looks ancient Mesopotamian; it looks fantastical and original. My hat is off to the artist behind the depiction of Captain Terentha, a fearsome 50-year-old female warrior who is missing an arm. First, think how many NPCs miss limbs in fantasy settings; none, maybe. Second, think how many artists got to draw those NPCs humanely, without over-the-top artificial constructs. The captain is an emphatic example of how a one-armed, badass, middle-aged woman looks like, and how people with disabilities can be positively depicted in an RPG…. The production values are very high as usual. Cloth bookmark: check. Full colour and overall solid layout: check.

Conclusion: If you didn't know what to do in Glorantha under the HeroQuest rules, The Smoking Ruin & Other Stories provides an emphatic answer. Both setting and system deliver on everything they promised. The backstories go deep into the core of the adventures, the challenges are unique, the flavour is one-of-a-kind, the colours are vibrant, and the smells are breathtaking. It has a few warts (it could have helped the GM much more than it currently does), yet this doesn't change anything. Buy, prepare, and play immediately; do not let it linger on your bookshelf.
The Pegasus Plateau was right on the heels of The Smoking Ruin, arriving less than a month later. Here's a peek inside.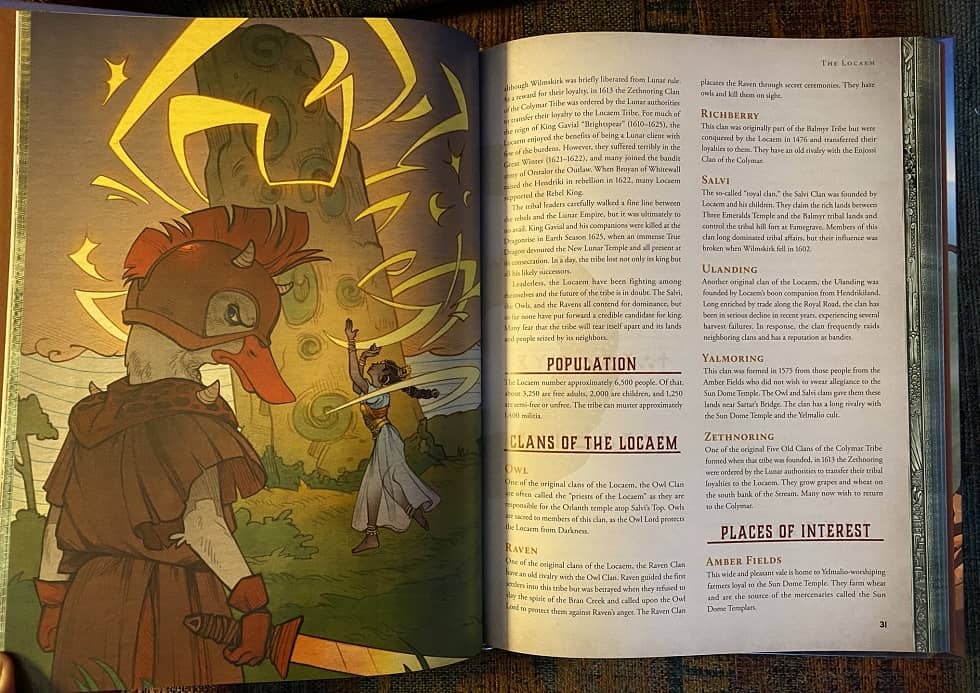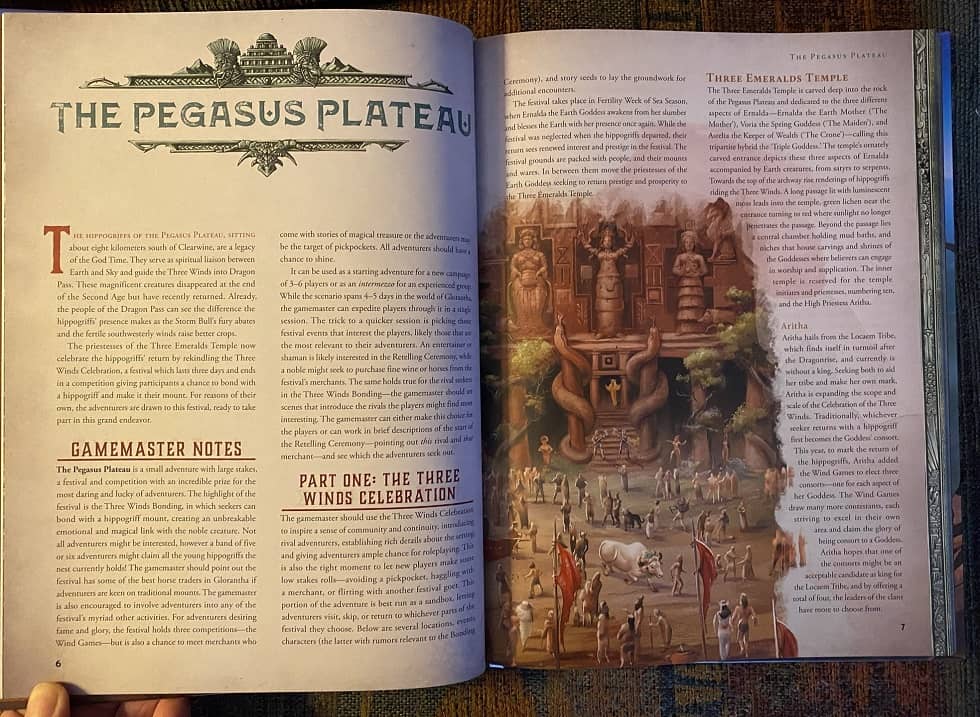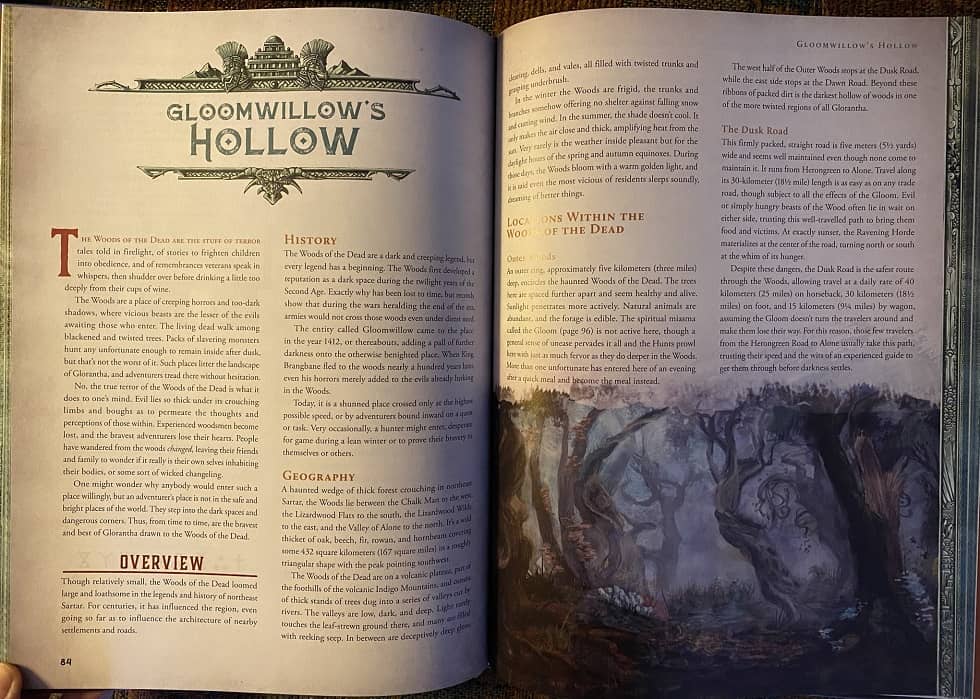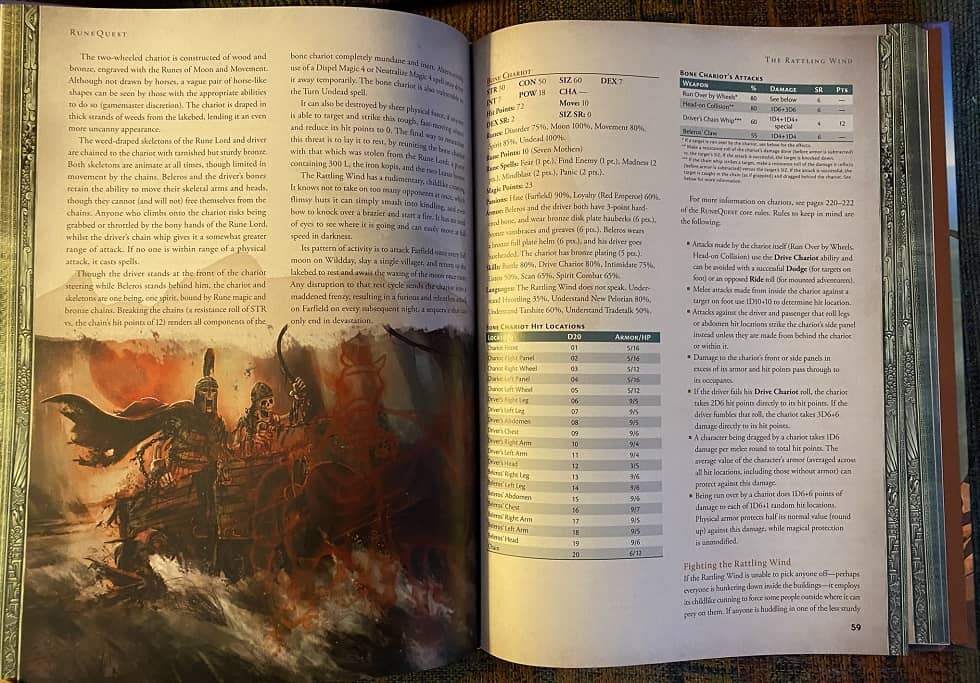 Here's the description for The Pegasus Plateau.
Seven ready-to-play adventures for RuneQuest!

Set in the mythic fantasy world of Glorantha, The Pegasus Plateau & Other Stories features seven complete ready-to-play adventures, taking you from ghoul-haunted catacombs, into mystic ruins, across the arid deserts of Prax, and up to the rocky pinnacle of the Pegasus Plateau!

The seven adventures are:

The Pegasus Plateau is a desperate race to the top of a mountain to claim a priceless reward.
The Grey Crane concerns an ancient legacy, stolen from its rightful owner.
The Rattling Wind is a deadly tale of ghosts and unearthly revenge.
Crimson Petals describes a curse afflicting a beleaguered town.
Gloomwillow's Hollow details the Woods of the Dead, a realm ruled by ghouls and worse.
The Ruin on the Stream delves into an ancient ruin in search of long-lost secrets of dragon magic.
The Pairing Stones presents a tale of a wedding interrupted, lovers separated and reunited.

Additionally, The Locaem is a new tribe for use by gamemasters and players, and the lonely village of Renekot's Hope, perched between the Lunar Empire and its enemies in Sartar, provide refuge… or a springboard for adventure!

Suitable for new and veteran gamemasters and players, each adventure spotlights a unique aspect or area of Dragon Pass. They can be used as introductions to Glorantha or as part of existing campaigns.
Andrew Logan Montgomery summarizes the book's strengths nicely.
There are seven adventures, one tribe, and a village… one of the most modern elements of Pegasus is in the variety and diversity of the stories told here.

It's probably a stereotype that classic RPG adventures were all dungeon crawls, but looking back many of them were. Even the RQ ones. "Sandbox" is the term we use these days and I still advocate it as a valid form of "emergent storytelling" (that is for another post), but Pegasus brings a hard focus to narrative storytelling, making RQ feel more in line with younger games. The range of stories is really one of the book's best features… These are seven different visions of Glorantha, not a unified campaign. If one doesn't speak to you, the others very likely will.

You will find a story about a wedding ceremony gone wrong, a ghoul king in a forest of the undead (HeroQuest players might have seen this before…), a chance to tangle with Lunar soldiers, a murder mystery, a sort of Glorantha Olympics, Glorantha's answer to Stephen King's Christine, and a ruin where you have the chance to learn from one of Glorantha's more interesting features. These are all packed with surprises, memorable characters, and occasionally deadly dangers. Authors Jason Brick, Rachael Cruz, Steffie De Vaan, Jason Durall, Helena Nash, Steve Perrin, Diana Probst, Jeff Richard, Dom Twist, and John Wick have done an admirable job of providing a full palette of Gloranthas.

If you take nothing else away from this review, take at least this; RuneQuest: Roleplaying in Glorantha has all the DNA of its predecessors, but it is no more RQ2 than I am my father. If you are staying away from RQ because you feel it is too dated, too dense, too mechanical, take a look at this. The lesson is that rule systems do not age, presentation and application does. This is an RQ collection of adventures every bit as cutting edge as anything other system on the market.
Here's the back cover for both books.
Back covers for The Smoking Ruin and The Pegasus Plateau. Click for legible versions
We've looked at a lot of great RuneQuest releases recently. They include:
A Rough Guide to Glamour Goes Gold by Nick Brooke (2020)
Return to Dragon Pass with The Red Cow Campaign by Ian Cooper, Jeff Richard, and Greg Stafford (2020)
Numenera, Nyarlathotep, and RuneQuest Glorantha: Some Recent Slipcase Sets (2019)
Cults of Prax: Then and Now by Michael OBrien (2019)
The Complete Borderlands Campaign now Available in PDF from Chaosium (2019)
Resurrecting RuneQuest: An Investigation by the Tales of the Reaching Moon Editorial Staff by Michael OBrien (2017)
Chaosium Announces New Version of RuneQuest (2017)
Chaosium's Borderlands: Can Playing RPGs Really Make You a Billionaire? (2016)
RuneQuest: Korantia and Mythic Britain by Howard Andrew Jones (2015)
RuneQuest 6 by Pete Nash and Lawrence Whitaker (2014)
The Smoking Ruin & Other Stories was written by Christopher Klug, Steve Perrin, Jeff Richard, Greg Stafford, and Jason Durall, and published by Chaosium on November 1, 2020. It is 192 pages, priced at $37.99 in hardcover and $18.99 in PDF. Get the complete details at the Chaosium website and at DriveThruRPG.
The Pegasus Plateau was written by Jason Brick, Rachael Cruz, Steffie de Vaan, Jason Durall, Helena Nash, Steve Perrin, Diana Probst, Jeff Richard, Dom Twist, and John Wick, and published by Chaosium on November 2, 2020. It is 158 pages, priced at $34.99 in hardcover and $16.99 in PDF. Pick up a copy at Chaosium or DriveThruRPG.
See all our recent role playing coverage here.