Vintage Treasures: The 1989 Annual World's Best SF edited by Donald A. Wollheim with Arthur W. Saha
Vintage Treasures: The 1989 Annual World's Best SF edited by Donald A. Wollheim with Arthur W. Saha
The 1989 Annual World's Best SF (DAW, 1989). Cover by Jim Burns
Most SF readers are familiar with Gardner Dozois' legendary Year's Best Science Fiction series, which ran for three and a half decades from 1984 to 2018, and helped shape modern perceptions of short SF. But it was by no means the first Year's Best in science fiction, and in the early days, wasn't even my favorite. No, back in the 80s I preferred the annual anthologies by Terry Carr and, more frequently, Donald A. Wollheim's Annual World's Best SF, which ran from 1965 until the late 80s.
I recently bought a copy of The 1989 Annual World's Best SF, and was surprised to find it had a guest introduction by Isaac Asimov. Flipping it open, I found a sober explanation in his first paragraph.
This is the first time that the introduction to his annual volume has not been written by Don Wollheim. Alas, we are not immune to the ravages of time (not even science fiction personalities are) and Don is hospitalized just as the deadline for the volume approaches, so he has asked me to do the introduction for him.

For all my fabled immodesty, I am forced to admit I am a poor substitute. Don has been a sextuple-threat person in science fiction. Let me list his threats…
The rest of Asimov's 4-page intro is a detailed and affectionate tribute to Wollheim, and the enormous impact he had on the field. Knowing that Wollheim passed away at the end of the decade, I was strongly suspicious he never emerged from that hospital stay. Asimov wrapped up with the hopeful lines:
Don… is a sweet and gentle fellow who has spent his whole life giving more than he has taken. I hope and trust that next year he will be writing his own introduction again.
Donald Wollheim died on November 2, 1990, at the age of 76. He did in fact emerge from the hospital, produce one more volume, The 1990 Annual World's Best SF (with his co-editor Art Saha), and he did write the introduction.
[Click the images for Annual-sized versions.]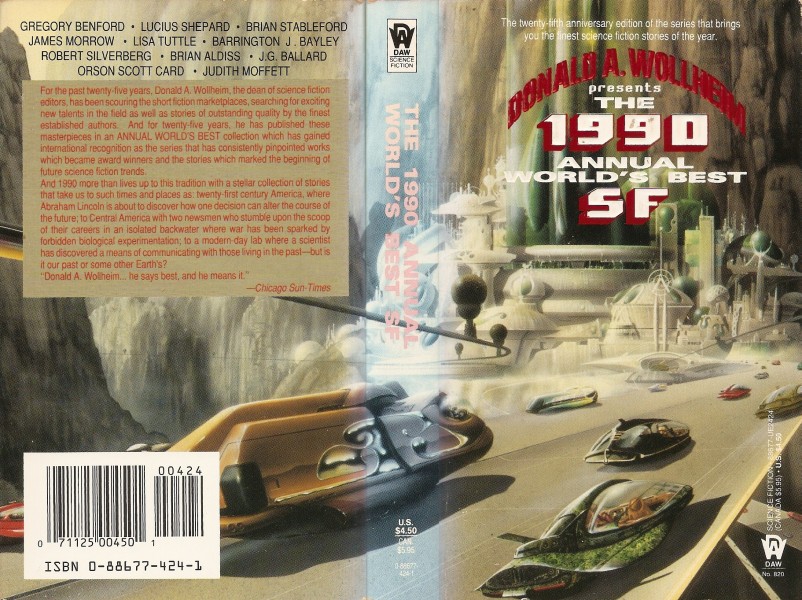 The 1990 Annual World's Best SF (DAW, 1990). Cover by Jim Burns and introduction by Donald Wollheim
Read today, Asimov's introduction to the 1989 volume makes a fine (if somewhat early) eulogy for Wollhiem, and a decent short history of his entire career, from his early days as a fan in the 1930s to his successful writing career, and eventually his huge accomplishments as a groundbreaking editor and publisher.
Asimov also makes a great deal of Wollheim's work as a science fiction commentator and, especially, as an anthologist, noting correctly that he edited one of the first — and certainly most important — SF anthologies.
In 1943, he astonished the science fiction world (and flabbergasted me) by editing The Pocket Book of Science Fiction, published by Pocket Books (who else). It was the first appearance of a science fiction anthology by a mainstream publisher, the first offering of great science fiction, of the type that had appeared under Campbell's aegis in Astounding Science Fiction, to a wider public than the magazines themselves commanded. Don was the first "apostle to the Gentiles" in science fiction, the first to point the way to general acceptance, and it was in his footsteps that later anthologists such as Groff Conklin, Raymond Healy, and Martin H. Greenberg trod. And now, 45 years after the appearance of that first anthology, you're holding his latest anthology in your hand.
In 2021, with science fiction films and books routinely dominating the box office and topping bestseller lists, it's not always easy to imagine a time when SF was a tiny niche market where public acceptance — let alone pubic success — seemed nothing more than a dream.
Asimov's guest intro to The 1989 Annual World's Best SF
In the 80s the covers to Wollheim's Annual World's Best were by Vincent DiFate, Frank Kelly Freas, Tony Roberts, and Blair Wilkins. The 1989 volume was the first to showcase British artist Jim Burns, with a gorgeous wraparound piece first published in the anthology Mechamismo (1978), illustrating Harry Harrison's story "Sol Transit Complex 7 (Janus)."
Here's a look at the full piece (click for a bigger version).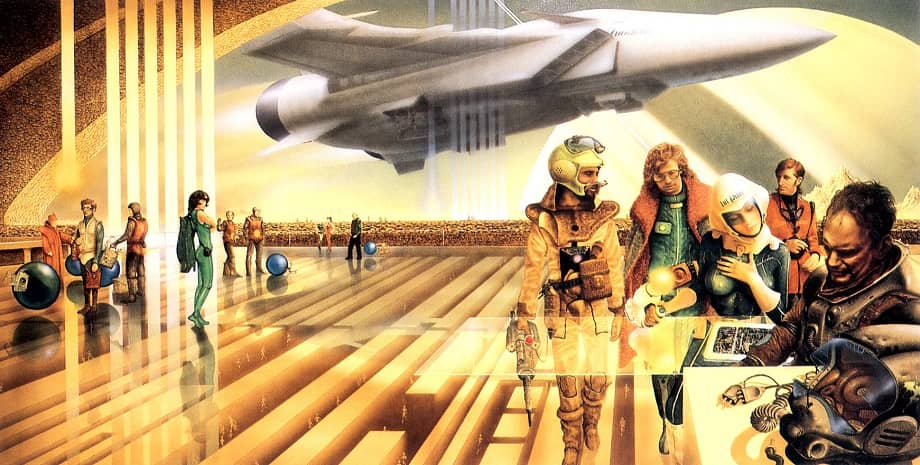 Jim's Burns' full cover art (from Mechamismo, 1978)
As for the anthology itself… as usual, it was packed with top notch fiction, including plenty of award contenders, including a novella by Ian Watson, the Budayeen novelette "Schrödinger's Kitten" by George Alec Effinger (a Hugo, Nebula and Sturgeon winner), David Brin's Hugo nominee "The Giving Plague," Geoffrey A. Landis's Nebula nominee and Hugo Award winner "Ripples in the Dirac Sea," and my favorite story from 1988 (and the only one I remember today), Steven Gould's Hugo and Nebula nominee "Peaches for Mad Molly."
Here's the complete TOC.
Introduction by Isaac Asimov
"The Giving Plague" by David Brin (Interzone, #23 Spring 1988) — Hugo nominee
"Peaches for Mad Molly" by Steven Gould (Analog Science Fiction/Science Fact, February 1988) — Hugo and Nebula nominee
"Shaman" by John Shirley (Isaac Asimov's Science Fiction Magazine, November 1988)
"Schrödinger's Kitten" by George Alec Effinger (Omni, September 1988) — Hugo, Nebula and Sturgeon winner
"The Flies of Memory" by Ian Watson (Isaac Asimov's Science Fiction Magazine, September 1988)
"Skin Deep" by Kristine Kathryn Rusch (Amazing Stories, January 1988)
"A Madonna of the Machine" by Tanith Lee (Other Edens II, 1988)
"Waiting for the Olympians" by Frederik Pohl (Isaac Asimov's Science Fiction Magazine, August 1988)
"Ain't Nothin' But a Hound Dog" by Brenda W. Clough (Rod Serling's The Twilight Zone Magazine, June 1988)
"Adrift Among the Ghosts" by Jack L. Chalker (Dance Band on the Titanic, 1988)
"Ripples in the Dirac Sea" by Geoffrey A. Landis (Isaac Asimov's Science Fiction Magazine, October 1988) — Nebula nominee, Hugo Award winner
The 1989 Annual World's Best SF was edited by Donald A. Wollheim with Arthur W. Saha and published by DAW Books in June 1989. It is 315 pages, priced at $3.95. The cover is by Jim Burns. It was reprinted in hardcover by the Science Fiction Book Club. It has been out of print for 31 years, and there is no digital version.
See our recent Vintage Treasures here.