Ellsworth's Cinema of Swords: Charming and Dangerous: Douglas Fairbanks, Jr.
Ellsworth's Cinema of Swords: Charming and Dangerous: Douglas Fairbanks, Jr.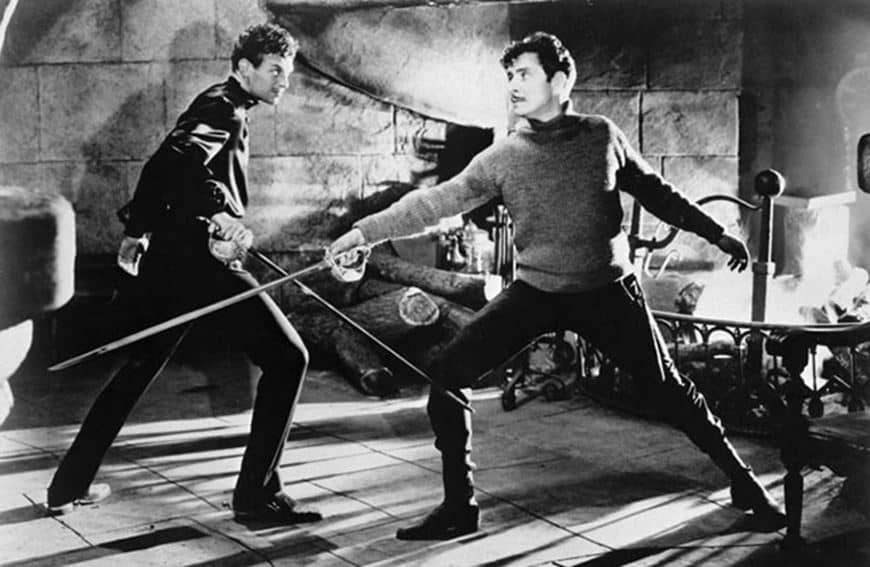 Ronald Colman and Douglas Fairbanks, Jr. in The Prisoner of Zenda (1937)
Douglas Fairbanks, Jr. was a fine actor with a considerable range, but he never got out of the shadow of his more famous father. Douglas Fairbanks Sr., after all, was more than a fine actor, he was a force of nature who single-handedly established the conventions of the cinematic swashbuckler in a series of grand, albeit silent epics. Doug Jr.'s parents divorced when he was young, and against his father's wishes he was raised in the movies, starting in the silent era as a child star with his own studio contract. He played mostly romantic and dramatic roles as he matured, but inevitably he made some swashbucklers of his own, showing that he had, unsurprisingly perhaps, a natural talent for them. His Rupert of Hentzau is certainly one of the most memorable portrayals in all swashbuckler cinema.
The Prisoner of Zenda
Rating: *****
Origin: USA, 1937
Director: John Cromwell
Source: Warner Bros. DVD
David Selznick bought the rights to The Prisoner of Zenda as a starring vehicle for Ronald Colman, who was at the height of his fame coming off Lost Horizon (1937). Colman played the dual role of Rudolf Rassendyll and King Rudolf, and Selznick surrounded him with a first-rate cast, including the glowing Madeleine Carroll as Princess Flavia, and C. Aubrey Smith and his whiskers as the king's loyal Colonel Zapt. But best of all were the villains: Raymond Massey, looming and ominous as the would-be usurper Black Michael, and Douglas Fairbanks, Jr., as the raffish rogue Rupert of Hentzau, who stole every scene he appeared in (as Rupert does in every version of Zenda).
The story sticks pretty closely to that of Anthony Hope's 1894 novel — and if you're not familiar with it, why are you wasting time reading this? (Side note: one of Hope's Zenda stories is included in my anthology, The Big Book of Swashbuckling Adventure.) On the eve of his coronation, King Rudolf of Ruritania is kidnapped, but his loyal aides convince his lookalike English cousin to stand in for him. While impersonating his royal cousin, Rassendyll falls in love with the king's betrothed, Princess Flavia — and she with him. Heartbreak ahead! Meanwhile, good guys Colonel Zapt and Fritz von Tarlenheim (a very young David Niven) engage in a desperate dance with the villains, as nice and nasty try to outmaneuver each other before their various threats and ultimatums erupt in violence.
Besides the brilliant performances, there's so much to love in this movie: drugged wine, secret passages, throwing knives, and brooding Castle Zenda, so medievally murderous it's practically a character unto itself. The outrageous helmets and embroidery-crusted uniforms of the Ruritanian nobility and guards cannot be improved upon. And everybody wears monocles! So fine.
In the end it all comes down to swordplay, of course, in a climactic duel filmed by James Wong Howe, who projected the duelists' shadows thrice life-size on the inner walls of Castle Zenda. (Yes, this is where that trope originated.) The Oscar-nominated soundtrack by Alfred Newman was so good it was reused in the 1952 remake. Fun factoid: When the first theatrical production of Zenda was the hit of the London stage in 1896, the dual role of Rudolf and Rassendyll was played by … C. Aubrey Smith. (Pre-whiskers!)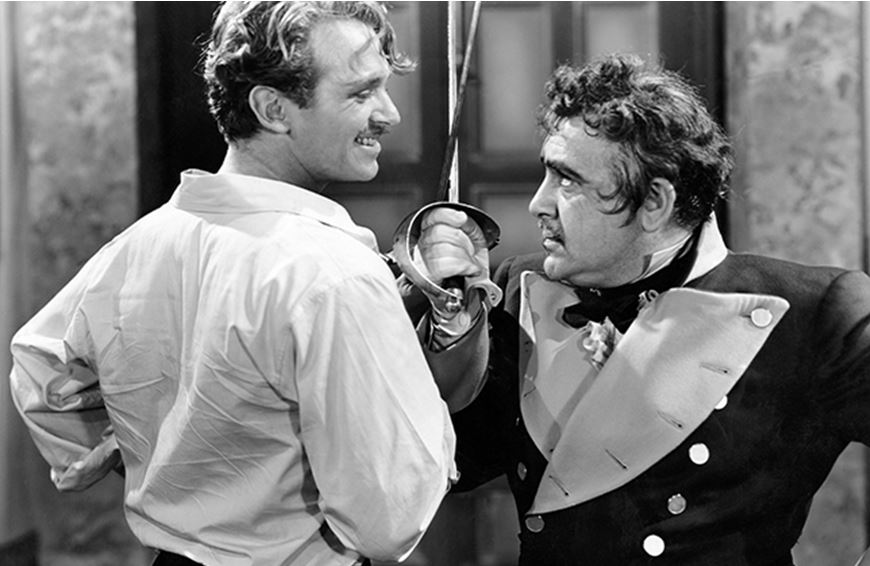 The Corsican Brothers
Rating: ***
Origin: USA, 1941
Director: Gregory Ratoff
Source: Hen's Tooth Video DVD
Ever since his success with The Count of Monte Cristo in 1934, independent producer Edward Small made about one swashbuckler movie per year until World War II broke his streak. For his 1941 entry, Small turned once more to a story by Alexandre Dumas. Louis Hayward, Small's usual star, was slated for the lead, but he took a part in a prestige drama instead, so the dual role of the Corsican twins instead went to Douglas Fairbanks, Jr., who delivered one of his best performances.
The plot is vintage Dumas: in old Corsica, two aristocratic families, the noble Franchis and the cruel and coarse Colonnas, have been feuding for generations. The Franchi family gather at their estate to await the birth of an heir to the count, an event the Colonnas take advantage of to attack and massacre the Franchis. Countess Franchi gives birth to conjoined, or Siamese, twins, but in the chaos of the Colonna attack they are spirited away by the family doctor.
Doctor Paoli successfully separates the twins and names them Lucien and Mario. Baron Colonna is aware that Countess Franchi gave birth to twins, so to put him off the trail Mario is sent with wealthy family friends to be raised in Paris, while Lucien remains in Corsica, where he is raised by a Franchi retainer among a gang of bandits. But the twins share a psychic connection, and what one feels, the other feels as well. When the brothers come of age, Dr. Paoli summons Mario back to Corsica to meet Lucien and to inform them of their true parentage. The twins embrace and swear vengeance upon Count Colonna. "No one knows there are two of us," says Lucien. "It'll be our sharpest weapon!"
All this, which sets up the story, is just the first half hour. Now comes the fun: the conflict with the Colonnas, led by Akim Tamiroff as the baron, and the conflict between the brothers, who fall in love with the same woman, Lady Isabelle Gravini — who is also, of course, pursued by Baron Colonna. Besides genre-convention bingo (Secret passage! Villain's jealous mistress! Fop impersonation! Death-feigning potion!), the main pleasures here are in the performances of the two male leads.
Fairbanks really nails his double role as the noble Mario and the tormented and jealous Lucien. In both parts he gets in some fine athletic swashbuckling reminiscent of his father. And Tamiroff's Baron Colonna is a delightful mix of wily cunning, brutal bullying, and vain preening. Menacing one moment, laughing the next, he's a complete hoot. When the Franchi brothers repeatedly raid his holdings, he's outraged: "First my cousins, then my nephews," he cries, "and then my sheep!"
But in the end, it all works out with Doctor Paoli's help — because science! The final duel between Franchi and Colonna was Doug Fairbanks, Jr.'s favorite sword fight of his entire career.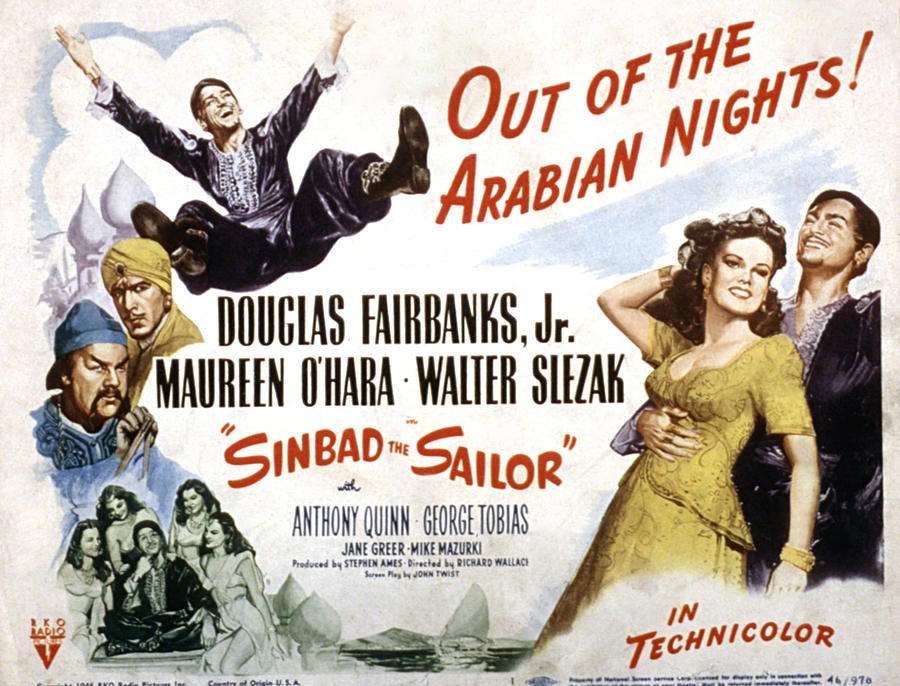 Sinbad the Sailor
Rating: ***
Origin: USA, 1947
Director: Richard Wallace
Source: Warner Bros. DVD
After making The Corsican Brothers in 1941, Douglas Fairbanks, Jr. joined the U.S. Navy for five active and much-decorated years. Following his wartime service, the return to mere movie-making must have seemed anticlimactic. He took his time in picking the vehicle that would re-launch his acting career, and finally settled on Sinbad the Sailor. Strangely, though there had been a couple of animated two-reelers in the '30s, this film is the first full Sinbad feature. It's amazing that it took until 1947 for that to happen, especially considering how many Sinbads there have been since, but the success of A Thousand and One Nights (1945) had established the Arabian fantasy subgenre as a dependable money-maker, and by this point they were coming thick and fast.
Fairbanks decided to make the movie a conscious homage to his late father, performing a lot of his own stunts and adopting some of Doug, Sr.'s exaggerated silent-movie gestures and mannerisms. Unfortunately, the result feels forced and affected, and the performance seems out of place, as if Fairbanks was making a moving in 1927 while the rest of the cast was in 1947.
But what a cast it was! The story follows the Arabian Nights convention of telling a tale within a tale, with a framing sequence in which Sinbad purports to tell his buddies in Basra the story of his hitherto-unknown eighth voyage. Unknown or not, it's a familiar story, a treasure hunt built of standard elements, but supremely useful as a setting for the lead actors to show their chops. And so, let us praise Maureen O'Hara, the Queen of the Swashbucklers, who plays the clever and conniving Shireen, a Kurdish beauty with brains to spare. She's proud and ambitious, but must somehow choose between wealth, power, and love (for Sinbad, of course!).
Further, O Best Beloved, let us praise the worthy Walter Slezak, he of the waggling eyebrows, who as the barber-surgeon Melik (among other guises), serves as the evil genie of this morality play, a corrupter and tempter so cunning and sly you can't help but admire him, though you know he's up to no good. As usual with Slezak, the best part of his portrayal is the way he shares how much fun he's having with us, the audience. O'Hara's intelligence lights up her performance, but Slezak's razor wit gives his role a darker edge. His Melik knows he's a villain and will probably come to a bad end, but he accepts that as his nature and revels in it.
Which brings us to the movie's other villain, the ominous Emir of Daibul, as played by Anthony Quinn in his best role to date. Usually cast before as a sidekick or second banana, in Sinbad he comes into his own as a charismatic ruler of men and women, a confident commander both smart and ruthless. Quinn's Emir — like Sinbad, Shireen, and Melik — is after Alexander the Great's treasure on the lost island of Deryabar, and he means to have it at any cost. So do the others, of course, and between them there are plenty of temporary alliances and inevitable betrayals along the way, as well as romantic intrigue, stolen maps, virulent poison, Greek fire, and much waving around of those long, curved katar knives they all seem so fond of. Ultimately this is a fable, so expect the ending to turn on a moral before going back to Sinbad's framing sequence where we started — Allah's blessings be upon you!
Previous installments in the Cinema of Swords:
Olivia de Havilland — First Queen of the Swashbucklers
Goofballs in Harem Pants
Disney's Early Swashbucklers
'50s Vikings – Havoc in Horned Helms
Laughing Cavaliers
Charming and Dangerous: Douglas Fairbanks, Jr.
---
LAWRENCE ELLSWORTH is deep in his current mega-project, editing and translating new, contemporary English editions of all the works in Alexandre Dumas's Musketeers Cycle. Three volumes are in print, with the fourth, Blood Royal, coming from Pegasus Books this fall. His website is Swashbucklingadventure.net.
Lawrence Ellsworth's secret identity is game designer LAWRENCE SCHICK, who's been designing role-playing games since the 1970s. He now lives in Dublin, Ireland, and is co-designing a new mobile RPG for the WarDucks game studio.