Ellsworth's Cinema of Swords: Laughing Cavaliers
Ellsworth's Cinema of Swords: Laughing Cavaliers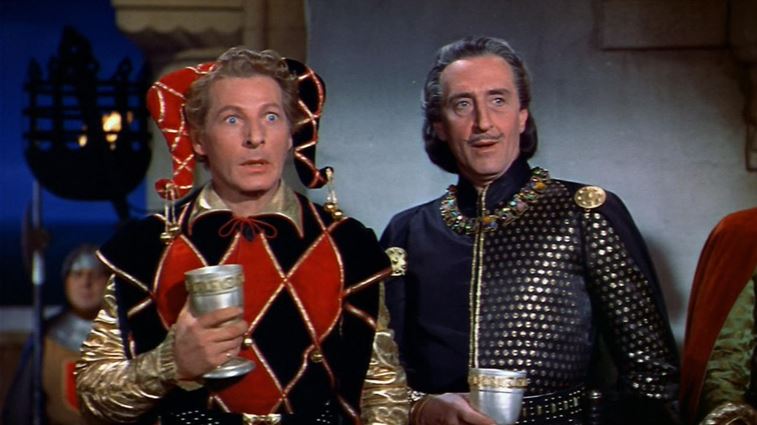 The Court Jester (Paramount 1956)
Swashbuckler heroes tend to be boisterous and aggressively cheerful, embracing whatever life throws at them, not reacting so much as over-reacting to every joy and challenge, happy to be outside the constraints that keep normal folk like us from picking up apples in the grocery by impaling them on the points of our swords. Swashbuckler films often have comic overtones because it fits the character of their devil-may-care protagonists. And some swashbuckler movies take the plunge into outright parody. Here are two of the latter, plus an immediate predecessor that helped pave the way.
The Flame and the Arrow
Rating: ****
Origin: USA, 1950
Director: Jacques Tourneur
Source: Warner Bros. DVD
Burt Lancaster burst onto the Hollywood scene in 1946 playing a tender tough guy in The Killers, a dark film noir based on a Hemingway story, and he soon earned a reputation for excelling at edgy, dramatic roles. But before Hollywood, and before his service in World War II, Lancaster had been… a circus performer. In the 1930s he was one-half of Lang & Cravat, a comical acrobatic act with his diminutive partner and lifelong friend Nick Cravat, who, as part of his shtick, never said a word, leaving all the snappy patter to Lancaster.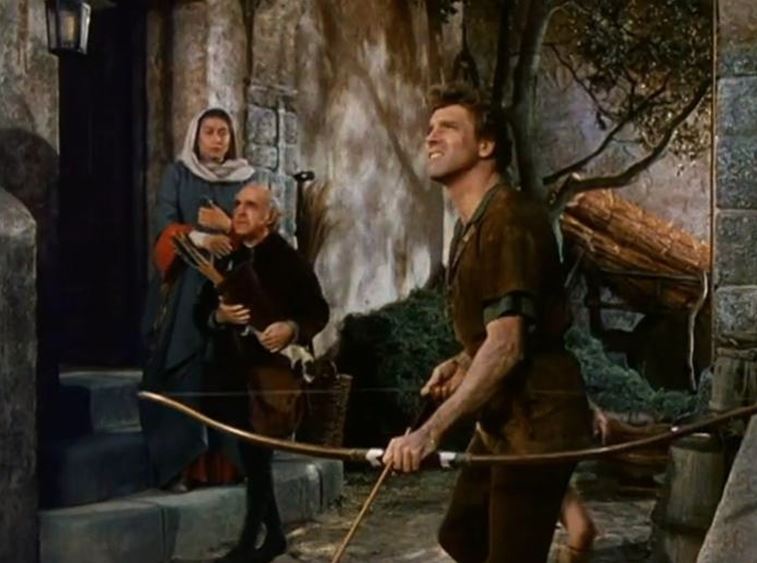 The Flame and the Arrow (Warner Bros. 1950)
By 1950 Lancaster was a big enough star that he was co-producing his own films, and he decided to expand his repertoire beyond gritty noir by doing a swashbuckler co-starring his old partner Cravat. The screen chemistry of the laughing pals was palpable, their acrobatic antics hilarious, and the film was a big hit.
That film was The Flame and the Arrow. It's set in northern Italy in the 12th century, when the mountains of Lombardy were occupied by the Germans of Holy Roman Emperor Frederick Barbarossa. In a mountain town ruled by the brutal Count Ulrich of Hesse, known as the Hawk (Frank Allenby), the villagers are thrilled by the return of their favorite son, the carefree hunter and crack archer Dardo (Burt Lancaster). The townspeople try to persuade Dardo to join their plans to resist the Hessians, but Dardo says he depends on no one but himself, and says he's "not out to right anybody's wrongs but my own." Well, we know he won't be singing that selfish tune for long once collective action is called for, especially since this film was written by Waldo Salt, who was about to be blacklisted in the imminent McCarthy era when he refused to testify before the House Un-American Activities Committee. Time to join the revolution, Comrade Dardo!
The personal wrong that Dardo's out to right is that he has a five-year-old son, Rudi, whom he's raising alone because his wife left him to become the Hawk's mistress. After Dardo, for the doubtful benefit of Rudi, publicly humiliates his mother in front of the Hawk, Count Ulrich decides to abduct Rudi, taking him into the castle to raise him as a Hessian. And thus begins the cycle of kidnappings, raids, and escapes that make up the exciting action of the rest of the picture, as Dardo reluctantly assumes the leadership of the anti-Hessian resistance.
The script is quite good, sharp without ever getting too dark, and with some clever byplay that almost justifies the romance between Dardo and the Hawk's niece Lady Anne (Virginia Mayo, as pale and bland as her namesake), whom Dardo kidnaps in a bid to trade her for Rudi. Lancaster rules the screen with his infectious grin and the twinkle in his eye, and he's an even more athletic swashbuckler than his obvious model, Douglas Fairbanks, Sr., because he performs his lithe acrobatics with a virile muscularity Doug Sr. couldn't match. The director's chair is capably filled by Jacques Tourneur, who keeps things light, bright, and quick until the final confrontation in a darkened castle hall, which is staged with some of his signature moody lighting and artistic angles. Top it off with a score by Max Steiner, and you've got a very satisfying ninety minutes.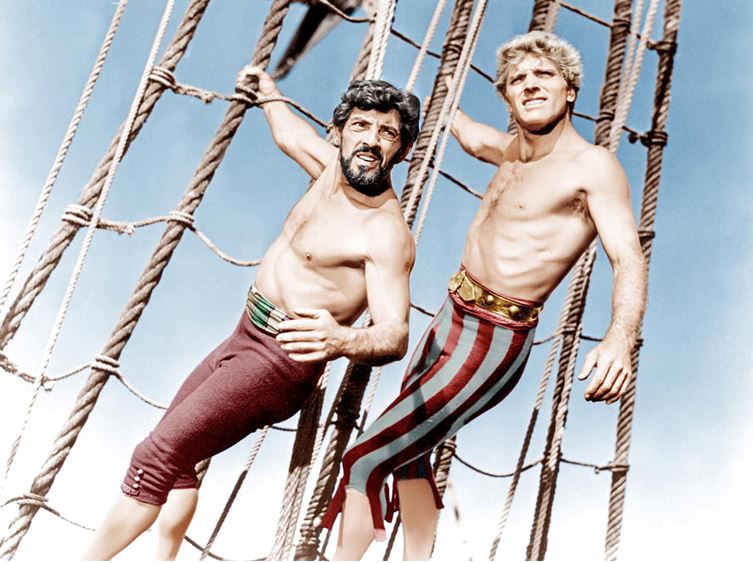 The Crimson Pirate
Rating: ***** (Essential)
Origin: USA, 1952
Director: Richard Siodmak
Source: Amazon Streaming Video
This isn't the first swashbuckler farce, but it is the first great one, a hoot and a half from beginning to end. Burt Lancaster immediately sets the tone by breaking the fourth wall: high atop a ship's mast, he does an athletic aerial stunt, grins at the audience, and says, "Believe only what you see!" Then he does the stunt backwards by reversing the film and says, "Well, believe half of what you see!" Then it's "Sail ho!" and we're off to the first ship battle.
This film is set in the revolutionary 1790s, so we're in Scarlet Pimpernel territory, and the original script by the blacklisted Waldo Salt is said to have been a serious anti-aristocratic call to arms. According to the memoirs of Christopher Lee, who has a small part here as a king's officer, director Richard Siodmak quickly rewrote it into a cartoony self-parody, full of action but high spirited and frequently hilarious. The chase scenes often bring to mind another Warner Bros. franchise, the Looney Tunes of Chuck Jones and Friz Freleng—and that's meant as a compliment. It even has a fine antic soundtrack by William Alwyn with a catchy main theme that evokes both sailing and circuses.
The setting is a bit fantastical in that the pirate protagonists are opposed by the troops and navy of "the King," an unnamed imperial monarch who combines elements of England and Spain. However, the exterior scenes, which are most of them, were shot on the Italian island of Ischia, with its medieval town, harbor, and port, and that grounds the production in reality. And it needs that grounding, because Lancaster and sidekick Nick Cravat, his old circus partner, are in full-on bounding-acrobat mode, knocking down rows of soldiers with barrels, driving Da Vinci-inspired steampunk tank-wagons, and dive-bombing the king's troops from a hot-air balloon.
There's a solid liberate-the-people revolution 'n' romance plot to support all these shenanigans, with good performances from Eva Bartok as the spunky liberator's daughter, Leslie Bradley as the ruthless aristo villain, and best of all Torin Thatcher as Humble Bellows, the pirate crew's scurvy by philosophical first mate. But really this is the Flying Burt and Nick Show — Lancaster even gets to act a bit as his Captain Vallo gradually falls in love with the liberator's daughter and grows some newly uncomfortable scruples. The best scene may be when Nick and Burt, the latter impersonating the villain, crash the island governor's fancy ball wearing outrageously foppish finery, Burt grinning like the Cheshire cat and Nick eyeing all the ladies' jewelry through a gilded quizzing glass. It's just so hard to choose!
The Court Jester
Rating: ***** (Essential)
Origin: USA, 1956
Directors: Norman Panama and Melvin Frank
Source: Paramount DVD
There were swashbuckler parodies before this film, and others followed later, but The Court Jester is the one and only crown jewel, the chalice from the palace, the brew that is true.
The film was produced, written, and directed by the team of Melvin Frank and Norman Panama, Hollywood journeymen who'd first made their mark with Hope and Crosby comedies in the forties. By the mid-fifties they'd been working together for years and knew exactly what they were doing. Star Danny Kaye had made an impression with 1947's The Secret Life of Walter Mitty but followed that with a series of mediocre comedies that he felt didn't show off his real strengths. Panama and Frank agreed and formed a production company with Kaye to create for him a vehicle worthy of his array of talents.
The big studios had been churning out loud and hokey knights-in-shining-armor movies since about 1950, most of them bloated groaners ripe for parody. Panama, Frank, and Kaye decided some medieval mockery was in order, especially of the many knight-in-training films, but then had the inspired idea of borrowing most of their tropes from an actual good movie, the beloved 1938 Adventures of Robin Hood with Errol Flynn. As icing on the cake they even hired Flynn's antagonist, Basil Rathbone, to play their leading villain.
And then they wrote a script that is a work of goddamn genius, an action musical that never lets up except to pause for the next comic song, with stock characters spouting perfect parodies of Hollywood medieval bombast, interspersed with tongue-twisting vaudeville fast-talk routines and punctuated by hilarious physical comedy, driving an intricate plot that has seventeen moving parts that somehow all interweave and mesh perfectly.
And at the center of this controlled chaos, the focus and fulcrum of almost every scene, is Danny Kaye's Giacomo the Jester, mugging, swaggering, cowering, singing, japing, pratfalling, and blustering in the performance of a lifetime, somehow simultaneously evoking Laurel and Hardy, Abbot and Costello, Charlie Chaplin, and Douglas Fairbanks, Sr. (Whew!)
Moreover, as if Kaye and Rathbone aren't enough, we also get the spirited and gorgeous (and slyly funny) Glynis Johns as Kaye's romantic and comedic foil, a glowing Angela Lansbury as a spoiled and self-centered princess, and the under-rated Mildred Natwick nailing the whammy as the princess's sorcerous servant. Plus, there's a Robin Hood-style masked outlaw, a secret passage, a baby in a basket, a troupe of midget acrobats, and a vessel with a pestle. If you haven't seen it, you must. Get it? (Got it!) Good.
Additional installments in the Cinema of Swords:
Olivia de Havilland — First Queen of the Swashbucklers
Goofballs in Harem Pants
Disney's Early Swashbucklers
'50s Vikings – Havoc in Horned Helms
Laughing Cavaliers
Charming and Dangerous: Douglas Fairbanks, Jr.
---
LAWRENCE ELLSWORTH is deep in his current mega-project, editing and translating new, contemporary English editions of all the works in Alexandre Dumas's Musketeers Cycle. Three volumes are in print, with the fourth, Blood Royal, coming from Pegasus Books this fall. His website is Swashbucklingadventure.net.
Lawrence Ellsworth's secret identity is game designer LAWRENCE SCHICK, who's been designing role-playing games since the 1970s. He now lives in Dublin, Ireland, and is co-designing a new mobile RPG for the WarDucks game studio.