Future Treasures: The Year's Best Dark Fantasy & Horror: Volume One edited by Paula Guran and The Best Horror of the Year Volume Twelve edited by Ellen Datlow
Future Treasures: The Year's Best Dark Fantasy & Horror: Volume One edited by Paula Guran and The Best Horror of the Year Volume Twelve edited by Ellen Datlow
The Year's Best Dark Fantasy & Horror: Volume One (Pyr) and The Best Horror of the Year Volume Twelve
(Night Shade Books). Both published October 20, 2020. Covers by unknown and Reiko Murakami
The pandemic has shaken up publishing schedules, including the usual batch of Year's Best anthologies. (The 2020 edition of Rich Horton's The Year's Best Science Fiction & Fantasy didn't have a publication date until last week; it now looks like it will appear Dec. 8 from Prime Books.) But as we near the end of the year we're seeing a much more crowded release schedule — and in fact on Tuesday of this week two of the most anticipated anthologies of the year will be released on the same day: Paula Guran's The Year's Best Dark Fantasy & Horror: Volume One from Pyr, and The Best Horror of the Year Volume Twelve, edited by Ellen Datlow, from Night Shade Books.
Paula published ten volumes of The Year's Best Dark Fantasy & Horror with Prime Books; we covered the last in November of 2019. This year she's switched to Pyr, who published the annual Nebula Awards Showcase for many years. The 2020 volume looks especially appetizing, wth 25 stories and over 400 pages. Authors include Theodora Goss, Maria Dahvana Headley, Ken Liu, Carmen Maria Machado, Seanan McGuire, Sam J. Miller, Joyce Carol Oates, Sarah Pinsker, Angela Slatter, Rivers Solomon, and many more. Here's the complete table of contents.
All I have for now is this image of the TOC, lifted from Paula's Facebook feed, since there does not appear to be a complete list online: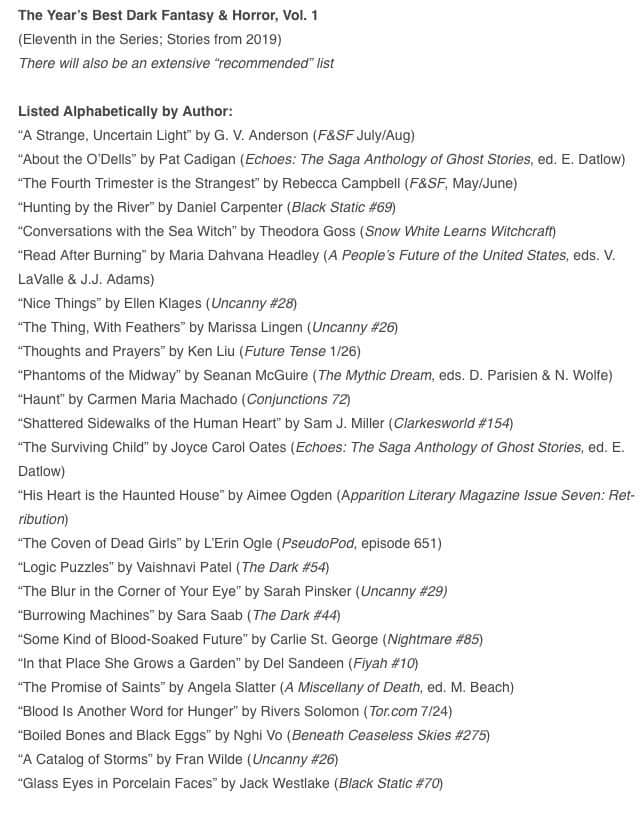 Once I can find a text version (which has the advantage of being searchable) I'll replace the image.
Ellen Datlow's long running series The Best Horror of the Year has been published by Night Shade Books for over a decade. Here's the TOC for volume Twelve:
"Ice Cold Lemonade 25ȼ Haunted House Tour: 1 Per Person" by Paul Tremblay
"A Song For Wounded Mouths" by Kristi DeMeester
"Birds of Passage" by Gordon B. White
"The Puppet Motel" by Gemma Files
"The Senior Girls Bayonet Drill Team" by Joe R. Lansdale
"The Night Nurse" by Sarah Langan
"They Are Us (1964): An Oral History" by Jack Lothian
"As Dark As Hunger" by S. Qiouyi Lu
"I Say (I Say, I Say)" by Robert Shearman
"The Pain-Eater's Daughter" by Laura Mauro
"The Hope Chest" by Sarah Read
"Nor Cease You Never Now" by Ren Warom
"Playscape" by Diana Peterfreund
"Adrenaline Junkies" by Ray Cluley
"Watching" by Tim Lees
"Mr. And Mrs. Kett" by Sam Hicks
"Below" by Simon Bestwick
"My Name is Ellie" by Sam Rebelein
"Slipper" by Catriona Ward
"How To Stay Afloat When Drowning" by Daniel Braum
"This Was Always Going to Happen" by Stephen Graham Jones
"The Butcher's Table" by Nathan Ballingrud
Honorable Mentions
About the Authors
Acknowledgment of Copyright
About the Editor
Here's the complete publishing details for both.
The Year's Best Dark Fantasy & Horror: Volume One (Pyr, 440 pages, $19.95 trade paperback/$9.99 digital, October 20, 2020) — cover artist unknown
The Best Horror of the Year Volume Twelve (Night Shade, 480 pages, $15.95 trade paperback and digital, October 20, 2020) — cover by Reiko Murakami
See all our recent coverage of the best in upcoming SF and Fantasy here.