A Shipwreck, a Mystery, and a 60-Ton Killer Robot: "The Ambient Intelligence" by Todd McAulty
A Shipwreck, a Mystery, and a 60-Ton Killer Robot: "The Ambient Intelligence" by Todd McAulty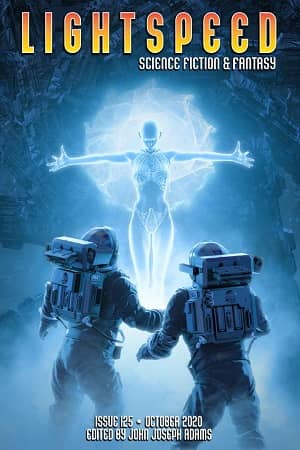 Hey hey! This is exciting — my first short story publication in many years appeared last week in Lightspeed magazine!
The story is "The Ambient Intelligence," and it's free to read online. It's published under the name Todd McAulty, the name all my stories appeared under in Black Gate magazine all those years ago. Here's what John Joseph Adams said about the story in his editorial for the October issue:
Welcome to Lightspeed's 125th issue! Do you love power armor? Do you love giant robots? Do you love people in power armor fighting giant robots? Well then, we've got you covered! Todd McAulty's newest short story ("The Ambient Intelligence") is here to meet all your power armor vs. robot needs.
He's not kidding about the robots. "The Ambient Intelligence" is the story of Canadian Barry Simcoe and his robot friend Zircon Border, who face off against a mysterious 60-ton killer robot hiding in a shipwreck on the shores of Lake Michigan… one that's hiding a very big secret. It shares a setting (and two characters) with my debut novel The Robots of Gotham, but it's not otherwise related to that book, and stands completely on its own.
Black Gate subscribers may remember (stretching back many years now) that Todd McAulty had four stories in the print magazine:
"The Haunting of Cold Harbour" (Black Gate 3, 2002)
"There's a Hole in October" (Black Gate 5, 2003)
"Amnesty" (Black Gate 7, 2004)
"The Soldiers of Serenity" (Black Gate 12, 2008)
Read "The Ambient Intelligence" in its entirety here. And if you enjoy it, why not help support Lightspeed with a subscription? Six-months subs will run you just $17.94, for more than 50 stories — a whopping 350,000 words of fiction. It's one of the true bargains in the fields. And thanks for your support!