Goth Chick News: A New Monster from Harry Potter Creator J. K. Rowling
Goth Chick News: A New Monster from Harry Potter Creator J. K. Rowling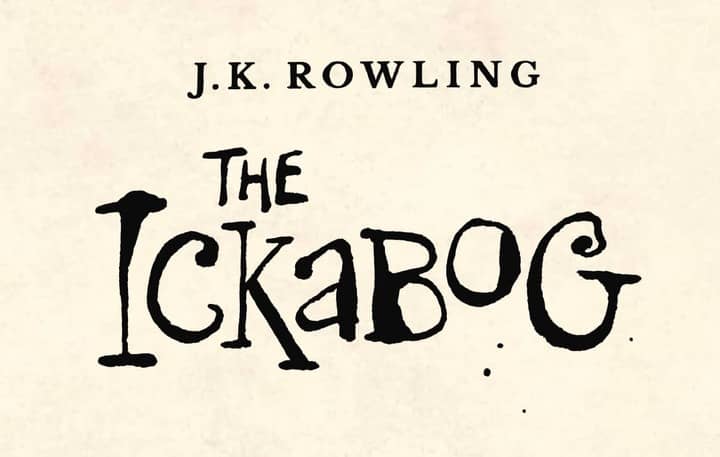 Shortly following the advent of the zombie apocalypse which caused us all to seek shelter in our homes and increase our body fat to survive potential food shortages, Harry Potter author J. K. Rowling had an idea. Back in 2012 she began writing a new kind of children's story which she read to her two younger kids, then aged 7 and 9 respectively, a chapter at a time as she created it. However, when it was done, she decided to publish the first of her adult mystery series, The Cuckoo's Calling instead, and the completed children's story went into the attic.
However, when the zombies came and we all went into hiding, Rowling understood the situation was particularly difficult for children. She went to the attic and dusted off her story and decided it might be a good way to provide some entertainment for the kids, who would otherwise have been finishing school, then enjoying their summer. She decided she would publish the story online for free, as so many parents were experiencing financial hardship, and new books might be pretty far down the line of priorities.
So, in May of this year, the first two chapters of The Ickabog appeared on its own, brand new website. Rowling then released a chapter or two every few days over the next seven weeks, and a week ago, the final chapter (number 64) was posted. In addition, Rowling provided her young readers with suggestions for illustrating her story. She invited them to send her their artwork, from which would be chosen a series of pictures to be included in the print version of The Ickabog, set to be released in November 2020.
And of course, I read it. No actually I devoured it, like the Ickabog devoured…
Never you mind, no spoilers here.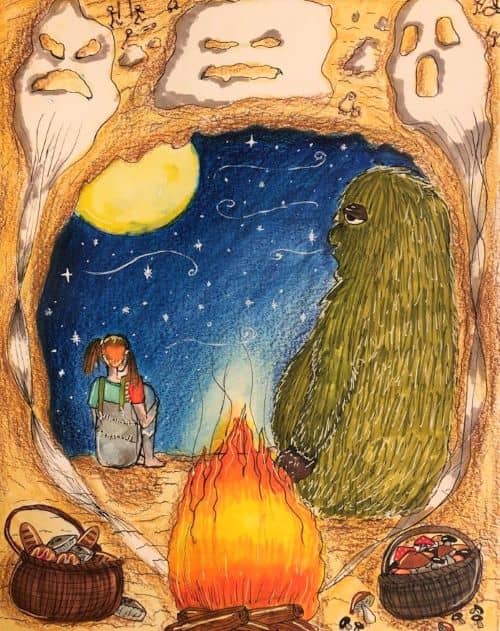 Illustration by Katherine, age 10
But, in full disclosure, I am a Rowling fan, loving everything from the Harry Potter stories, to the much darker adult fare of The Casual Vacancy and the Cormoran Strike series (of which The Cuckoo's Calling is the first installment). What I expected was another fun, fluffy story to distract young and old from the current state of affairs. What I got was much more.
First and foremost, The Ickabog is not fluffy and fits nowhere into Rowling's other magical worlds. It's a tale of a folklore monster on the surface, but the depth of human cruelty and greed laid out in this tale is a much more frightening entity. There is a different level of tragedy in The Ickabog which coldly illustrates "life isn't fair." It is so dark in places, that I certainly would not recommend it for children under 10, at least not without having it read to them by an adult who can temper and explain the sheer wrongness of it all. As Rowling's claim to fame is largely based on the deliberateness of her tales, with no detail going unused and no plot element being unimportant, the reader must assume the parallels between the characters and events, and some of today's headlines is definitely intentional. However, subtlety keeps any such illustrations from being preachy. 'Good' and 'bad' are clearly delineated, and though the heroes of the tale go through so much strife that you wonder if there will ever be a satisfactory ending, ultimately there is. And it is very satisfactory one indeed.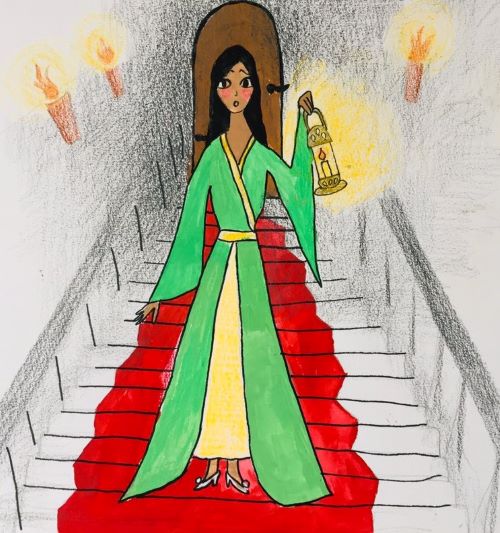 Illustration by Rosa, age 9
Though I am extremely far from the target audience for The Ickabog, during the 7 weeks of its release I hit the refresh button for web site very single day without fail, and experienced a little rush of happiness on the days when a new chapter appeared. Today, all the chapters are available to read online, and I expect the finished printed version to be around 150 pages. My only regret for you, if you read it for the first time now, is that you'll binge it. You won't be able to help yourself once you get started. For me, having it parsed out over those weeks was a wonderful treat which helped the early days of quarantine go much easier.
There's just no denying the magic of a well told tale.