New Treasures: The Obsidian Tower by Melissa Caruso
New Treasures: The Obsidian Tower by Melissa Caruso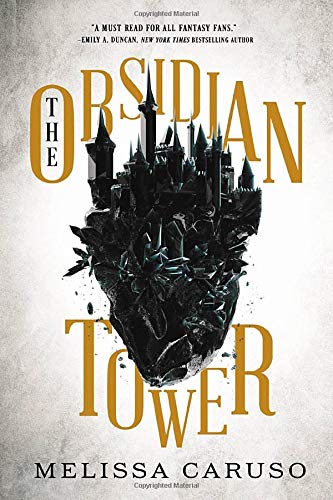 Melissa Caruso is the author of Swords and Fire, a 4-book fantasy trilogy (there's more of those than you think). I don't know much about it, so that doesn't tell me anything — although I note that the first book, The Tethered Mage, was shortlisted for the Gemmell Morningstar Award in 2017, and that's definitely an asset in my book.
Her latest is The Obsidian Tower, the opening volume in a new series, and it's been warmly received. Publisher Weekly calls it "no-holds-barred epic fantasy," and James Tivendale at GrimDark magazine raves, saying:
Like Caruso's previous trilogy, The Obsidian Tower is set in the world of Eruvia. The action takes place at least 150 years after the events of Swords and Fire… Ryx is a vivomancer but her magic is flawed and so twisted that it is dangerous. Anyone she touches dies, which, to her dismay, has happened a few times. At twenty-one years old, her role is to look after the castle in Gloamingard and at the beginning of the narrative, she is hosting a conference with neighbouring Alevar and the Serene Empire. Her castle is full of nooks, crannies, and secret passages, many of which seem only known to Ryx, as well as being host to a mysterious tower with a magical door which must not be unsealed….

Caruso is a terrific writer who weaves fascinating and intricate fantasy tales that are heavily focused on magic and politics. In The Obsidian Tower Caruso also introduces mystery elements to the mix which fit perfectly with her style…. [it's] brimming with many well-crafted and colourful characters… My personal favourites were the formidable ruler of Morgrain The Lady of Owls, the mysterious Severin, the envoy from the neighbouring Alevar, the talking fox-like Chimera and castle guardian Whisper, and the loveable oddballs that make up the Rookery….

The Obsidian Tower is an entertaining, well-written, and expertly-paced novel with incredible magic schemes and a great cast of characters.
The Obsidian Tower was published by Orbit on June 2, 2020. It is 528 pages, priced at $16.99 in paperback and $9.99 in digital formats. The cover is by Peter Bollinger. Read a lengthy excerpt here.
See all our recent coverage of the best new SF and fantasy here.