Goth Chick News: Game Night Reinvented for the Horror Fan
Goth Chick News: Game Night Reinvented for the Horror Fan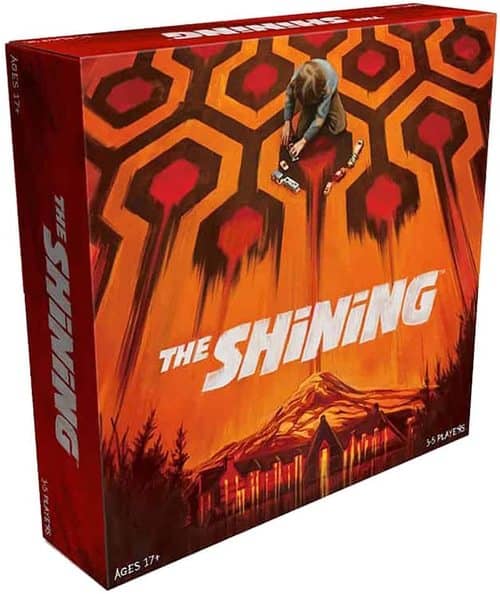 The Shining Board Game
I was once a digital game enthusiast.
In the 'before times' when we were allowed to physically be in the company of other humans, I often found myself far too immersed in humanity, however unthinkable a state that is today. I sat in an office with other people, ate with other people, sat for hours in traffic with other people and came home to other people. It was therefore a welcome escape to place that VR helmet over my head and get away from everyone, often doing very geeky alone-things like touring virtual museums or take a virtual climb up Mount Rainer.
Today, in the upside-down, we're going to great lengths to create those human interactions which I, at least, used to try and escape. We now have video meetings and Zoom cocktail parties, and frankly, spending time alone as entertainment is no longer as appealing as it once was. Instead, virtual game nights have become so popular that there are now online services you can hire to host them for you. According to a May article in USA Today, Walmart has seen their sales of board games double since March, and Amazon sales are up 4,000% in the same timeframe. The article specifically called out the game publisher Ravensburger, as having seen a 370% jump in sales since March.
Which brings me to the topic du jour.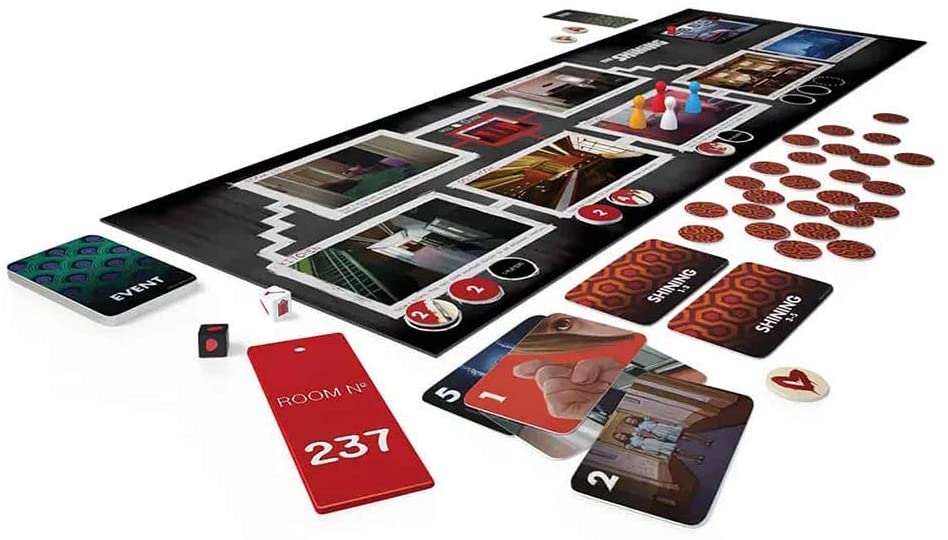 The Shining Board Game
Game design studio Prospero Hall, which partners with publishers like Ravensburger, Mixlore and others, has been the source of some amazing tabletop titles for some years. However, their latest release has prompted me to revisit some of their other creations which have provided hours of Zoom-gaming entertainment for me and the crew over the past months.
The Shining Board Game published by Mixlore, hit store shelves literally the same week most of us were told to stay home. Luckily, the USPS man already had mine in the back of his truck and I wasted no time trying it out. First and foremost, I love the look of all the Prospero games. Their talented team of artists do an outstanding job of capturing the atmosphere of the story they are telling, and their theme games like this one, are musts for fans and collectors. For example, The Shining board game came with a physical key tag for room 237. The game construct a combination token-board-card-dice game, along the lines of Clue and only slightly more complicated. For that reason and due to the subject matter, I wouldn't recommend this one for the kids; the designers say aged 17 and over only please.
Gameplay moves at a nice clip, with start-to-finish taking 40 minutes to an hour. Though familiarity with the source material (movie or book) adds to the fun, its not necessary to have any pre-knowledge of the story. What I love about The Shining is that the 3-5 players can either work together to survive the terrors of the Overlook Hotel, or one player can secretly succumb to the evil entities you are snowed in with, and work against the others to trap them in the Overlook forever…and ever. The only downside to The Shining, and it's minor one, is that you do need a minimum of 3 players, meaning this isn't a good choice for you and your significant other only, but is a perfect choice for a group of supposed grown-ups with adult beverages in hand.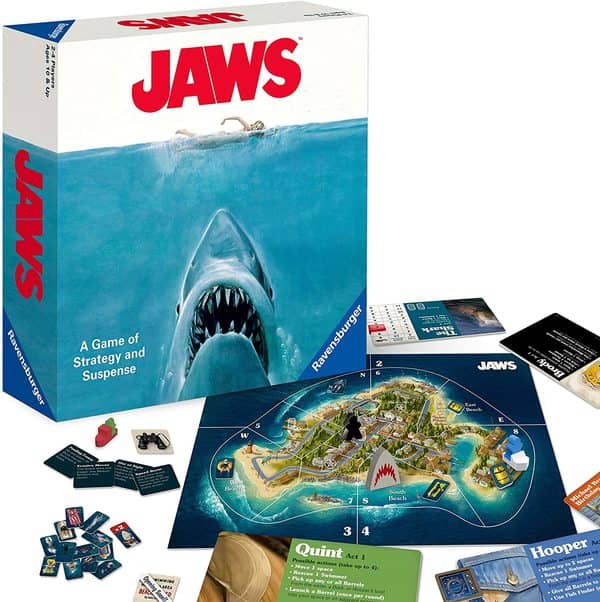 Ravensburger Jaws Board Game
The Jaws Board Game came out in August 2019 which made it my very favorite Christmas present last year. Published by Ravensburger, this is the ultimate for fans of Jaws and board games in general. The shark token is the collectible this time around and what is really unique is the double-sided board; one side being Amity Island and the other being your boat The Orca, which is out in open water.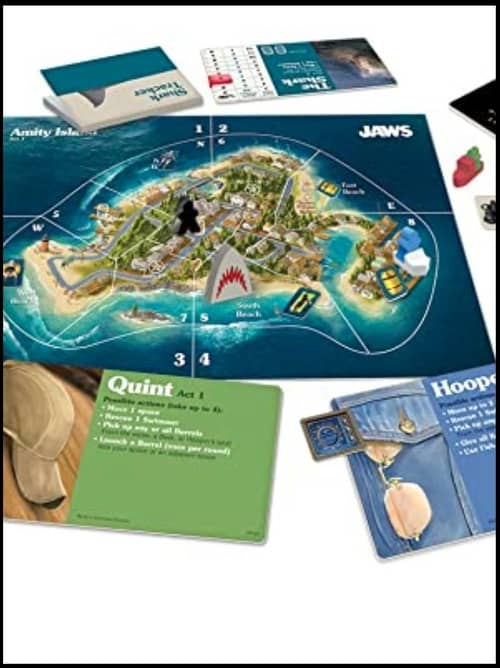 Jaws Act 1 – Amity Island
Act 1 takes place on Amity with the great white shark prowling the water attacking swimmers and avoiding capture by the players who are also working to save as many tourists as possible. Act 2 takes place on open water as the Orca is slowly sinking. Will you defeat the shark or be eaten?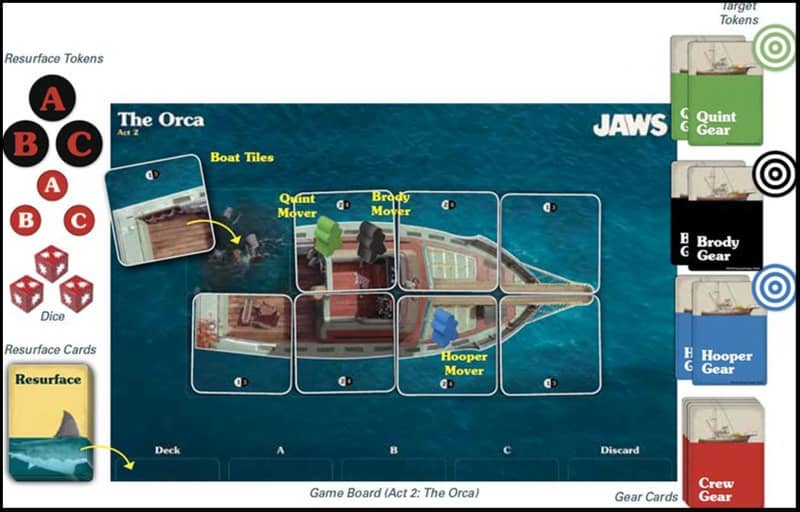 Jaws Act 2 – The Orca
In Jaws, familiarity with the movie is definitely helpful or all the cool references throughout the game will be lost on you. Then again, if you haven't seen Jaws yet, log off and do that right now, you're way behind. The game works just as well with 2 players as with 4, meaning I've repeatedly pulled this one off the shelf. It's fairly simple with a lot of excitement packed into the less-than-an-hour of play. It's also (mostly) family friendly if you can get past the idea of a game based on shark attacks. It's recommended for players 12 and over.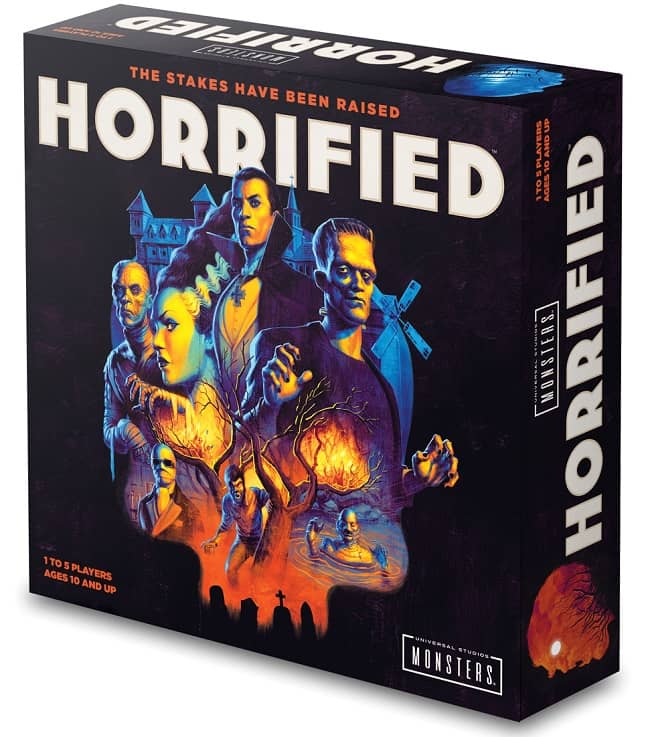 Finally, there's the most family friendly of my favorite Prospero Hall titles, and one I told you about over a year ago when it was released. Horrified: Universal Monsters is also published by Ravensburger and is based on the stories of Universal Studio's classic movie monsters. Appropriate for 2-4 players aged 10 and up, this time the collectibles are high-quality sculpted miniatures of Dracula, Frankenstein, the Bride of Frankenstein, the Wolf Man, the Mummy, the Invisible Man, and the Creature from the Black Lagoon.
It's a strategy game where players work together to take down each monster; meaning players are the equivalent of pitchfork-and-torch-bearing villagers, which is why I'm calling this a pretty perfect way to spend an evening. It is also somewhat ironic that the blueprints for new Universal Studios amusement park currently under construction in Orlando entitled Epic Monsters, paying homage to the same classic tales, looks very similar to the Horrified game board.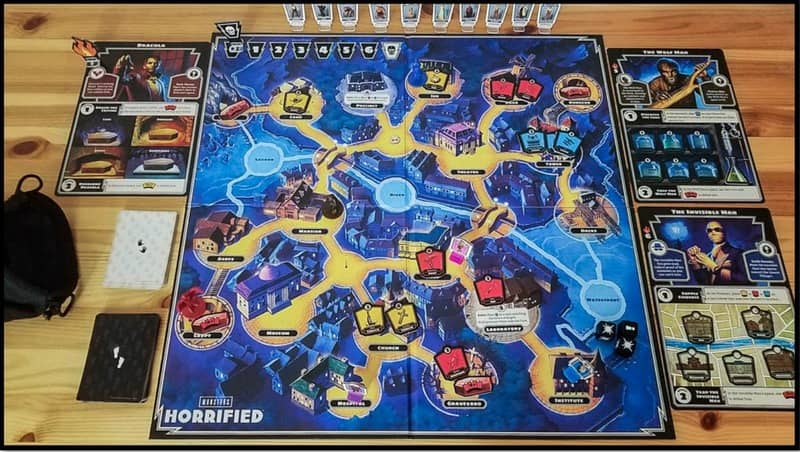 Horrified: Universal Monsters
Or is it…?
Anyway, Prospero Hall isn't just for horror fans. Check out their website for a complete list of board game titles including Jurassic Park, Back to the Future, Disney Villains, Home Alone and Harry Potter among many others. I don't have personal experience with these other titles, but so far Prospero is three-for-three and I expect the others are equally awesome.
Stay safe and keep gaming, my friends.