Future Treasures: Lake of Darkness by Scott Kenemore
Future Treasures: Lake of Darkness by Scott Kenemore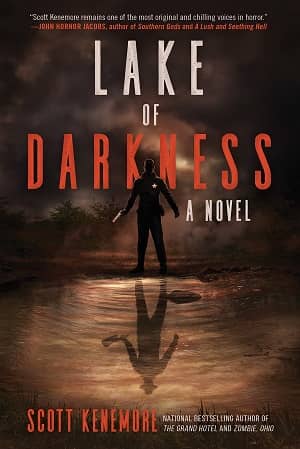 It's always nice to read a book set in my hometown. Scott Kenemore's Lake of Darkness, arriving next week in hardcover, has the added appeal of being set in lawless WWI-era Chicago, an era already rich with racial tension, drama, and larger-than-life characters. Layer in a creepy serial killer and a detective with a fascinating crew of magicians and mystics, and you've got all the elements of great tale.
Scott Kenemore's previous books include the Zombie trilogy (Zombie, Ohio, Zombie, Illinois, and Zombie, Indiana) and The Grand Hotel, but his latest book is getting a lot more attention. Simon Strantzas says Lake of Darkness is a "Chicago tale as strange and bizarre as the twin murders at its heart… an exceptional read," and Dean Jobb (Empire of Deception) calls it "a fast-paced tale of madness, murder, and a streetwise detective on the trail of a depraved serial killer… a stylish, clever whodunit."
Publishers Weekly gave the book a starred review, saying:
This superb blend of noir and horror from Kenemore (Zombie, Ohio) centers on the search for a serial killer who targets twins in WWI-era Chicago, starting with two 10-year-old African-Americans, a brother and sister, whose heads are cut off and switched. Other murders follow in which black children's heads are severed and then attached to their siblings' torsos. Mayor Big Bill Thompson, who has eyes on the White House, is concerned that the killings could harm Chicago's reputation and stem the migration of African-Americans from the South. Thompson gives Joe "Flip" Flippity, one of Chicago's few black cops, carte blanche to solve the case. Flip is aided by such unusual allies as the Amazing Drextel Tark, a magician whose illusions employ his own twin brother, and elderly Ursula Green, who uses a crystal ball animated by a supernatural force "larger and stronger than herself." Kenemore keeps the tension high throughout…
Lake of Darkness will be published by Talos on May 5, 2020. It is 264 pages, priced at $15.99 in paperback and $11.99 in digital formats. Get more details at the publisher's website here.
See all our recent coverage of the best upcoming fantasy and horror here.