Vintage Treasures: Imaginary Lands edited by Robin McKinley
Vintage Treasures: Imaginary Lands edited by Robin McKinley
Imaginary Lands (Ace Books, 1985). Cover by Thomas Canty
By 1985 Robin McKinley was already a star. Her breakout novel The Blue Sword (1982) was a nominee for both the Mythopoeic Award and the Newbery Medal, and two years later The Hero and the Crown (1984) won the Newbery Medal, one of the most coveted accolades in children's literature. If there was a hotter new writer in the field at the time, I can't think of her.
In 1982 Ace Books had published her successful collection The Door in the Hedge, and in 1985 McKinley approached them with a different idea: an original anthology of secondary world fantasy tales, with contributions primarily from newer writers. Patricia A. McKillip, whose Riddle-Master trilogy had been a significant hit in the 70s; Joan D. Vinge, whose 1980 novel The Snow Queen had won a Hugo; P. C. Hodgell, whose 1982 debut novel God Stalk became a cult classic; modern master James P. Blaylock, whose career was just getting started with The Elfin Ship (1982) and The Disappearing Dwarf (1983); popular YA author Robert Westall; and McKinley's husband Peter Dickinson, author of The Changes Trilogy, among others.
Imaginary Lands was a doozy, winning the World Fantasy Award and helping cement McKinley's reputation. It contained some of the year's best fantasy, including Blaylock's famous story "Paper Dragons" (a Nebula nominee and winner of the World Fantasy Award), and "Flight," by Peter Dickinson, a World Fantasy Award nominee for Best Novella. Imaginary Lands was a paperback original, and was successful enough to be re-released in hardcover in 1986 for the library market by Greenwillow. It had a UK release from Orbit in 1987, but that was the end of its short literary life. It's a classic volume of fantasy that's been out of print for over three decades, and never had a digital release.
I think that's a shame. There are a lot of things I like about modern publishing, but the slow death of the mass market anthology isn't one of them. It's just not economical to bring books like this back into print, and certainly not as cheap paperbacks, and that means modern readers will probably never learn about this book. Unless folks like me champion it, and point out that you find buy copies online at criminally low prices — like the one above, a virtually new copy which I bought on eBay for less than two bucks back in January.
[Click the images for imaginary versions.]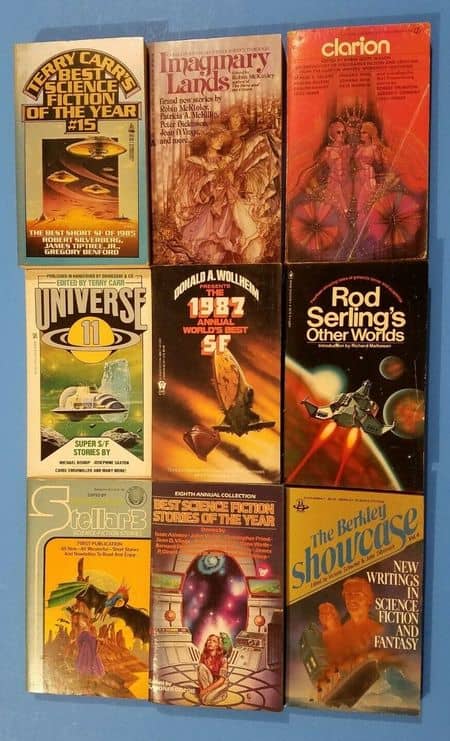 Nine great science fiction anthologies for 14 measly bucks
So here we are. Imaginary Lands was part of a small collection of 9 vintage science fiction anthologies I bought for $14.99. The collection also contained several other really terrific titles, including three Year's Best volumes from the late 70s and 80s (from Terry Carr, Don Wollheim, and Gardner Dozois), and a copy of Universe 11 (1983), almost all of which were unread and in perfect shape (not counting the Clarion anthology, which looked like it had been workshopped a few times).
The internet is filled with fabulous deals like this, if you know what to look for. Don't be afraid to take advantage of them.
Here's the complete Table of Contents for Imaginary Lands.
"Paper Dragons," by James P. Blaylock — Nebula nominee, World Fantasy Award winner, Best Short Fiction
"The Old Woman and the Storm," by Patricia A. McKillip
"The Big Rock Candy Mountain," by Robert Westall
"Flight," by Peter Dickinson — World Fantasy Award nominee, Best Novella
"Evian Steel," by Jane Yolen
"Stranger Blood," by P. C. Hodgell
"The Curse of Igamor," by Michael de Larrabeiti
"Tam Lin," by Joan D. Vinge
"The Stone Fey," by Robin McKinley
McKinley and Dickinson produced two additional anthologies together, both in the early 2000s. Both were part of the Tales of Elemental Spirits and Creatures original anthology series. Presumably four volumes were planned, but only two ever appeared:
Water: Tales of Elemental Spirits (2002) edited by Robin McKinley and Peter Dickinson
Fire: Tales of Elemental Spirits (2009) edited by Robin McKinley and Peter Dickinson
The first volume, Water, was also a World Fantasy Award nominee for Best Anthology.
Imaginary Lands was published by Ace Books in December 1985. It is 230 pages, priced at $2.95 in paperback. The cover is by Thomas Canty. There is no digital edition.
See all our recent Vintage Treasures here.