Call for Backers! Mary Shelley Presents Four Horror Stories by Victorian Women
Call for Backers! Mary Shelley Presents Four Horror Stories by Victorian Women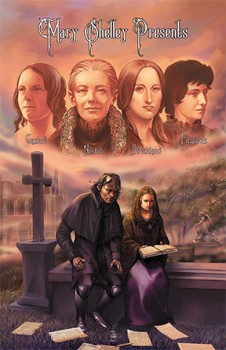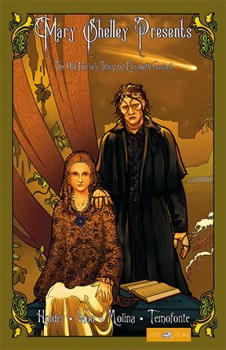 Everyone's heard of Frankenstein, and most people also know its author, Mary Shelley, but on the 200th anniversary of that novel's publication, Kymera Press is doing something very, very cool. Mary Shelley Presents is a graphic novel series about other Victorian women horror writers. These women were famous in their own day, but their legacies have faded over time. Now, with the help of Kickstarter, Kymera press seeks to assemble the multiple stories of this series into one trade paperback that they will then bring to life — okay, okay… I'll hold off on any other Frankenstein metaphors…
Instead, let me introduce Debbie Daughetee, owner of Kymera Press, and have her tell the story of this book in her own words. Then head on over to Kickstarter to support the trade paperback edition!
Emily Mah: Mary Shelly is a beloved matriarch of horror and this book looks so gorgeous. Can you give us some background on how it came to be?
Debbie Daughetee: Nancy Holder and I have been wanting to work together for a long time. So when the 200th anniversary of Mary Shelley's novel Frankenstein loomed, I talked to Nancy about doing something to celebrate it. Neither of us wanted to revisit Frankenstein as it's been done to death in comics. Finally, we had the thought to have Mary Shelley and her creature introduce horror stories written by Victorian Women.
Mary Shelley and her mother, Mary Wollstonecraft Godwin, did much for women's rights and for women writers. It was a natural fit with Kymera Press' mission statement of supporting women in comics. These Victorian women were as famous in their time as Charles Dickens and Bram Stoker, and yet most people haven't heard of them. Resurrecting their voices is a fun and interesting adventure for us.
So, what are the stories that are included in this book?
The most famous story in Mary Shelley Presents is Elizabeth Gaskell's "The Old Nurse's Tale," a spooky ghost story that really lent itself visually to a comic book adaptation. There are a lot of brilliant stories out there, but finding one that is visually exciting is a challenge with Victorian literature.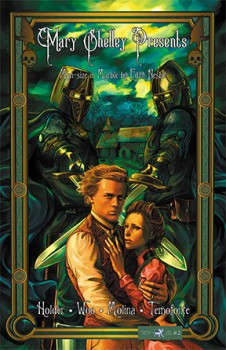 Edith Nesbit's story "Man-sized in Marble" is a frightening story about local legends and the price of not taking them seriously.
"The Case of Sir Alister Moeran" was written by Margaret Strickland. This story teaches us that the truth we hide from ourselves can change into something terrifying, threatening the very things we love the most.
The unpublished issue in the Trade we are getting ready to print is Amelia B. Edwards', "Monsieur Maurice." It was considered horror in her time, but it's not that horrific. It does have some spooky moments; however it's really about how kindness and love can overcome lies and betrayal. It's also interesting to note that Amelia B. Edwards was more famous that Mary Shelley in her day.
The first three issues are each about 40 pages, including the original prose which follows each graphic adaptation. This fourth story was long and the issue wound up being 90 pages long. But it was worth it.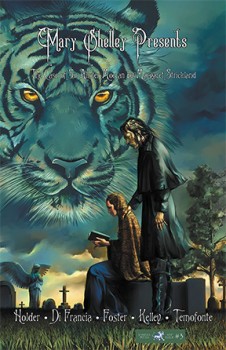 Tell us more about this beautiful art. Who created it, and how many pictures are in this book?
Amelia Woo is our pencillist and inker for issues 1, 2, and 4. She's also is the cover artist for all four issues as well as the volume one cover.  I found Amelia when I was looking for an artist for our series Gates of Midnight. I was reading the graphic novel version of Patricia Briggs's Mercy Thompson novel and liked the art.  So I tracked Amelia down in Brazil, and she's been Kymera Press ever since. When I didn't have more Gates issues for her, I moved her to Mary Shelley Presents and I'm so happy I did.
We were sorry to lose our Spanish colorist Sandra Molina. But Dearbhla Kelley has filled in nicely. I love her use of shadows and light.  It's especially great in the Margaret Strickland issue.
Tell us more about your publishing company. Do you publish graphic novels exclusively?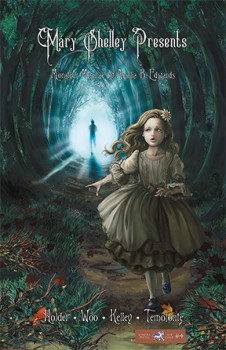 Kymera Press was formed to help give women a place to express themselves in comics. We use all female artists and writers. Originally, we were doing single issues, often referred to as floppies. But the industry is changing and graphic novels or trade paperbacks are becoming more and more popular. So we are in the process of making all of our comics available in that format.
Best of luck on your Kickstarter! Care to share any stretch goals that might pop up if you reach your goal?
We have some great stretch goals planned, from bookmarks to pdf of comics that have been donated by Fanbase Press, Boston Metaphysical Society, and Leonie O'Moore along with three of my own prose horror stories. We will also have a stretch goal that features posters of the 4 original pieces of Mary Shelley and Frankenstein art that we commissioned. We have one manga, one horror, one steampunk, and one romantic piece. They haven't even been introduced yet.
Are there any other titles your company has released that you'd like to mention and provide links to?
Kymera Press has five different titles.  I mentioned Gates of Midnight. I write this one about Raven, a combat medic who just returned from Afghanistan suffering from PTSD, and discovers she needs to fight monsters on the street of New York. It's an Irwin Award winner.
Pet Noir is about Leon, a genetically engineered cat who is an undercover cop on a space station. It is adapted from Pati Nagle's book of the same title and is our most popular title.
Ivory Ghosts is a murder mystery set against the illegal ivory trade.  It is adapted by Caitlin O'Connell from her own book of the same title. Caitlin is an instructor at Stanford University Medical School, scientific consultant, author, and expert on elephants.  She spends a portion of each year studying a herd of elephants in Namibia, the setting for the story. She and our artist Debora Carita give the issues such authenticity that the Smithsonian Natural History Museum carries them in their gift shop.
Finally, Dragons by the Yard is based on a short story of mine and was adapted by Kelly Swails. It's about Anna, who loves to sew dragons and sell them at the Rose Bowl swap meet. One day she meets a mysterious woman and makes a trade for the most wondrous fabric. Anna sews up seven little stuffed dragons, and as you might guess, magic ensues.
Our titles are available at www.kymerapress.com/shop
Thanks so much for sharing the details of this fabulous project! Let me post the Kickstarter link one more time.
---
Emily Mah is a writer and the owner of E.M. Tippetts Book Designs, a company that provides formatting and cover design services for independent authors and publishers. Her last post for Black Gate was an interview with author John Jos. Miller.