Cover by Iuliia Kovalova
2018 was a good year for Weirdbook, with three big issues. 2019 was a little more modest, with just one issue in June. (Although editor Doug Draa reports another one is in the pipeline…. possibly a John Shirley issue.)
Issue #41 contained stories by Darrell Schweitzer, Adrian Cole, K.G. Anderson, Steve Dilks, S. L. Edwards, and many others, plus poetry by Ashley Dioses, K.A. Opperman, and others. The cover is by Iuliia Kovalova, with interior art by the great Allen Koszowski. The issue is dedicated to two contributors who passed away in the last year, whom editor Doug Draa salutes in his editorial.
On a very sad note, we lost two giants of the field over the last four months.

Paul Dake Anderson left us on the 13th December 2018, and Wilum Hopfrog Pugmire crossed over on the March 26th, 2019. Both were Weirdbook contributors to whom I will forever be indebted. Knowing them has enriched my life. Both were great writers and ever greater human beings. They will be sorely missed by their fans, friends and families, The world is a lesser place without them.
Jason McGregor has a lot to say in his lengthy and detailed Tangent Online review, which looks at every single one of the 29 stories. Here's a few excerpts.
[Click the images for weird-sized versions.]
This isn't called Weirdbook for nothing, as this massive tome delivers twenty-nine stories of fantasy, horror, and even some weird science fantasies in its nearly 240 pages. Several, especially in the early going, are very colorful and eventful, though that dissipates slightly later on. While only one story especially stuck out, the whole is greater than the sum of the parts and would make an enjoyable light reading experience (or a dark one, in a different sense) for many readers…

"The House of the Witches" by Darrell Schweitzer

Jezebel, Salome, and Annabel are three of the witches living in their house which is "perched precariously on a basalt spire, far out in the depths of space, an infinite distance from the mundane world, where star-clouds broke against black stone like the froth of an infinite sea." They're enjoying their leisure until Satan himself shows up, demanding all follow him in a war against the absentee landlord. Since the witches like things as they are, a brief conflict ensues.

This is a fairly simple and easy tale but also somewhat humorous and imaginative.

"The Idols of Xan" by Steve Dilks

Matt Randall is a half-Earth/half-Baerri warrior fighting on a third world when he's captured by a group of soldiers led by a beautiful woman. The unit investigates the Idols of Xan when all cosmic hell breaks loose and Randall reveals he's not quite what he seems and does so more than once.

While not qualitatively up to their standards, some may enjoy this oreo story which opens and closes like a Brackett tale with screamy Lovecraftian badness between.

"Dead Waves" by Sean McCoy

A kid (the narrator) and his dad go ice fishing with Mr. Parsons, who's been having a rough time, including a divorce. On the way, they talk about the kid's interest in ham radio and how Mr. Parsons was in the First Signal Brigade in Korea. Once they get to the ice, things go well at first but when Mr. Parsons gets upset at his bad luck and they then see an apparition on the ice, things don't go so well.

I think I see how the radio and fishing and guys' lives connect, but it isn't immediately intuitive to me and, if they don't connect, that would be a flaw, but the story is very well-written in general and quickly engaged me and never let go. The situations and natures of the three characters are introduced quickly, seamlessly, and without infodumps in the first scene. Such infodump as there is comes in the second while actually in the car where it naturally arises because what else are you gonna do while riding in the car? Later, the dark, cold fishing experience is evoked very well in both its good and bad parts, and the ending isn't overly oblique but doesn't belabor the obvious and seems inevitable. Good stuff.
Read Jason's complete review here.
Here's a look at Doug's heartfelt editorial.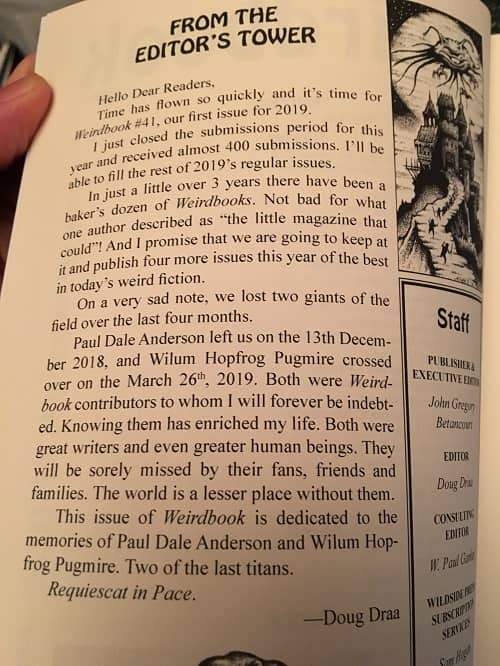 Here's the complete Table of Contents.
"Tonight I Wear My Crimson Face" by Adrian Cole
"The House of the Witches" by Darrell Schweitzer
"The Bones" by Erica Ruppert
"The Idols of Xan" by Steve Dilks
"Conjurings" by Marlane Quade Cook
"Matriarch Unbound" by Glynn Owen Barrass
"The Mouth at the Edge of the World" by Luke Walker
"'An Autumn Settling'" by Alistair Rey
"I Know How You'll Die" by K.G. Anderson
"Fair Shopping" by Jack Lee Taylor
"Black Aggie" by Marina Favila
"The Chroma of Home" by Arasibo Campeche
"The Last Resort" by Dean MacAllister
"The Crypt Beneath the Manse" by S. Subramanian
"A Winter Reunion" by C.M. Muller
"The Stravinsky Code" by Leonard Carpenter
"She Talks to Me" by Matthew Masucci
"Wings of Twilight" by L.F. Falconer
"A Pantheon of Trash" by Thomas C. Mavroudis
"Juliet's Moon" by D.C. Lozar
"The Gargoyle's Wife" by Jean Graham
"The Melting Man" by Justin Boote
"Dead Waves" by Sean McCoy
"The Proposal" by J.D. Brink
"Dark Energy" by Kevin Hayman
"Christmas at Castle Dracula" by S. L. Edwards
"There Was Fire" by M. Ravenberg
"Them" by Sharon Cullars
"For Love of Lythea" by C. I. Kemp
Weirdbook is published by Wildside Press, and edited by Douglas Draa. Issues are 230+ pages, and priced at $12 for print editions, and $3.99 for the digital version. You can buy individual issues at Amazon.com and Wildside Press, and subscriptions are available here:
We last covered Weirdbook with issues #38-40 The magazine's website is here. See all of our Weirdbook coverage here, and all of our recent fantasy magazine coverage here.