Mind-blowing in the Best Science-fictional Tradition: This Is How You Lose the Time War by Amal El-Mohtar and Max Gladstone
Mind-blowing in the Best Science-fictional Tradition: This Is How You Lose the Time War by Amal El-Mohtar and Max Gladstone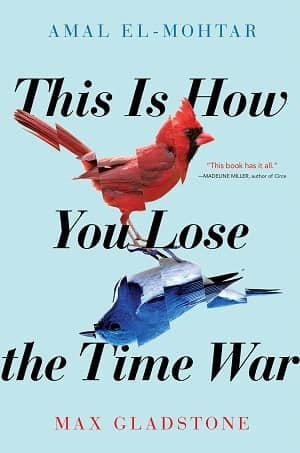 At Wiscon in 2017 I was lucky enough to be in the audience when Guest of Honor (and Black Gate blogger emeritus) Amal El-Mohtar and author Max Gladstone conducted a joint reading of a project they'd been working on together. Here's how I described it in my convention report for Black Gate.
For the second half of her reading, Amal invited Max Gladstone to the stage to perform a joint reading of their collaborative tale. It's an epistolary Spy vs. Spy novella, set in a universe where time is a braid, and two timelines exist simultaneously. One where consciousness is embedded, one where it is more abstract. (Think of them as a technologically advanced timeline, and a more natural world.) Both timelines are unstable. There's a time war between the two realities, and two opposing agents, Red and Blue. At the end of a successful and bloody opp, Red finds a letter left for her by her enemy that reads "Burn before reading. " She knows it's a trap, but it's also a thrown gauntlet, and she cannot resist. Soon she's leaving her own notes in response.

What starts as inquisitive taunts at mysterious opponents gradually become much sharper, funnier and more poignant as the two take their game — and their taunts — to higher and higher levels. All the while hiding their correspondence from their superiors, and gradually learning at least grudging respect for each other. Once again, the audience got only a tantalizing snippet of a wider story, but it was a fascinating one.

The story is tentatively titled "These Violent Delights." It does not yet have a publisher.
"These Violent Delights" eventually became the collaborative novel This Is How You Lose the Time War, published by Saga Press in July of this year. It has been widely praised; Martha Wells calls it "rich and strange, a romantic tour through all of time and the multiverse," and Publishers Weekly says it's "Exquisitely crafted… Part epistolary romance, part mind-blowing science fiction adventure… dazzling."
But I think my favorite review comes from our own Matthew David Surridge, writing at Splice Today. Matthew is insightful and illuminating as always, calling the novel "mind-blowing in the best science-fictional tradition." Here's the highlights.
The book's a novella-length work alternating narrative snippets written in high, ecstatic language with self-consciously clever, literate letters the two main characters write to each other. They're women from two different futures, Red from a technological utopia and Blue from a bioengineered paradise, and each are agents of those futures who manipulate the past to try to make sure their timeline is the world that ends up existing.

The book starts with Red undertaking a mission, succeeding, and finding a letter from Blue taunting her. Then we follow Blue on a mission, where she finds a letter of response from Red. This goes on, as the two of them develop a professional respect, learn about each other, and fall in love. It's a forbidden love, though, setting up a climax as schemes within schemes play out to bring a properly romantic ending.

The book's a success because the authors' sensibilities mesh tightly. The structure's solid and inventive, while the letters not only provide insight into character but also move the story forward… Perhaps most importantly, the style works. Imagery and rhythm are thrilling. Metaphors and similes are concrete, tactile. The book's alive to symbol: a book about losing a war begins in the aftermath of a vast battle. A Romeo-and-Juliet story of time-crossed lovers sees one of the leads take poison in an apothecary's shop in Elizabethan England. Literate, imaginative, the book's mind-blowing in the best science-fictional tradition, conjuring up evocative yet terse word-pictures of pilgrims in a bone labyrinth, of galaxies tangled into a single garden, of Caesar's assassination.
Read Matthew's complete review here.
This Is How You Lose the Time War was published by Gallery / Saga Press on July 16, 2019. It is 198 pages, priced at $19.99 in hardcover and $7.99 in digital formats. The cover is uncredited.
See all our coverage of the best new Science Fiction and Fantasy here.