A FRIEND IN TEED – The Lost World of Montreal Noir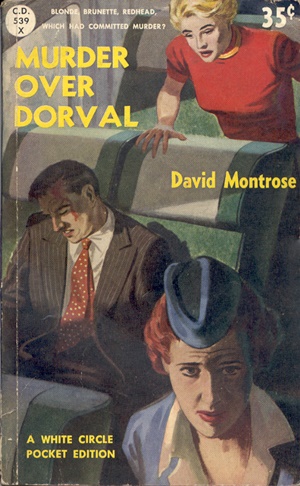 Thoughts of hardboiled fiction's history conjure Mike Hammer's New York or the sunny California of Sam Spade and Lew Archer. But the rich tradition of the genre along with Noir has expanded immensely, yielding rich gold mines in Berlin Noir and Dublin Noir to name two of many.
And yet there is a closer example of the universality of mean streets all over the world laid out in grimy exuberance in a hardboiled tale well told – and it is not a recent offshoot. I'm talking about the little known, until recently, forgotten hardboiled Canadian noir of the 1950s.
These were paperbacks to be found on spinner racks on both sides of the border. Issued by small printing houses in small print runs for the much smaller population of Canada, the pulp yarns churned out by a host of writers was long forgotten and scarce hardly sums up their availability. They aren't collectible offerings from big names in publishing. The books came and went to molder in attics, landfills and to find second use helping to start fires on cold Canadian nights. Lost to time.
Until Ricochet Books, an arm of Vehicule Publishing, decided to pick up the gauntlet laid down by Hard Case Crime Books (among others) and began hunting up these lost gems. The books are widely available now in new editions with the old, classic covers and I urge you to look them up.
For the sake of this piece, however, I'd like to focus on a trio of novels that best fit the hardboiled school. Author Charles Ross Graham, writing as David Montrose, produced three Russell Teed novels between 1950 and 1953. Teed's a former reporter turned private eye and in typically understated Canadian fashion works insurance claims and other non-violent crimes.
That is until the first book, The Crime on Cote Des Neiges (1951), which has him thrown into the investigation of a bootlegger's murder. The police are convinced the widow is the guilty party and Teed has to get her out from under before it's too late. What follows is an engaging mystery the hard drinking Teed weaves his way through amidst an entertaining presentation of Montreal when it was the Sin City of the North.
---