Religious Cults, Vampires, and the London Underground: Dreadful Company by Vivian Shaw
Religious Cults, Vampires, and the London Underground: Dreadful Company by Vivian Shaw
Vivian Shaw's debut novel Strange Practice was labeled "a triumph" by SFFWorld, and Booklist called it "a standout in the genre." I was surprised to discover the second book in the series, Dreadful Company, already on the shelves at Barnes & Noble last week, and I snatched it up immediately. Here's what the always-reliable Liz Bourke said in her feature review at Tor.com.
Dreadful Company is Vivian Shaw's second book, sequel to last year's excellent Strange Practice. And if anything, it's even more fun…

Dr. Greta Helsing isn't your average medical doctor. She runs a practice dedicated to the supernatural, treating vampires, werewolves, zombies, demons, mummies, ghouls, and all manner of other being. Her best friend is Edmund Ruthven, vampire; and Sir Francis Varney (also a vampire) is tentatively trying to swoon at her feet. After the events of Strange Practice, in which Greta found herself at the centre of attempts to dissuade a very strange religious cult beneath London's underground from doing a whole lot of murder, Dreadful Company finds Greta attending a medical conference in Paris…

Dreadful Company is fast, fun, and immensely readable. As with Strange Practice, one of the largest parts of its appeal is in its voice. Dreadful Company has a wry edge, one that at times goes all the way over into laugh-out-loud funny, without ever losing a sense of heart. And it's got kindness in its bedrock… As you may have guessed, I deeply enjoyed Dreadful Company… it's delightful. I recommend it wholeheartedly, and I'm looking forward to seeing much more of Shaw's work in the years to come.
You can read Liz's complete review here.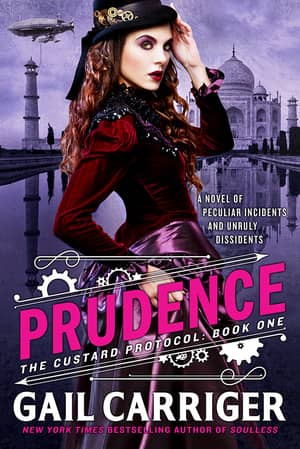 Here's the description.
A witty, charming fantasy adventure in the world of Strange Practice, starring Dr. Greta Helsing, whose family has been keeping the supernatural community not-alive and well for generations.

When Greta Helsing, doctor to the undead, is unexpectedly called to Paris to present at a medical conference, she expects nothing more exciting than professional discourse on zombie reconstructive surgery and skin disease in bogeymen — and hopefully at least one uneventful night at the Opera.

Unfortunately for Greta, Paris happens to be infested with a coven of vampires — and not the civilized kind. If she hopes to survive, Greta must navigate the darkest corners of the City of Lights, the maze of ancient catacombs and mine-tunnels underneath the streets, where there is more to find than simply dead men's bones.
The trade paperback includes a sample chapter from Grave Importance, the upcoming third volume in the series (plus the complete first chapter of Prudence, the first book in The Custard Protocol by Gail Carriger, which was an unexpected but not unwelcome bonus).
You can read the first four chapters of Strange Practice at the Orbit website, and get more details on the series here.
Dreadful Company was published by Orbit Books on July 31, 2018. It is 399 pages (plus 32 pages of extras, including all the excerpts and an about-the-author page), priced at $15.99 in trade paperback and $9.99 for the digital edition. The cover is by Will Staehle.
See all our recent coverage of Series Fantasy here.