Vintage Treasures: The Quiet Invasion by Sarah Zettel
Vintage Treasures: The Quiet Invasion by Sarah Zettel
Cover by Steve Youll
Sarah Zettel launched her career in pretty spectacular fashion in 1996 with the novel Reclamation, which was nominated for the Philip K. Dick Award and won the Locus Award for Best First Novel. Her second, Fool's War (1997), came in 8th in the Locus poll for Best SF Novel, and was a New York Times Notable Book of the Year.
The Quiet Invasion (2000) was her fourth novel, a tense and original tale of First Contact. Publishers Weekly said Zettel's "aliens soar forward in unexpected and wonderful ways, making this a first-contact novel worth reading and relishing." Here's a snippet from their review.
Zettel (Fool's War, etc.) has a gift for creating fascinating aliens with rich cultures and radically different, though still comprehensible, mindsets… a nearly omnipotent United Nations on Earth controls what happens to the colonies on Mars, the Moon and, especially, Venus. The Venus colony is the life's work of Dr. Helen Failia, who has done everything possible to make the base a self-sufficient outpost rather than a temporary research station. Just as Helen is about to lose funding for her beloved city, the surface of Venus sprouts what appears to be an alien artifact. Closely monitoring the humans' discovery of the artifact are aliens from another planet, who are looking to claim Venus as their new home… Their complicated belief system dictates that they cannot colonize Venus if humans have a legitimate claim to the planet, but if they judge the humans insane, they can destroy them like weeds.
When I was editor of SF Site back in the 90s, we previewed the complete first chapter of The Quiet Invasion. Twenty years later it's still posted for your reading enjoyment here — who says nothing lasts on the internet?
[Click the images for invasion-sized versions.]
After publishing five novels under her own name, Zettel experimented a bit, branching out with SF noir novel Bitter Angels (Spectra, 2009) under the name C.L. Anderson, and three paranormal romances under the name Marissa Day with Heat / Berkley.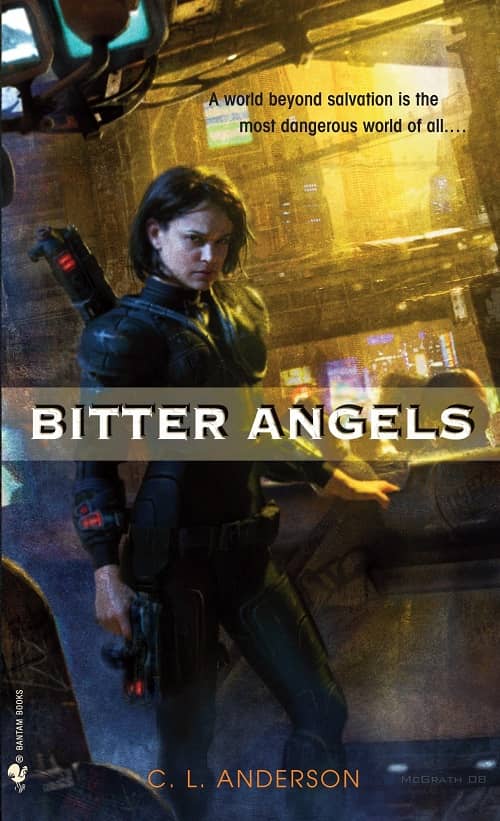 Bitter Angels (Bantam Spectra, 2009). Cover by Chris McGrath
My curiosity with The Quiet Invasion arises from the fact that I found a copy in a small collection of vintage SF paperbacks I bought on eBay last month for $44.95. That's more than I usually like to pay for user paperbacks, but this unusual set had several titles I really wanted, including:
Strange Invasion by Michael Kandel
In the Drift by Michael Swanwick
The Starfire Series by Roby James
I've written about all three right here over the past few weeks. Here's the complete set.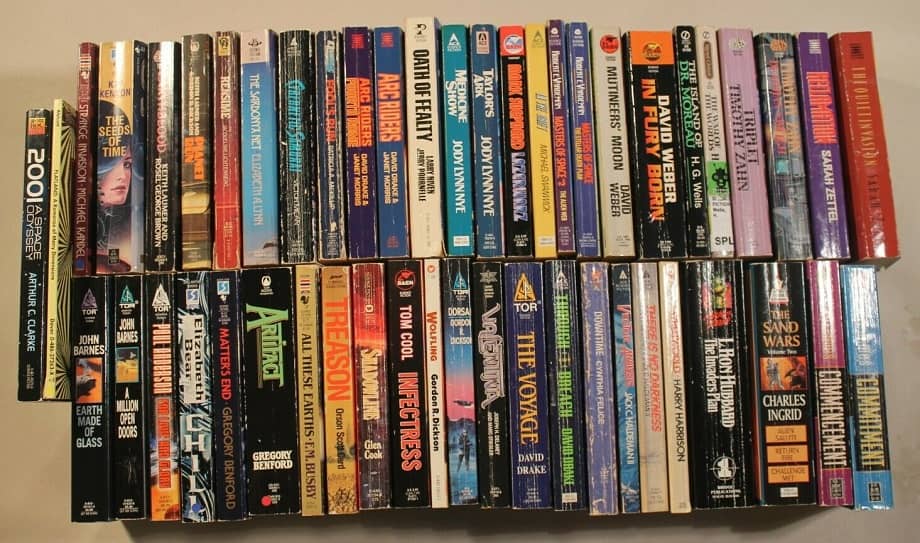 50 Science Fiction paperbacks for $44.95
Steven Silver reviewed Sarah Zettel's short story "The Temptation of Harringay," from the January 1995 issue of Galaxy, here.
The Quiet Invasion was published in hardcover by Warner Aspect in February 2000, and reprinted in paperback thirteen months later. It is 419 pages, priced at $6.99 in paperback. The cover is by Steve Youll.
See all our recent Vintage Treasures here.