Vintage Treasures: Strange Invasion by Michael Kandel
Vintage Treasures: Strange Invasion by Michael Kandel
Bantam Spectra Special Edition (1989), cover by Edwin B. Hirth, III
Michael Kandel began his career translating Stanislaw Lem's Polish novels into English, including The Futurological Congress, The Cyberiad, and The Star Dairies. He was twice nominated for a National Book Award for his efforts. In 1989 he published his first novel with Bantam Spectra, Strange Invasion, followed quickly by In Between Dragons (1990), Captain Jack Zodiac (1991), and Panda Ray (1996). Since then he's been writing mostly short fiction, most recently two stories in Gordon van Gelder's 2017 anthology Welcome to Dystopia.
At the time Strange Invasion appeared, Bantam Spectra was the most prestigious imprint in the business. Founded by Lou Aronica when he was just 27 years old, its first release was David Brin's Startide Rising (1983), which claimed a Hugo and a Nebula award. Spectra followed up with multiple hits, including Neal Stephenson's debut Snow Crash (1992) and bestsellers from Isaac Asimov, Arthur C. Clarke, Raymond Feist, William Gibson, and Neil Gaiman — and, in 1996, a little book called A Game of Thrones, by George R.R. Martin. His acclaimed Full Spectrum anthology series ran for five volumes. Before he left Bantam in 1994, Aronica acquired five consecutive Nebula Award winners. In recent years the imprint has become moribund, and I believe it is now dead.
Strange Invasion came in 5th in the annual Locus Award for Best First Novel. But it has never been reprinted, and hasn't seen a lot of modern attention. In some quarters it is still considered a modern classic, however. For example, here's Don Web's review at Bewildering Stories.
[Click the images for cosmic-sized versions.]
Imagine Philip K. Dick with a much sparer, more transparent style and the wry humor of Lem. Wally Griffith is an innocent and very likable first-person narrator. He suffers from a congenital neurological disorder that causes him to have hallucinations, which he has learned to master with a kind of cheerful aplomb. Lucky he: his disorder uniquely qualifies him to receive a bizarre series of communications from the Conservationists, a clandestine interstellar, interdimensional organization devoted to thwarting the invasions of the dread Öht. The Conservationists have chosen Wally as the "guardian" of Earth.

The Öht are several species of "tourists." For them, tourism is both religion and sport; they show no respect for the cultures and planets they visit. Their very presence corrupts the inhabitants and eventually drives them into extinction. Only one "guardian" in ten manages to repel them.

The first invasion can serve as an example of the rest. It occurs in Colombia, where the Chivri — green, gourd-like bipeds — emerge, grimly intent on riotous bacchanals in a spirit of nihilistic hedonism. The local population joins in the revelry, with catastrophic consequences. Desperate, Wally enlists the aid of a flock of talking toucans. Equipped with little megaphones, they fly about broadcasting Marxist doctrine to the Chivri…

Strange Invasion is a minor science-fiction classic for those who enjoy dark philosophical action novels in a comic vein.
Read Don's complete review here.
Even back in 1989 Bantam Spectra had a really incredible line up of authors, including Dan Simmons, Michael Bishop, Robert Charles Wilson, Ian McDonald, and many others. Here's a look at the inside cover, with just a few of their other titles for 1989.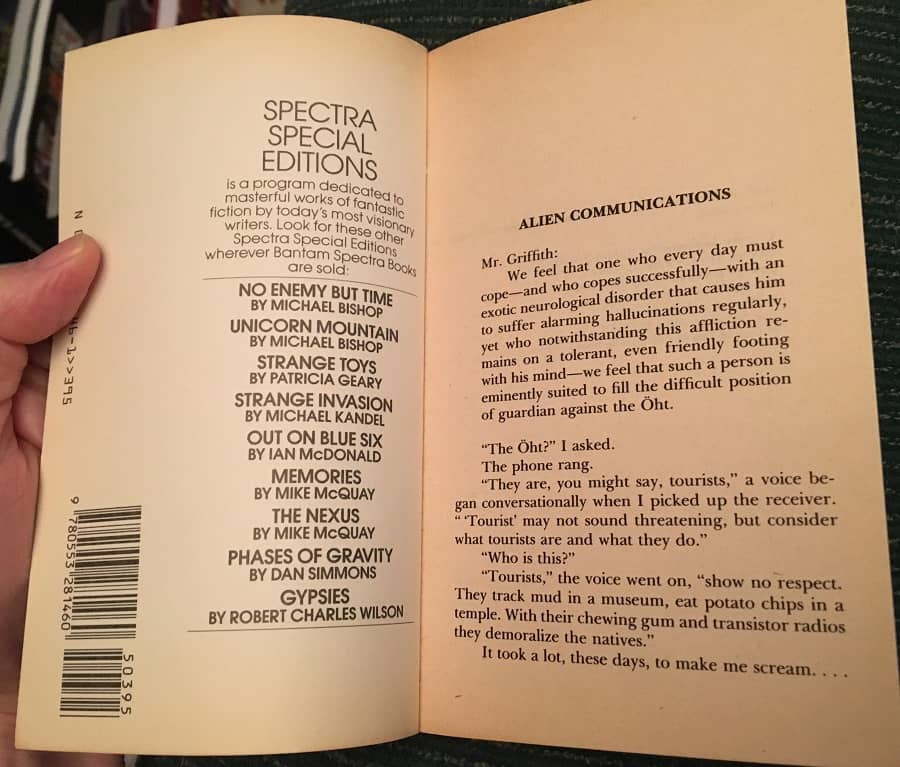 Inside flap text for Strange Invasion
Strange Invasion was published by Bantam Spectra Special Editions in September 1989. It is 152 pages, priced at $3.95. It has never been reprinted, and there is no digital edition. The cover is by Edwin B. Hirth, III.
See all our recent Vintage Treasures here.