Vintage Treasures: The Starfire Saga by Roby James
Vintage Treasures: The Starfire Saga by Roby James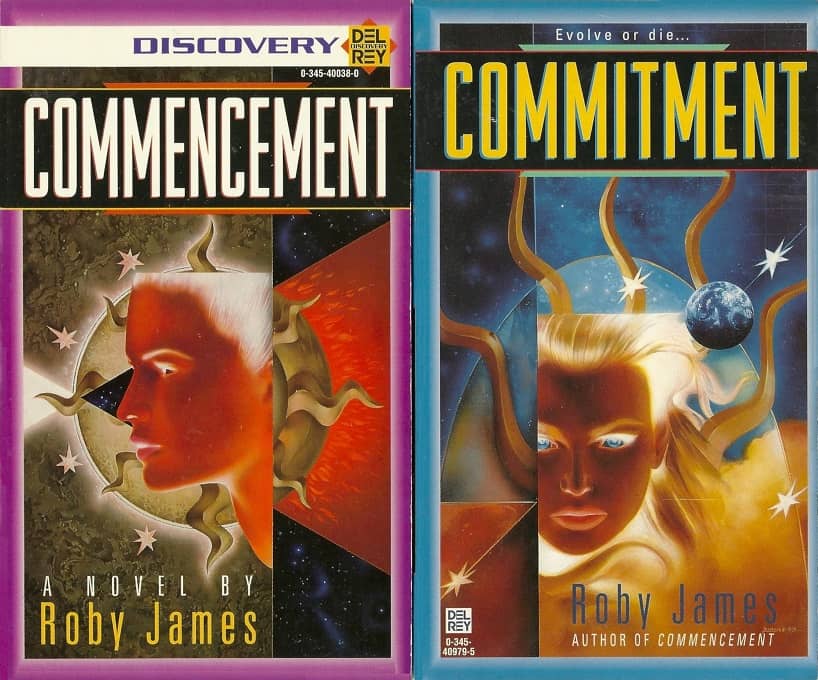 Covers by Bruce Jensen
The Ace Science Fiction Specials, a series of first novels edited by uber-editor Terry Carr, are legendary today. Between 1984-88 Carr published debuts by writers who'd go on to towering careers, including William Gibson, Kim Stanley Robinson, Lucius Shepard, Howard Waldrop, Michael Swanwick, Jack McDevitt, Richard Kadrey, and many others.
The Ace Science Fiction Specials get all the attention, but they certainly weren't unique. Many publishers tried their hand at something similar, with varying success. One of my favorites was the Del Rey Discovery line (1992-99), which published first novels by Nicola Griffith, Mary Rosenblum, L. Warren Douglas, K. D. Wentworth, and many more — including Roby James, whose first two novels, Commencement and Commitment, appeared in '96 and '97. Together they make up the Starfire Saga.
"Roby James" is the pen name of Rhoda Blecker. In a 1996 interview with the Los Angeles Times, Blecker shared some of the genesis  and heavy themes of the tale. Here's an excerpt, in which she talks about its major Jewish themes, and losing her mother when she was eleven.
[Click the images for starfire-sized versions.]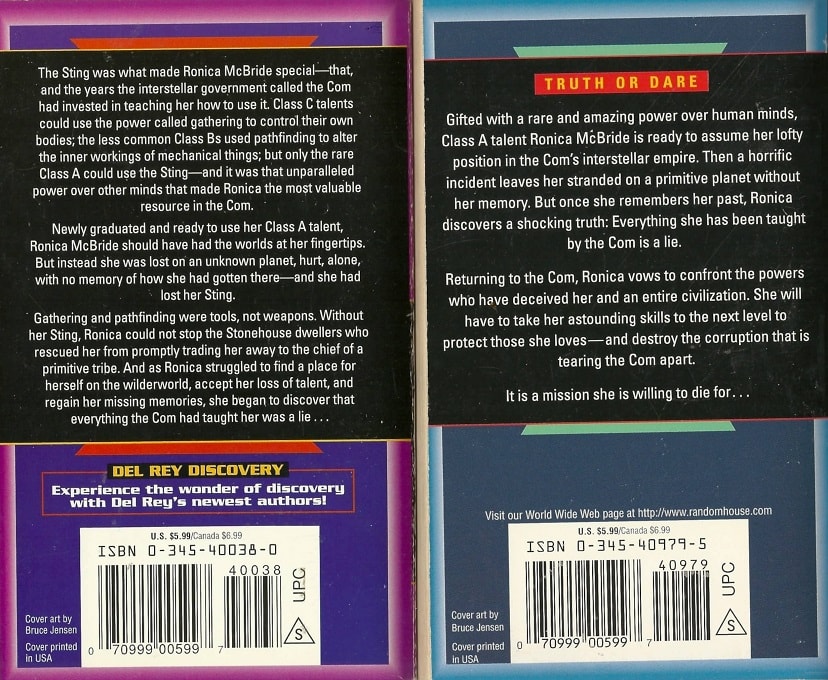 Why is this sci-fi novel different from all other sci-fi novels?

Because Commencement includes at least five major Jewish themes, explains author Roby James…

Commencement tells the story of Ronica McBride, a female with Class A talent, including the Sting, who finds herself badly wounded and inexplicably powerless in a strange and hostile wilderworld. Confused? It becomes perfectly clear as James builds a world for Ronica, word by word… James is not the first writer to include religious themes in books about other worlds… But James' is a serious book that deals with such constants of Jewish life as tikkun olam, the obligation of every Jew to do what he or she can to heal the world; exile and the need to be part of a people, a tribe. "I've promised everyone who gets all five a certificate," James says. The sacredness of life is another continuing motif, though not an exclusively Jewish one. James won't reveal the fifth because she doesn't want to ruin the end of the book for me.

Personal healing is yet another universal theme of Commencement. (Ronica has the enviable ability to knit up her broken bones and seal off bleeders using only her special gifts). James lost her mother when she was 11, and she was molested as a child. Like Ronica, James survived that ordeal and, with the help of a good man and a good therapist, has found new strength and optimism.

Some of her favorite kudos are from people, not necessarily science-fiction buffs, who tell her the book has helped them recover from addictions and old wounds. "I want to encourage people to hope."
It took nearly a decade for James to follow up her early success; ultimately she produced two more novels: Beyond the Hedge (2006) and A Song of Awakening (2011). Her last genre work was the short story "The New Corinth" in the 2013 anthology Past Future Present.
Commencement was published in February 1996 by Del Rey. It is 356 pages, priced at $5.99 in paperback. The cover is by Bruce Jensen. It was reprinted in 2000 by Hawk Publishing Group, and in 2016 by ReAnimus Press.
Commitment was published in FJuky 1997 by Del Rey. It is 456 pages, priced at $5.99 in paperback. The cover is by Bruce Jensen. It was reprinted in 2016 by ReAnimus Press.
See all our recent Vintage Treasures here.