The Golden Age of Science Fiction: Ray Bradbury
The Golden Age of Science Fiction: Ray Bradbury
Lin Carter created the Gandalf Award to recognize lifetime achievement in fantasy. As with the John W. Campbell Award for Best New Author, which was founded in the previous year, the Gandalf Awards were administered along with the Hugo Award and presented at Worldcon. The Gandalf Award was given out from 1974, when it was won by J.R.R. Tolkien, through 1981, when it went to C. L. Moore. For two years, in addition to a Grand Master Award, a Best Novel Gandalf was also presented. In 1980, the awards were presented at Noreascon II in Boston.
Several years ago, I received a phone call from Ray Bradbury. When I hung up the phone, I turned to my daughter, who was in elementary school, and said, "Remember this call. You'll be studying the author I just spoke to in school." Several years later, I was at a parent conference for my daughter and the teacher caught me looking at a poster for Fahrenheit 451. The class had read Bradbury's story "The Veldt" earlier in the school year and the teacher said, "I don't want to accuse your daughter of making things up, but she says Ray Bradbury has called your house." I confirmed the call to the teacher, but inside I was jubilant, my daughter had listened to me.
Bradbury grew up in Waukegan, Illinois, not far from where I live. I've stopped by and taken pictures of his boyhood home when in Waukegan and I've driven past Waukegan's Ray Bradbury Park, near that home. I've determined where the carnival was held where Bradbury claims he met Mr. Electrico and decided to become an author (Chicon 7 took place on the 80th anniversary of that fair and we very briefly considered an off-site trip to look at the vacant lot, but decided better of it).
Often considered one of the great science fiction authors, Bradbury is, at the same time sui generis. His science fiction is notably lax on the science. Even more than authors like Heinlein or Asimov who achieved success outside the field, he has been embraced by the literary world at large, although unlike Kurt Vonnegut, Bradbury has proudly worn the badge of science fiction author throughout his life.
As a teenager, Bradbury's family moved from Waukegan to Los Angeles, where he became involved with LASFS and connected with other fans who would become authors, agents, and artists. One of Bradbury's good friends, Ray Harryhausen found work in films, becoming one of the grandmasters of stop-motion animation. Bradbury also became involved in Hollywood, not only writing screenplays and teleplays and having his own work adapted, but also appeared in cameos in films and commercials.
His work has been taught in schools, from Fahrenheit 451 to The Martian Chronicles to Something Wicked This Way Comes. He is as well known for his short stories as he is for his novels, many of which use the tropes of fantasy, horror, and science fiction, but are also allegorical in nature.
Bradbury, who had been nominated three years in a row, beat out Marion Zimmer Bradley, Anne McCaffrey, Patricia A. McKillip, Jack Vance, and Roger Zelazny for the penultimate Gandalf Grand Master Award. McCaffrey had previously won a Gandalf Award for the novel The White Dragon.
---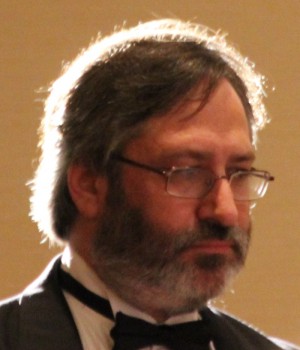 Steven H Silver is a sixteen-time Hugo Award nominee and was the publisher of the Hugo-nominated fanzine Argentus as well as the editor and publisher of ISFiC Press for 8 years. He has also edited books for DAW, NESFA Press, and ZNB. He began publishing short fiction in 2008 and his most recently published story is "Webinar: Web Sites" in The Tangled Web. His most recent anthology, Alternate Peace was published in June. Steven has chaired the first Midwest Construction, Windycon three times, and the SFWA Nebula Conference 6 times, as well as serving as the Event Coordinator for SFWA. He was programming chair for Chicon 2000 and Vice Chair of Chicon 7.