Sam Moskowitz's Classics of Science Fiction
Sam Moskowitz's Classics of Science Fiction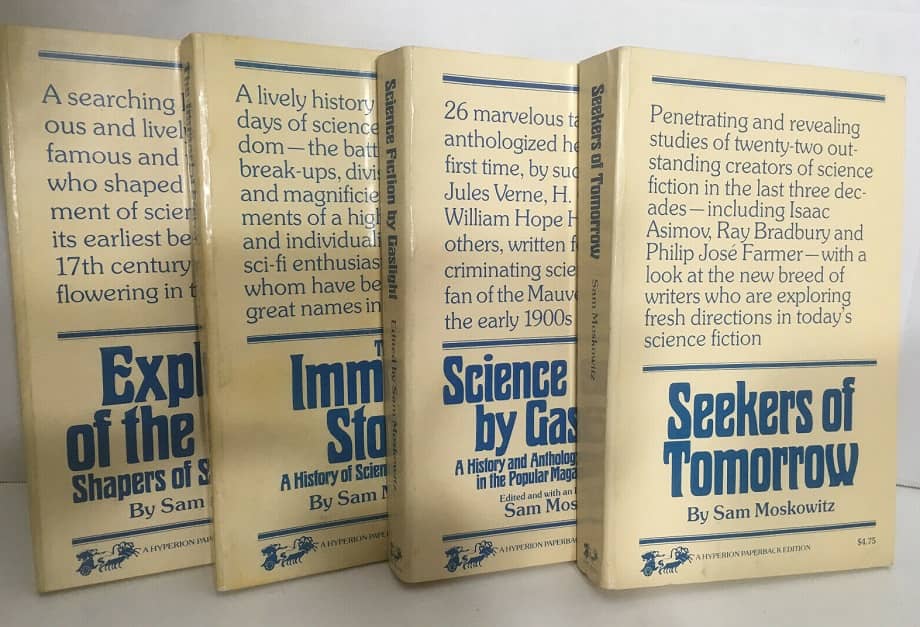 Sam Moskowitz was one of the great science fiction historians. A writer, editor, and collector extraordinaire, he was the chairman of the very first World Science Fiction Convention in New York in 1939. He was one of the first nonfiction writers to take the new field of science fiction seriously, and produced a number of anthologies and histories considered early classics today.
They're also hard to track down, dammit. Especially his history of Science Fiction fandom, The Immortal Storm, which was printed in miniscule numbers in its original hardcover edition, and which today sells for, like, a billion dollars. It was never reprinted in paperback, unless you want to count the 1974 paperback Hyperion edition, which I didn't even know existed until yesterday. What the hell, man. I could have saved myself a lot of collecting heartache if I'd known about this thing 20 years ago.
I discovered the Hyperion edition while I was researching Moskowitz's Modern Masterpieces of Science Fiction, a 1965 anthology containing stories which, let's just say, are no longer modern. But it's still an excellent survey of early 20th Century SF, perfectly suited for a Vintage Treasures post. At least it was, until I discovered at the last minute that it was one of no less than six Moskowitz volumes published by Hyperion in 1974. So I guess I'm writing about them instead.
[Click the images for fandom-sized versions.]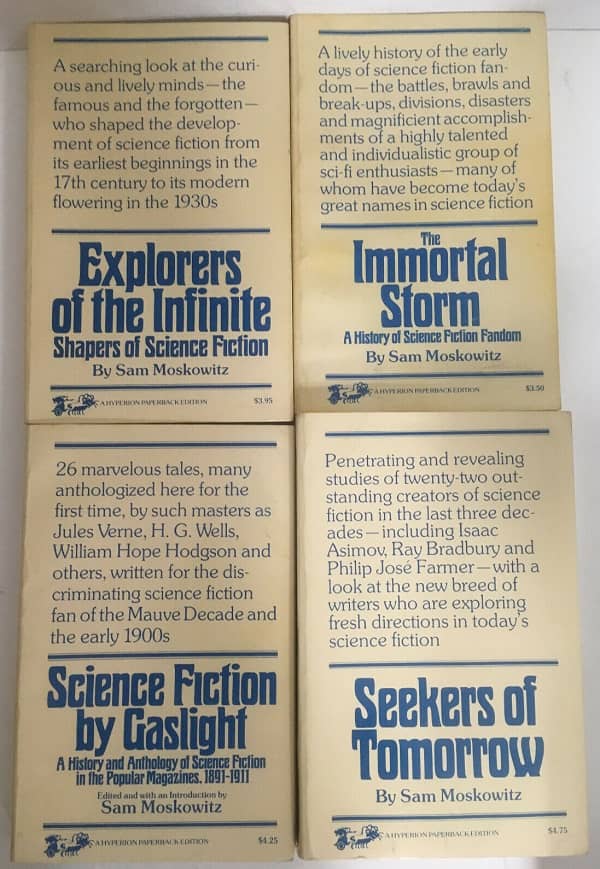 The six Hyperion volumes to appear in 1974 were all reprints. They were:
Masterpieces of Science Fiction (552 pages,. $4.95) — anthology
Science Fiction by Gaslight (364 pages, $4.25) — anthology
Seekers of Tomorrow (441 pages, $5.95) — non-fiction
Modern Masterpieces of Science Fiction (518 pages, $4.95) — anthology
Explorers of the Infinite: Shapers of Science Fiction (353 pages, $3.95) — non-fiction
The Immortal Storm: A History of Science Fiction Fandom (277 pages, $3.50) — non-fiction
All six were part of Hyperion's excellent Classics of Science Fiction series, which included novels and collections from Ray Cummings. Harold Lamb, Stanley Weinbaum, A. Merritt, Robert W. Chambers, David H. Keller, Olaf Stapledon, and many others.
How the heck did Hyperion come to publish six Sam Moskowitz volumes in a single year?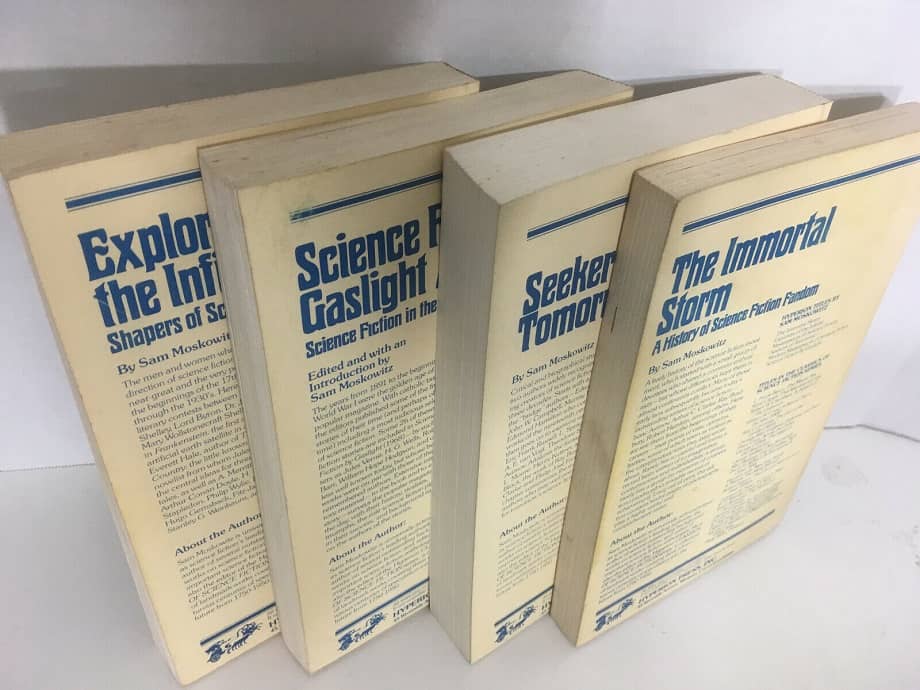 In 1974 Hyperion released 23 volumes (!) to kick off the Classics of Science Fiction line. That impressive launch was followed by a second wave of 19 additional titles in 1976. All together they make a fine foundation for a science fiction library. See the complete list at the Internet Science Fiction Database.
The series editor was Sam Moskowitz, who also provided introductions to many of the volumes. Pretty impressive for a guy who also had a day job editing a frozen food trade publication. It's probably safe to say he didn't get a lot of sleep in 1974 (or 1976).
In any event, Moskowitz reprinted six volumes of his own work as part of the Classics of Science Fiction series, maybe as a way to hit his numbers and save himself some rights paperwork. Whatever the case, I'm glad he did.
Not all these titles are hard to find. Science Fiction by Gaslight: A History and Anthology of Science Fiction in the Popular Magazines. 1891-1911, is a pretty easy find in hardcover, as are the paperback editions of his mini-biographies on science fiction writers, Explorers of the Infinite and Seekers of Tomorrow. But these are important books, and it's good to have a handsome set in a durable format.
We covered another of Moskowtiz's historical anthologies, Under the Moons of Mars: A History and Anthology of "The Scientific Romance" in the Munsey Magazines, 1912-1920, back in 2015.
1967 Ballantine paperback edition of Seekers of Tomorrow
Explorers of the Infinite and Seekers of Tomorrow reprint popular articles Moskowitz wrote for science fiction magazines in the 50s and 60s. The former starts in the 17th Century with Cyrano de Bergerac and continues up through the years with Mary Shelly, Edgar Allan Poe, Jules Verne, H.G. Wells, and many others, ending in the 1930s with Stanley Weinbaum. Seekers of Tomorrow is more interesting to a modern audience (or at least, it's more interesting to me), starting with E.E. "Doc" Smith and John W. Campbell, and covering virtually all the pre-1960 era major SF writers.
Both books (like most of the Hyperion editions, I presume) were photographic reprints of the original hardcover versions (in the case of Seekers, the 1965 World Publishing Co. edition), which saved a lot of time in layout and design, and coincidentally helps explain how they could produce 23 volumes in one year.
Here's the Table of Contents for Seekers of Tomorrow, "a biographical and critical study of twenty-two authors widely acclaimed as the leading creators of science fiction in the last twenty-five years." It's a Who's Who of major SF writers in the first half of the Century.
Introduction
1. E.E. Smith
2. John W. Campbell
3. Murray Leinster
4. Edmond Hamilton
5. Jack Williamson
6. Superman/Mort Weisinger
7. John Wyndham
8. Eric Frank Russell
9. L. Sprague de Camp
10. Lester del Rey
11. Robert A. Heinlein
12. A.E. van Vogt
13. Theodore Sturgeon
14. Isaac Asimov
15. Clifford D. Simak
16. Fritz Leiber
17. C.L. Moore
18 Henry Kuttner
19. Robert Bloch
20. Ray Bradbury
21. Arthur C. Clarke
22. Philip José Farmer
23. Starburst
How much do these books cost these days? Hard to say individually. But the pics of the four Hyperion volumes on this page are from a May eBay lot. There was only one bidder, and the whole set sold for $19.99 — quite the bargain.
The only Hyperion edition I have is Modern Masterpieces of Science Fiction, which I bought last month for $5 (roughly the original cover price), and which started my investigations. It's still the one I think most readers would be interested in reading today. Here's the complete TOC.
Introduction by Sam Moskowitz
"The Vortex Blaster" by Edward E. Smith (1941)
"Night" by John W. Campbell, Jr. (1935)
"A Logic Named Joe" by Murray Leinster (1946)
"Requiem" by Edmond Hamilton (1962)
"With Folded Hands…" by Jack Williamson (1947)
"Adaptation" by John Wyndham (1949)
"The Witness" by Eric Frank Russell (1951)
"The Command" by L. Sprague de Camp (1938)
"Kindness" by Lester del Rey (1944)
"We Also Walk Dogs" by Robert A. Heinlein (1941)
"Enchanted Village" by A. E. van Vogt (1950)
"Liar!" by Isaac Asimov (1941)
"Microcosmic God" by Theodore Sturgeon (1941)
"Huddling Place" by Clifford D. Simak (1944)
"Coming Attraction" by Fritz Leiber (1950)
"Doorway Into Time" by C. L. Moore (1943)
"We Guard the Black Planet!" by Henry Kuttner (1942)
"The Strange Flight of Richard Clayton" by Robert Bloch (1939)
"Wake for the Living" by Ray Bradbury (1947)
"Before Eden" by Arthur C. Clarke (1961)
"Mother" by Philip José Farmer (1953)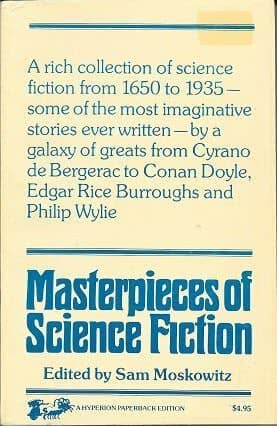 The companion volume to this book, Masterpieces of Science Fiction, was originally published by World Publishing Co. in 1967. It's a fine anthology gathering works by many of the writers Moskowitz covered in his earlier Explorers of the Infinite (see cover at right).
Our previous coverage of books by Sam Moskowitz includes:
A Sense of Wonder, edited by Sam Moskowitz
Invading Aliens and Self-Aware Submarines: The Human Zero, Edited by Sam Moskowitz & Roger Elwood, reviewed by by William I. Lengeman III
Under the Moons of Mars, edited by Sam Moskowitz
Horrors in Hiding edited by Sam Moskowitz with Alden H. Norton
Horrors Unseen, edited by Sam Moskowitz
Horrors Unknown, edited by Sam Moskowitz
See all our recent Vintage Treasures here.