Vintage Treasures: Under the Moons of Mars, edited by Sam Moskowitz
Vintage Treasures: Under the Moons of Mars, edited by Sam Moskowitz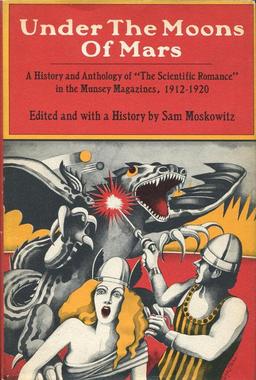 Some folks I know date the creation of modern SF and Fantasy to Star Trek in the mid-60, or the release of Star Wars in 1977. Those who are a little more knowledgeable date it to the first issue of Amazing Stories, in April 1926.
Folks who are really knowledgeable date it even earlier, to the "Scientific Romances" that became popular in early pulp magazines — so popular, in fact, that a young entrepreneur named Hugo Gernsback decided that the time was right for a magazine devoted exclusively to them. That magazine was Amazing Stories, and the rest, as they say, is history.
When editors first began combing the old pulps for stories to anthologize in the late 40 and early 50s, virtually all of them began with Amazing Stories #1. There was a great deal of popular SF and fantasy published well before that, but it was overlooked. And, as the decades went by, it was gradually forgotten.
Where did it appear? I have no idea — the really knowledgeable could tell you, but I'm not one of them. As we look backwards through history, my vision goes dark right around Lost in Space.
Fortunately, the great genre historian Sam Moskowitz was one of the really knowledgeable. And he used his vast knowledge for good. Specifically, he used it to assemble the anthology Under the Moons of Mars, which collected some of the very best of the early science fiction and fantasy from the days before there were magazines dedicated to such things — including stories and novel excerpts from Edgar Rice Burroughs, A. Merritt, Ray Cummings, Murray Leinster, Austin Hall and Homer Eon Flint, and many others.
Under the Moons of Mars is a treasure trove for fans of pulps SF and fantasy. It contains novel excerpts and short stories, as well as two novellas by Ray Cummings and Murray Leinster. It also includes a lengthy and fascinating history of the "Scientific Romance" in the Munsey Magazines in their heydey, 1912-1920. Munsey published some of the most popular fiction magazines of the era, including Argosy and All-Story Weekly.
Here's the complete table of contents:
Preface by Sam Moskowitz
Under the Moons of Mars (excerpt) by Edgar Rice Burroughs
Darkness and Dawn (excerpt) by George Allan England
Polaris – of the Snows (excerpt) by Charles B. Stilson
Palos of the Dog Star Pack (excerpt) by J. U. Giesy
"Friend Island" by Francis Stevens (All-Story Weekly, September 7, 1918)
The Moon Pool (excerpt) by A. Merritt
"The Girl in the Golden Atom" by Ray Cummings (All-Story Weekly, March 15, 1919)
"The Mad Planet" by Murray Leinster (Argosy, June 12, 1920)
The Blind Spot (excerpt) by Austin Hall and Homer Eon Flint
A History of "The Scientific Romance" in the Munsey Magazines, 1912-1920, by Sam Moskowitz
Under the Moons of Mars: A History and Anthology of 'The Scientific Romance' in the Munsey Magazines, 1912-1920 was edited by Sam Moskowitz and published by Holt, Rinehart and Winston in 1970. It is 446 pages, priced at $7.95 in hardcover. There was no paperback edition.
See all of our recent Vintage Treasures here.