Goth Chick News: Hanging with the Paranormal Cirque
Goth Chick News: Hanging with the Paranormal Cirque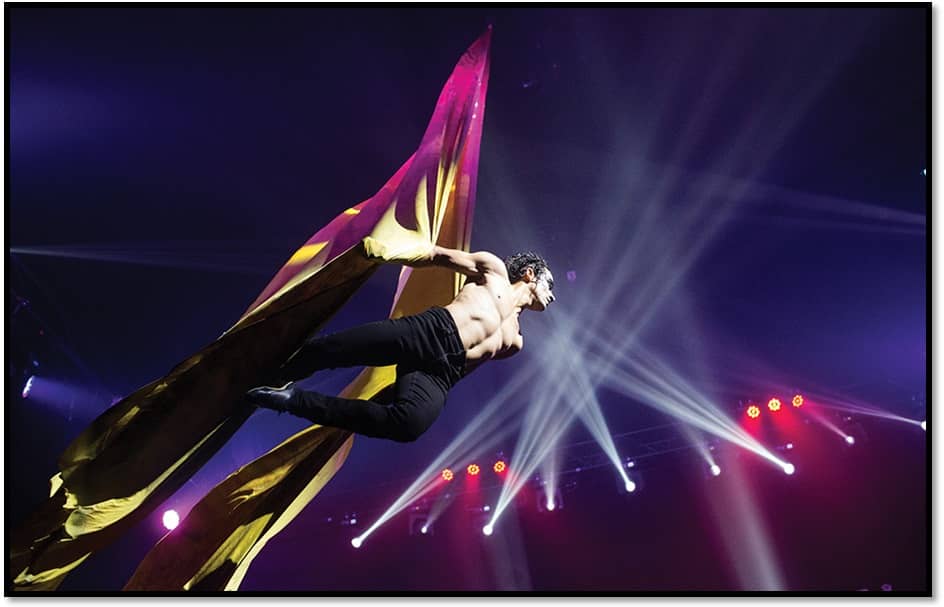 I love it when 'scary' engulfs something one would normally not associate with the haunt industry. I've been to a haunted flea market, played haunted mini golf, and even been onboard a haunted cruise. And though the circus, or at least carnivals, have their own creepy vibe, spectacles like Cirque du Soleil have generally remained wholesome, light-hearted, family entertainment. Okay, there is that Zumanity show which brought a blush even to my pallid cheeks, but it exists only in Las Vegas, making it less unexpected.
But last weekend I attended my first ever, 'over 18' haunted circus event, complete with zombies, vampires and clowns. Ladies and gentlemen, welcome to the Paranormal Cirque.
This honest-to-goodness traveling circus takes place under a ginormous black and red (what looks like) latex tent, kicking off your experience with a vaguely S&M vibe. The outer vestibule is like a mini haunted house populated by "freaks" who jump at you, scream at you, thrust chainsaws at you and generally prod you down the connecting hallway into the main tent with elevated seating on three sides of a center stage (ring?).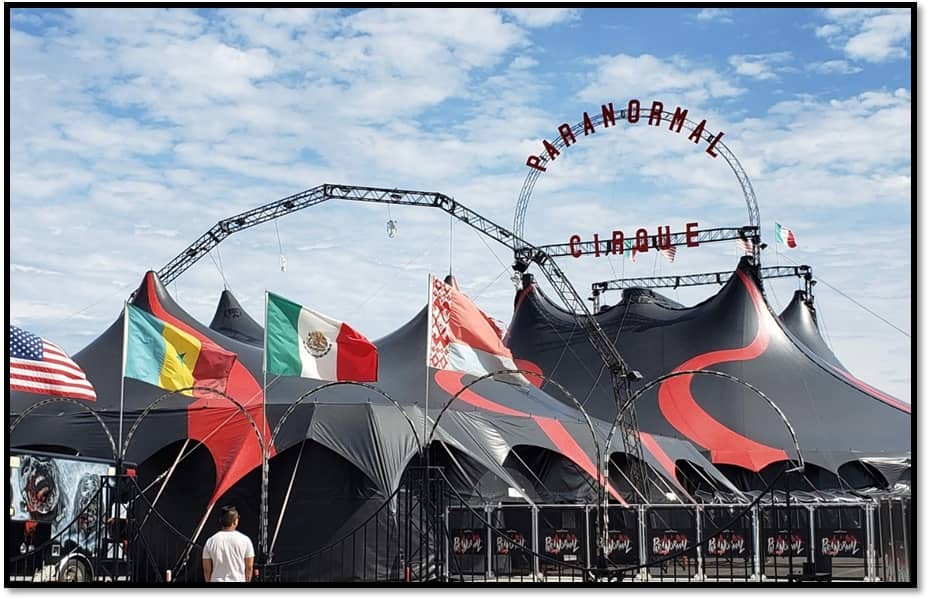 The Cirque's website bills it as:
A crazy yet fun fusion between Circus, theatre, and cabaret in perfect harmony with the evolution of a show that brings you back to when we dream … and when we had nightmares and fantasies.

A new show with breathtaking implications always poised between fun and the most uninhibited fear that will transport you to a dark world inhabited by creatures with incredible circus art abilities. This is truly a Paranormal experience like no other.
With an explanation like that there was nothing for it but to score VIP seats in the front row, complete with circus popcorn, and hope I didn't get splashed with stage blood. As was the intent, I was particularly intrigued by the "adults only" billing, and wondered what I was about to see that made this show inappropriate for youngsters.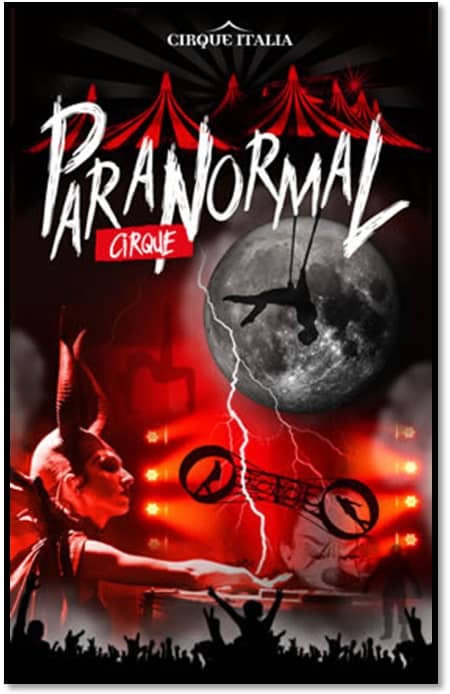 The tent lights went down.
The stage lights went up.
I spent most of the next two and a half hours with my jaw hanging open.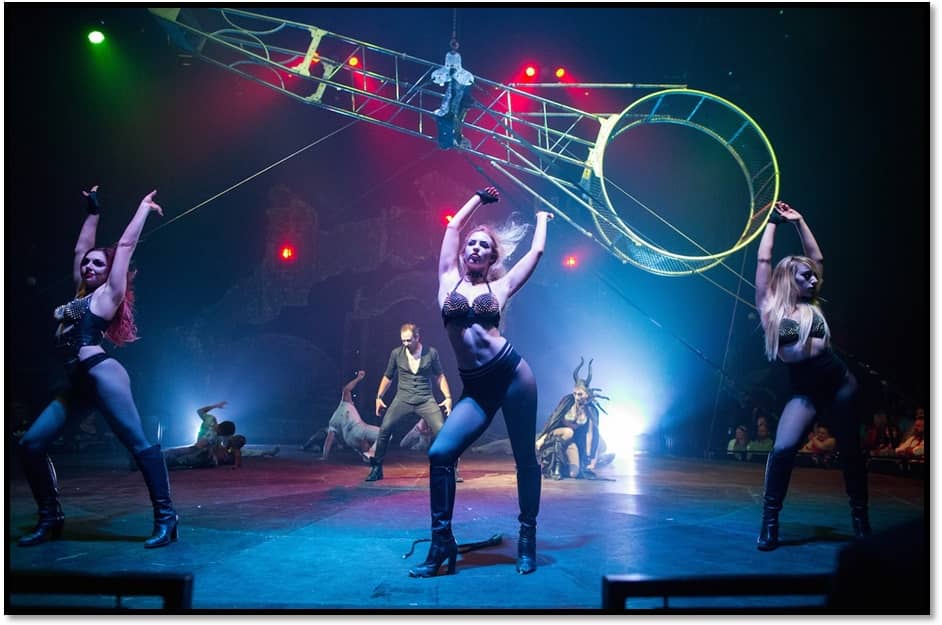 There were astounding acrobatics, one of the best displays of magic I have ever seen (practically sitting on the stage still offered no clue to how things were managed), and a breathtaking daredevil show that inspired wonder, admiration and fear in equal measures: the huge Ferris-wheel-like contraption the acrobat performed on seemed likely to break free and land on the audience in true horror-movie fashion. One performer did incredible gymnastics hanging from a giant hula hoop he kept in constant motion around the stage, and some very entertaining audience participation moments were scattered throughout.
I clapped so hard my hands hurt.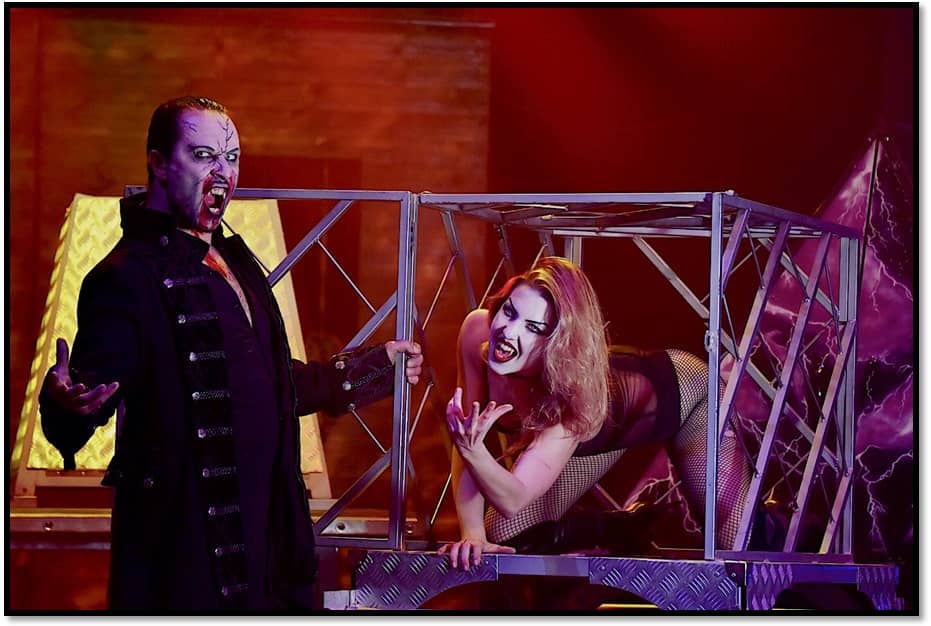 What made the performance 'adults only' were girls dressed like gothic strippers, quite a lot of sexual innuendo, and a significant number of performers giving audience members the finger. I get that the "no-children" billing is part of the mystique of the event, but honestly, eliminating the adult elements would have done nothing at all to diminish what was a thoroughly enjoyable and memorable experience, created by a troop of highly skilled entertainers.
The Paranormal Cirque is winding down its 2019 season, but have a robust annual touring schedule across the U.S. Should a black latex tent appear in your town, I highly recommend you spend an evening being mind-blown amazed. Traveling acts of this quality are a dying art form and the haunted theme makes it all the more fun.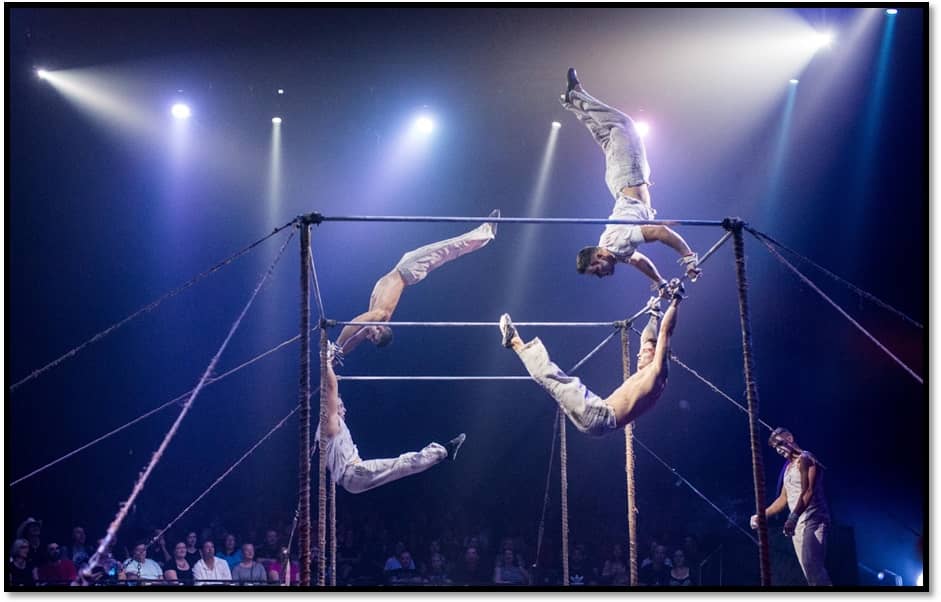 Have a question or comment? Post it here or drop a line to sue@blackgate.com.