New Treasures: The Outside by Ada Hoffmann
New Treasures: The Outside by Ada Hoffmann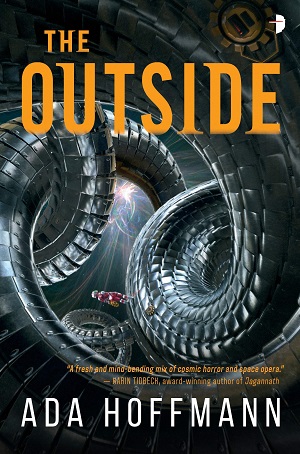 June has some great SF and fantasy headed our way, but the title that's grabbed my attention this month has already arrived: Ada Hoffman's debut novel The Outside. Karin Tidbeck calls it "a fresh and mind-bending mix of cosmic horror and space opera," and Publishers Weekly says it's "a breezily told adventure that bursts with sheer fun… [a] beautifully smart, uncynical space opera."
But my favorite review was a rave from Kate Sherrod at The Skiffy and Fanty blog. Here's a snippet.
With a boffo combination of hard science fiction, cosmic Lovecraftian horror, both cyber- and god-punk, some ridiculously charismatic aliens, and a fascinating female protagonist somewhere on the autism spectrum, Ada Hoffman's The Outside feels like it was made to order for us here at Skiffy and Fanty!…

In The Outside, Humanity has colonized the galaxy, but it hasn't done it alone: our first step to the stars involved creating a dozen or so artificial intelligences so vastly powerful that they've come to be regarded as gods. These gods are served by a hierarchy of cybernetically-enhanced human "angels" who help them run the teeming variety of human-inhabited planets… Dr. Yasira Shien is a scientist-engineer, the finest student of a famous physicist who disappeared after the pair laid most of the groundwork for a new kind of reactor… Before we know it, disaster strikes on the station. In the chaotic and tragic aftermath, Yasira is torn from the small island of comfort she's created for herself… haunted by a hundred deaths from her reactor's mysterious failure, Yasira is whisked away by a stern batch of angels to go find her erstwhile mentor, Dr. Evianna Talirr, whose dimension-bending heresies may be a threat to Reality Itself™…

I enjoyed the roller coaster ride that is the plot, the feast of challenging ideas, and the fascinating characters. I also relished the mystery of the Outside, which could easily have become just another alternate space teeming with monsters but here balances on the more abstract and cerebral side even as it entertainingly warps reality… The Outside is quite possibly the best book I've read so far this year. Mad respect, Ms. Hoffman!
The Outside was published by Angry Robot on June 11, 2019. It is 400 pages, priced at $14.99 in trade paperback and $9.99 in digital formats. The cover is by Lee Gibbons.
See all our recent New Treasures here.