The Golden Age of Science Fiction: The 1973 Locus Award for Best Publisher: Ballantine Books
The Golden Age of Science Fiction: The 1973 Locus Award for Best Publisher: Ballantine Books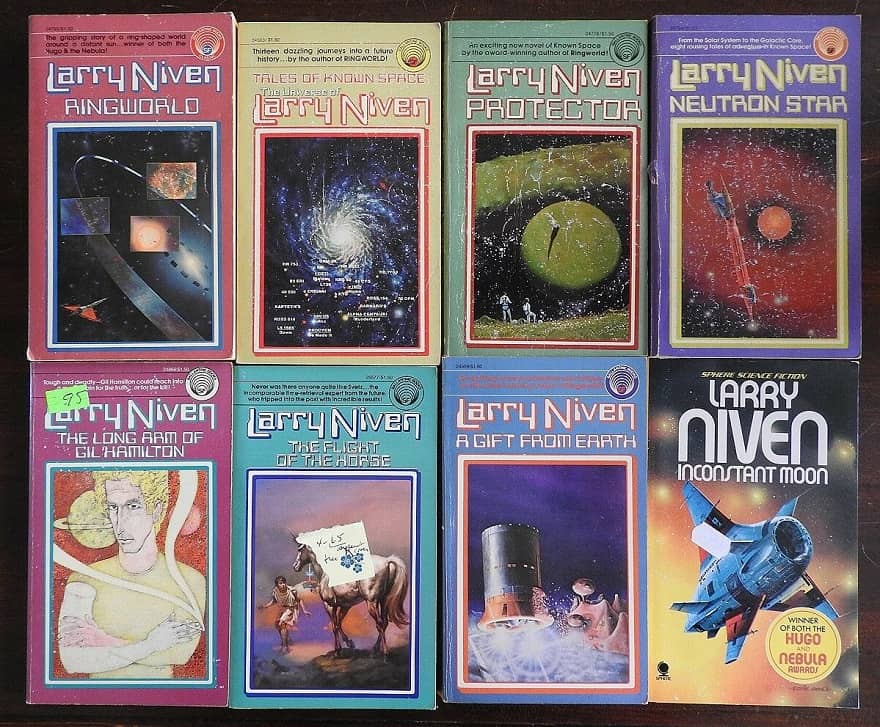 Larry Niven Ballantine Books (and Inconstant Moon from Sphere)
Steven Silver has been doing a series covering the award winners from his age 12 year, and Steven has credited me for (indirectly) suggesting this, when I quoted Peter Graham's statement "The Golden Age of Science Fiction" is 12, in the "comment section" to the entry on 1973 in Jo Walton's wonderful book An Informal History of the Hugos. You see, I was 12 in 1972, so the awards for 1973 were the awards for my personal Golden Age. And Steven suggested that much as he is covering awards for 1980, I might cover awards for 1973 here in Black Gate.
The Locus Awards, given by a poll of the readers of Locus Magazine (full disclosure: for which I write a regular column), and lately including an online component open to anyone (with non-subscriber votes counting half), have been given since 1971. One of the inspired categories is for Best Publisher (this category began in 1972.) In 1973, the award for Best Publisher went to Ballantine Books. In fact, Ballantine won every year but two between 1972 and 1987. Every year since then, the award has gone to Tor. (Note: the Ballantine awards were often to Ballantine/Del Rey, and the Tor awards were often to Tor/St. Martin's.) In fact, only four entities have ever won the Locus Best Publisher award: Ballantine/Del Rey, Tor/St. Martin's, the Science Fiction Book Club, and Pocket/Timescape. So – I still think the award is a good idea, but perhaps the winner doesn't tell us much beyond the obvious.
Certainly when I was first buying books – beginning in 1974, I think – it was obvious that Ballantine (and, soon Del Rey) was the leading paperback imprint. (And, of course, at that age I bought only paperback and SFBC editions.) Sure, Ace published some good stuff. And so did DAW, and Signet, and Berkley, etc. But Ballantine was king – they published the most good stuff, and had the better packaging – they were the clear leaders. My main association, at that time, was with Larry Niven's books – Niven was a favorite of mine, and in the mid-70s Ballantine issued a near-uniform edition of Niven's works to that date. Ballantine also published, under Lin Carter's editorship, the groundbreaking Ballantine Adult Fantasy series – paperback reprints of really wonderful early fantasy books. This was made possible from a marketing point of view by the popularity of J. R. R. Tolkien's The Lord of the Rings – and, of course, Ballantine published the first authorized U. S. paperback editions of those books.
[Click the images for Ballantine-sized versions.]
Ballantine was founded, in 1953, by the husband and wife team of Ian and Betty Ballantine, both English (though Betty was born in India). They moved to the US to distribute Penguin Books, and after the Second World War struck out on their own, first with Bantam Books, then with Ballantine. (Ironically, both Bantam and Ballantine are now back under the Penguin umbrella.) Betty Ballantine died very recently, and this article about her, on the occasion of her death, is very well worth reading: Sci-Fi Lovers Owe a Debt of Gratitude to Betty Ballantine.
As I noted, Ballantine/Del Rey won the Locus Award almost every year for the first 15 or so years, so Steven Silver has also covered them for Black Gate.
So all that's left to me is to list, with covers, some of MY favorite Ballantine books from 1972:
The first of Terry Carr's exceptional Best Science Fiction of the Year series: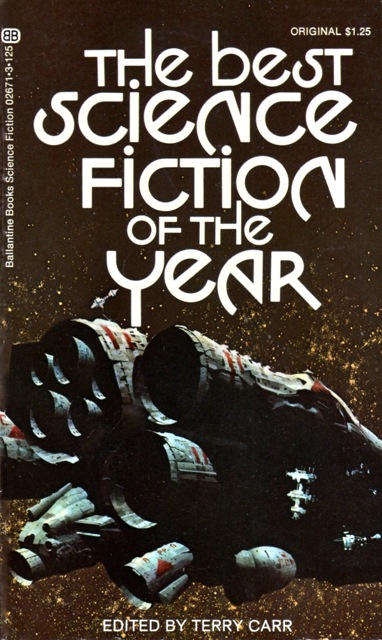 One of the Adult Fantasy series: Domnei, by James Branch Cabell:
The Tar-Aiym Krang, by Alan Dean Foster (the first of his Flinx novels):
Another Adult Fantasy entry: Kai Lung's Golden Hours, by Ernest Bramah:
A great collection from Frederik Pohl: The Gold at the Starbow's End:
An excellent reprint anthology: Alpha 3, by Robert Silverberg:
And a new novel: Space Skimmer, by David Gerrold:
---
Rich Horton's last article for us was a look at The 1973 Hugo Award for Best Short Story: "The Meeting," by Frederik Pohl and C. M. Kornbluth, and "Eurema's Dam," by R. A. Lafferty. His website is Strange at Ecbatan. See all of Rich's articles here.