Mark Finn on the Future of Skelos Magazine
Mark Finn on the Future of Skelos Magazine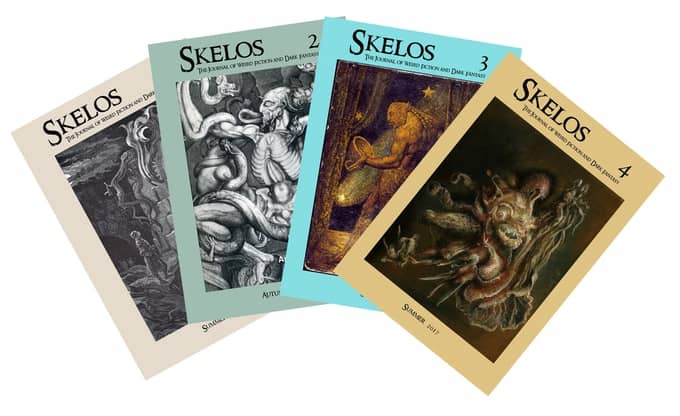 Skelos magazine, launched as a result of a terrifically successful Kickstarter in 2016, is one of the best new magazines of weird fantasy on the market. Editors Mark Finn, Chris Gruber, and Jeffrey Shanks produced three of the first four promised issues — all of which look fabulous, and were well reviewed. But the fourth, originally cover-dated Summer 2017, has yet to appear, and after a year of delays and virtually no communication from the editors, there's been a lot of open speculation around the fate of Skelos. Late yesterday Mark Finn posted a lengthy update with good new for dark fantasy fans.
Starting in 2019, we will resume publishing Skelos at a rate of two issues per year, during the Summer and Winter seasons… We will also pursue a more leisurely publishing schedule with regards to collections and original anthologies. Right now, there are two books in our hopper; a collection of Mythos Fiction by Don Webb, and a collection of Elak of Atlantis stories by Adrian Cole. We are very excited to bring those books out in 2019. Other original volumes and collections will follow and be announced, one at a time, as we can, and still keep our scheduled commitments.

As for the rest of this year: there's not much left, but we are keen to finish and publish Skelos #4. Also, we are keen to fix/re-organize all of the ebook files so that they are standard and uniform and most important, all available. Once Skelos #4 is out, and the four issues have been secured and locked down in a digital format, we will turn our attention to publishing Skelos #5 and Skelos #6 in 2019, and Skelos #7 and Skelos #8 in 2020. Don's book, Building Strange Temples, will be available in 2019, along with Adrian's Elak collection. We will announce their on-sale dates in a timely manner… There are not enough places to read the things we like to read. Skelos was formed to address that, and we'd like to see it flourish.

We thank you for your patience. We will fix this, and try to do better going forward.
Speaking as a fan of the magazine, and one who's been following the personal difficulties of Mark and his team with considerable sympathy, I'm relieved and impressed at the dedication of the entire team, and very much looking forward to the new issues. Read Mark's complete Open Letter on Facebook here.