Birthday Reviews: Ray Vukcevich's "Ornamental Animals"
Birthday Reviews: Ray Vukcevich's "Ornamental Animals"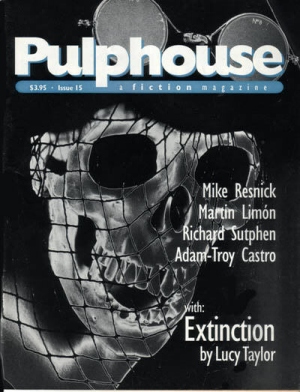 Ray Vukcevich was born on September 11, 1946.
Vukcevich was nominated for the Philip K. Dick Award in 2002 for his collection Meet Me in the Moon Room. His novelette "The Wages of Syntax" was nominated for the Nebula Award in 2004. Vukcevich has published two collections of his own short stories, the novel The Man of Maybe Half-A-Dozen Faces, and a short anthology that collected one of his short stories and one of Kelly Link's short stories that was given away at a World Horror Convention.
"Ornamental Animals" was published in the fifteenth issue of Pulphouse: A Fiction Magazine sometime early in 1993. By the time this issue was published, Pulphouse had backed away from the weekly schedule it had initially set for itself (and never achieved) and claimed to be a monthly magazine, although only two issues appeared in 1993. The story has never been reprinted.
In "Ornamental Animals," Amy Grindle is an aspiring model who has a habit of going through catalogs and magazines she appears in and clipping photos of herself from the pages, although her face has yet to be shown in any of them. On a whim, as she went through the catalog, Amy decided to purchase a set of two genetically modified cats, although she really knew very little about them or the company that makes them. Because of that, she was quite surprised when she eventually received her pair of "Fire Cats."
Although Fire Cats look more or less like non-genetically engineered cats, they do have some differences, which Amy learns about quite quickly, partly due to the cats' response to her and partly because once she received them she realized she should read the manual on their care and feeding. She quickly learns that although the cats are alive, they don't offer any of the traditional benefits of pets. They are born without joints, except in their jaws, and therefore can't move and must be fed manually. Even more intriguing is the talent that gives them their name. When certain conditions are met, the cat's heads explode in flame, although the cats themselves are all right.
Vukcevich has created cats which are almost, but not entirely, knick-knacks. Amy bought them with no more thought than would have gone into a throw pillow or bookends. It is poetic justice that her cats are barely more than a set of bookends, but bookends that require her to take care of them, perhaps not quite as much as a real cat, but it underscores the fact that so many people do get pets without thinking the process through, expecting that they will take care of themselves except when the person wants to interact with the pet.
Reviewed in its original appearance in the magazine Pulphouse: A Fiction Magazine #15, edited by Jonathan E. Bond, 1993.
---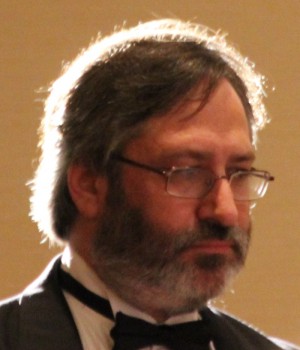 Steven H Silver is a sixteen-time Hugo Award nominee and was the publisher of the Hugo-nominated fanzine Argentus as well as the editor and publisher of ISFiC Press for 8 years. He has also edited books for DAW and NESFA Press. He began publishing short fiction in 2008 and his most recently published story is "Doing Business at Hodputt's Emporium" in Galaxy's Edge. Steven has chaired the first Midwest Construction, Windycon three times, and the SFWA Nebula Conference 6 times, as well as serving as the Event Coordinator for SFWA. He was programming chair for Chicon 2000 and Vice Chair of Chicon 7. He has been the news editor for SF Site since 2002.